On a small organic garden in 1979, Asha Deliverance created her first geodesic dome on an old Singer sewing machine. Having studied the work of Buckminster Fuller and ancient Vedic philosophers, Asha dedicated herself to the creation of a more sustainable future. Deliverance continued to master the art of dome-building for several years during her time as a midwife and mother.
People fell in love with her dome models and her passion for the work. In 1980, Asha and her family opened a business called Unicorn Dome Works. A few years later Asha felt she needed to be more "coorporate" and Pacific Domes was born to support the growing demand for geodesic domes worldwide. Since then, Pacific Domes has surrounded itself with creative, cutting edge thinkers who, in collaboration with Asha herself, have pioneered a brighter future filled with alternatives in technology, shelter, and design.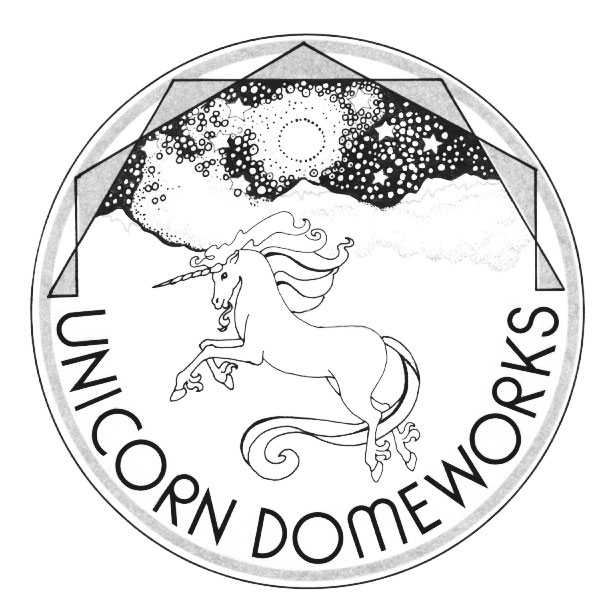 Buckminster Fuller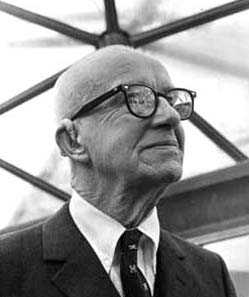 It all began in the 1940's, when inventor, architect, engineer, mathematician and cosmologist, R. Buckminster Fuller set his intention to solve mankind's housing problem. Through replicating "nature's own co-ordinate system" found in all spheres from planets to molecules, and through the understanding that gravitational forces are spherical (not linear), the geodesic dome was born. His designs superseded the structural integrity of any architectural structure yet made. In 1970, the American Institute of Architects awarded "Bucky" a gold metal, acclaiming the geodesic dome as "the strongest, lightest and most efficient means of enclosing space known to man.
Pacific High School
In 1969, After Asha moved to Santa Cruz to join the biodynamic farm, a dome building project began, to house 60 students and teachers at an "alternative" high school in the Santa Cruz mountains close to the farm. Utilizing Bucky's designs, 17 domes were made, experimenting with as many materials as possible; plywood, aluminum, sheet metal, fiberglass, Ferro-cement, cedar shingles, asphalt shingles, and even nitrogen-inflated vinyl pillows. This project became a focus for the counterculture's dome building movement of the late '60s/'70s.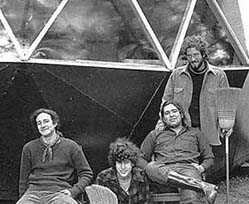 Pacific Domes
At Pacific Domes, we inspire the world to live simply, sustainably, and peacefully. Our domes model harmonious coexistence with the earth and ourselves. We work with top thinkers around the globe to promote sustainable solutions and climate-change education with our Planetarium and Projection dome partners. We provide relief domes in times of natural disaster. We make children smile with simple playground domes. We bring everyone under the same roof at gatherings, festivals, and events. We are here to support humanity, and to do so in a way that is kind to our fragile planet.