"Immersive large-scale Full-Dome VR Environments Have the Capacity to Affect Positive Social Outcomes in the Human Consciousness Movement."  — Pacific Domes, Inc.
The Next Wave of VR Entertainment & Education
So how does the futuristic VR dome environment differ from our current definition of immersive virtual reality? Pacific Domes and team partners Obscura Digital and Ed Lantz, Vortex Immersion Media have been working hard to steer the next wave of entertainment and education towards a positive timeline by bridging the gap between emerging technologies and our natural evolution in human consciousness.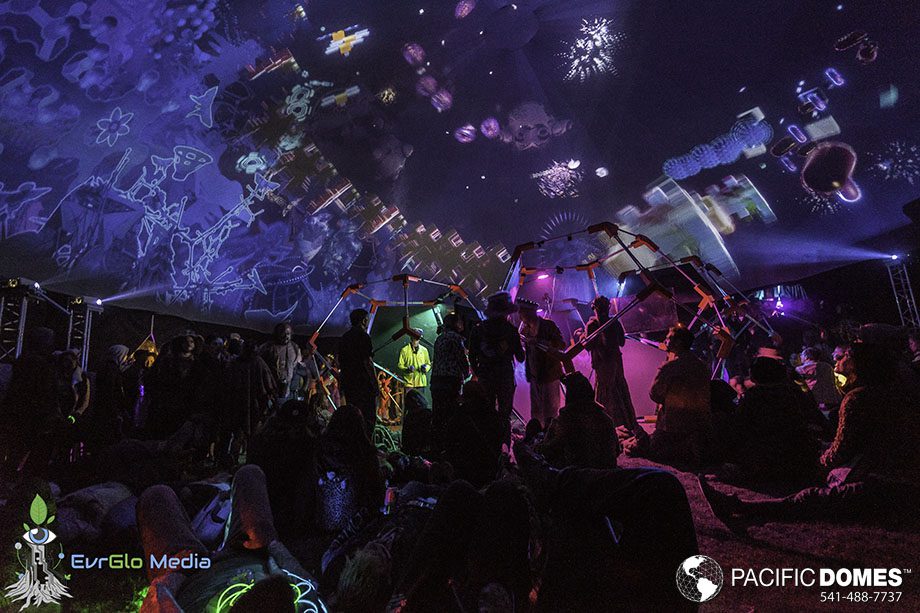 Tell your Story and thrill your audience with personalized visual adventures that inspire, educate and expand awareness. Harness the power of 360° VR projection to foster organic emotional connections in a VR dome projection theater by Pacific Domes.  
Surpassing IMAX's old-style projectors by replacing them with interactive digital computer graphics projected onto large-format domed screens, media and entertainment engineer, inventor, scientist, artist and entrepreneur Ed Lantz continues to astound the world with his visionary skills.
Among Ed Lantz's many accomplishments as an internationally recognized pioneer and leading authority in immersive experiences for mega-size audiences is his foundation of The Harmony Channel, a network that specializes in delivering visual mood-elevating music and cinematic experiences designed to invoke a variety of positive states. Ed Lantz is also an active board member with The Center for Conscious Creativity.
VR Dome Theater – Vortex Immersion Media
Event planners are aware that you want to create an event where you can take people to the heart of your story. With old technology, you have about a minute to grab your audience's attention before they start looking down at their devices.
What if you could harness the power of people's sensory inputs and take them on an immersive, multisensory journey? Setting the stage for eclectic storytelling performances, the Vortex Dome™ — an iconic projection mapping dome at Los Angeles Center Studios — has been doing just that, since 2010.
Storytelling in a projection mapping dome isn't something you can experience at home or on any flat surface display. By weaving the magic of storytelling onto the dome's non-flat surface with awesome visual presentations, a 360° projection mapping dome shapes images that draw audiences from far and wide.
Located in the heart of downtown LA, Vortex Dome™ is the first immersive commercial event tent to host a wide variety of large-scale arts & entertainment co-productions, including live stage shows and fine arts 360° cinema theater performances. The 50' diameter dome accommodates 150 removable seats, has an 18' x 24' modular stage, 20K lumen Baco DLP projectors and 5.1 surround sound.
You're sure to enjoy the message of this story, especially the happy ending filmed by a fan of Vortex Immersion Media at the Vortex Dome during the recent L.A. TIMES Festival of Books in Lost Angeles, CA. (10:27 min.)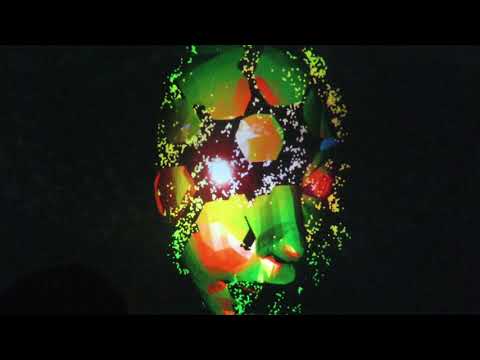 An award-winning leader in VR Projection, you'll find Pacific Domes at such mega events as the Coachella Music Festival and Burning Man, to name just a few.  VR Projection and VR Projection Dome Theaters are made for each other, but don't take our word for it… do your own research to learn more about harnessing the power of VR Projection Domes for your next spectacular event.
The Antarctic Dome at Coachella ― Obscura Digital (1:26 min.)

Star Wars Technology… A Look at the Latest in VR Entertainment & Education
"Scientists are one step closer to turning science fiction into reality. A new 3-D display system by researchers in Canada, is able to transmit a full-size, 360° image of a human that can be seen without any special gadgets like headsets or fast-moving mirrors. The futuristic technology could usher in a new era of ultra-realistic 'telepresence,' ranging from remote participation in meetings and conferences to virtual on-stage appearances at concerts."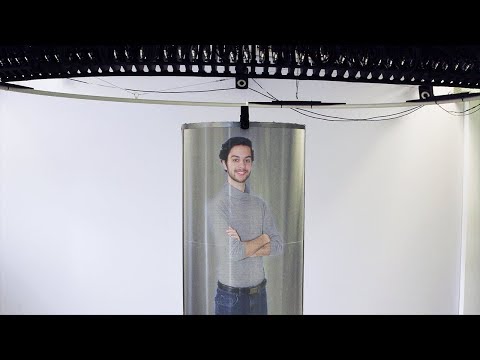 Event Planners find that browsing Pacific Domes' gallery of Event Domes is one of the best ways to spark ideas for their next awesome event.