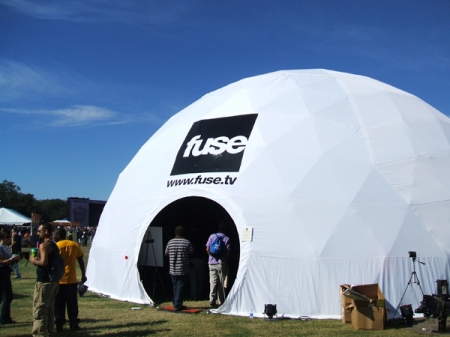 Pacific Domes of Oregon, leading builders of Geodesic Event Tents for use as Event Shelters Systems, Festival Tents for Rent, and the worlds most innovative Trade Show Booths in existence.
Fuse TV, a 24-hour all music cable network, hosted a 44 ft. event dome at Voodoo Festival in New Orleans. The Fuse Dome served as a music video command center which was a cool place for festival-goers to meet up and have fun.
Thee were 25 plasma screen TVs showing video footage of the Voodoo artists, some of whom stopped by the dome to sign autographs for fans. Computer kiosks and interactive games were part of the fun but the best action was at the "Make Your Own Video" station.
Here, visitors were given the opportunity to work with Fuse TV's resident video DJ to create videos that could be uploaded and viewed online. The entire scene at the dome was a great marketing experience to promote Fuse TV, who was one of the main sponsors of this event.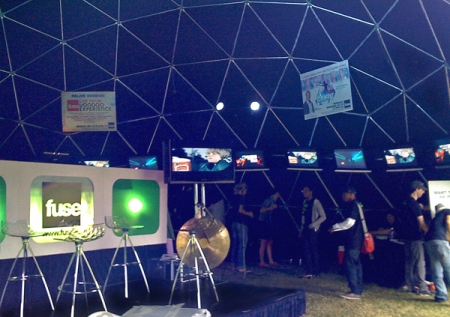 The 44 ft. dome was made with a white Event Lite skin. Vinyl decals, which displayed the Fuse TV logo, were applied to the outside of it. The dome needed to be dark inside so that the plasma TVs and video equipment could be operated without interference from the sun. Because our Event Lite fabric is translucent, this required the addition of a second layer. Pacific Domes installed a Theatre Fabric liner, between the frame and outer cover, which allowed the Fuse TV staff to control the lighting conditions within.
This year the Voodoo Festival was named The Tenth Ritual to mark its tenth anniversary. The three day musical event took place in New Orleans' City Park and featured performers such as Stone Temple Pilots, Nine Inch Nails and R.E.M. The Voodoo Experience is known for its diverse blend of high-quality artists including big acts, locals and up and coming favorites. The festival showcases a wide range of musical genres and uniquely reflects the personality of New Orleans. In 2005 it was the first event to take place in the city following the devastating floods caused by Hurricane Katrina.