"We're over 1 million seeds planted and only halfway through the day!"
― Kimbal Musk, Big Green
The First Annual Plant a Seed Day, coinciding with the 2019 vernal equinox, was a huge success! Supporters across America united to take decisive action towards a healthier future by participating in #Plant a Seed Day.
This year's first day of spring, March 20th, brought families, schools and children of all ages outdoors in a collaborative effort to inspire kids to learn where real food comes from. The brilliant concept behind Plant a Seed Day is to educate kids (and their appetites) to choose fresh, pesticide-free real food over fast 'junk' food.
The national campaign aims to raise awareness as to the vital role that nutrient-rich real food plays in one's overall health – and, that it tastes really, really good, too. Thanks to the vision and commitment of Kimbal Musk, in concert with the superb coordinating energies of Kimbal's Big Green team,the Learning Garden has been facilitating with the transformation of over 405 urban schoolyards in U.S. cities since 2011.
About the Learning Garden
Part-playground, part-outdoor-classroom, Learning Gardens serve as spaces where students learn about the science of growing fruits, veggies and, so much more. Learning Gardens are custom designed to provide vibrant gathering places, bursting with life, helping kids rediscover their innate connection to Nature.
Join the growing movement and learn about partnering with Big Green to bring Learning Gardens to your community.
Portable Greenhouse Geodomes provide perfect educational environments for Learning Gardens.
Here's just a few innovative uses for prefab Learning Garden domes:
Pre-Schools & Schools • Outdoor Camps & Learning Programs • Nature Centers
16' Greenhouse Dome & Aerial Tower System (2:40)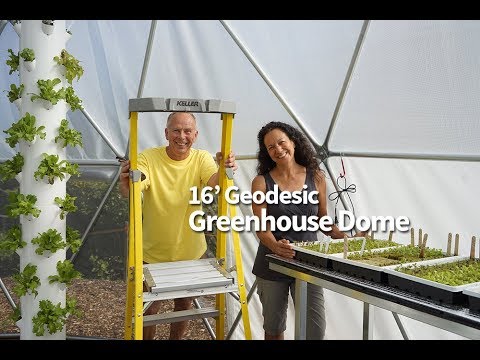 We're Here to Help
If you liked this post and would like more information on geodesic-engineered building systems be sure to visit Pacific Domes. You'll be pleased to find a friendly and helpful staff ready to discuss your needs, so you have the best experience possible.