Immersed in the sights, sounds and smells of the Gandoca-Manzanillo National Wildlife Refuge, Playa Grande, Costa Rica is known for its rich biodiversity and spectacular white-sand beaches.  Faith Glamping Domes Resort invites you to enjoy authentic eco-resort hospitality in a super-clean, tastefully furnished and comfortable ecoliving dome, just steps away from your private entrance beach.
Faith Glamping Domes Resort has been welcoming guests since March 10, 2017 and has received many rave reviews from appreciative visitors who loved their unique eco-hospitality stay, vowing to return again.  It's a place where you can de-stress and reconnect with the tranquility and beauty of Nature.
Only ten minutes walking distance from the town of Manzanillo and the Wildlife Refuge National Park, Faith Glamping Domes Resort offers all the comforts and amenities of resort-style hospitality. All rates include breakfast served at the Dome. The resort offers free private parking and WiFi connection. All domes are air conditioned.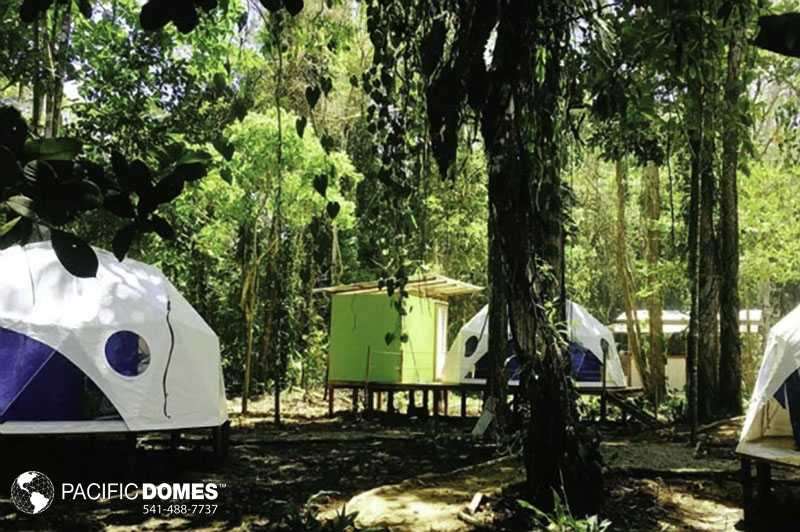 "When you support small business, you are supporting a Dream." ― Andrea
A Unique Dome Glamping Experience
The resort presently offers three ecoliving domes where you can relax, experience deep Inner Peace and feel truly pampered. You'll love gazing through the jungle canopy at night stars and falling asleep while listening to the gentle lapping of ocean waves and a symphony of jungle sounds.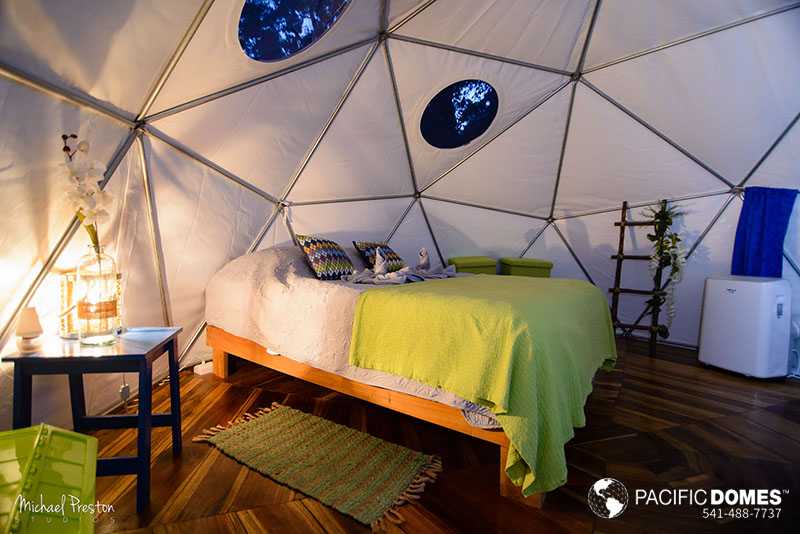 A great romantic getaway, the Love Dome is placed at the center of everything and represents the universal love energy that permeates all of creation.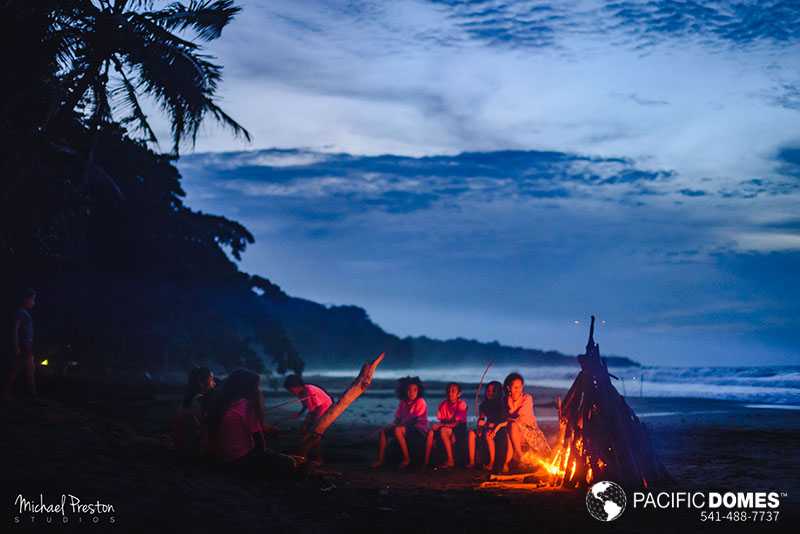 Facing majestic ocean views and backed by a variety of tropical fruit-laden trees, two additional domes honor the elements of Water and Fire. Andrea, the gracious owner and hostess at Faith Glamping Domes, has plans to expand in the near future by building the Earth Dome and Air dome, thus representing all elements with Love at the very center.
Always friendly and attentive to your needs, Andrea embodies the warmth and color of the rich indigenous Costa Rican culture.  For her, Faith Glamping Domes Resort is a true labor of love.  She pours her heart and soul into creating the ultimate getaway experience where you can transcend everyday life and find that moment of bliss that exists in the Great Stillness of Peace.
Being in a tropical paradise bodes well for your taste buds, too.  Tropical fruit and fish abound.  In the morning, you'll enjoy a satisfying breakfast that will leave you ready for the day's adventures.
Dome Science & Design
A dome isn't just a random shape. It's a purposeful space that's rooted in the ancient science of Sacred Geometry.
Every aspect of dome design has a meaning that correlates to a mathematical frequency. A dome vibrates in harmonic resonance with our natural surroundings promoting relaxed states of wellness and inner peace.
You sleep better in a dome and wake up feeling energized!  Crystals have been embedded beneath each dome's platform to increase the domes' energetic level.