Dome Engineering
Pacific Domes are engineered for both internal and external weight loads and support lighting and sound equipment. We offer an in-house structural analysis upon request. To be approved for permitting, your local building department may require engineering documents. Our architect and engineer can help you meet your requirements. Pacific Domes exceed TUV engineering requirements for all European countries.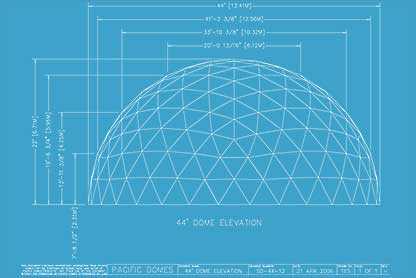 Engineering BlueprintsPacific Domes are the most durable structure, utilizing the least material. Our frames are made of USA galvanized steel. They are engineered for both internal and external weight loads, and support lighting & sound equipment.
Dome Frames
Our dome frames are made from galvanized steel. The steel dome frames, in conjunction with the geodesic design, creates an amazingly strong structure using a minimal amount of material.
Steel Dome Frames
Standard: .92″
Heavy Duty: 1.31″
Extreme: 1.9″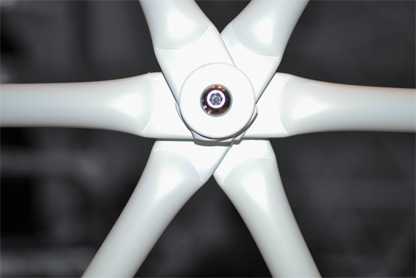 Interior Freedom – Our geodesic dome frames are freestanding with no support poles to obstruct your valuable layout.
Anchoring the Frame – Anchors are supplied to secure the dome frame to asphalt, concrete, earth, or a deck.
Portability – Our Geodesic Dome frames pack down into small bundles that are easy to ship and handle!
Powder Coated Frames – With many colors to choose from, powder coating is a quality and colorful finish available for your dome frame. These colors will not fade or chip.

Dome Covers
SunShield Fabric is highly luminous fabric that allows solar passive heating. It is a vinyl coated polyester fabric. It has a protective film which increases the UV resistance. Because of its smooth surface, it is easy to clean.
12-20 yr. Life Expectancy
Flame Resistant
Waterproof
Highly Resistant to Mildew
Extra UV resistance
5-Year Pro-Rated Warranty
Color choices
Dome Doors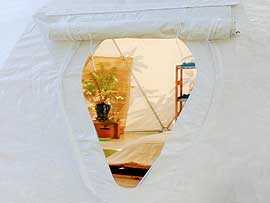 Zip Doors
Our convenient fabric diamond door can be zipped open, or closed from inside or outside.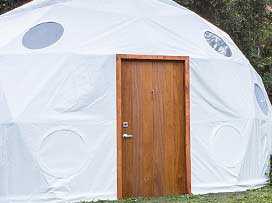 Prehung Door
Our prehung doors allow for a standard single or double door.
Dome Windows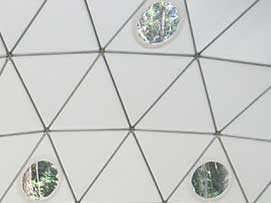 Round Windows
Our removable round windows are made with clear marine vinyl and are extremely durable. The are included with every dome, and interchangeable screens can be purchased.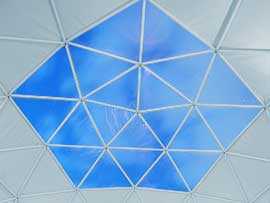 Skylight Windows
Our Optional skylight, made of UV resistant clear vinyl, zips in, replacing the roof of any size dome. It allows a wealth of additional light into the dome.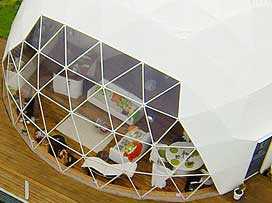 Bay Windows
Each dome is manufactured with an elegant and extremely durable bay window. The large window is made with marine vinyl and sewn into the dome skin, allowing the interior of the dome to be illuminated with natural lighting.
Dome Insulation
Thermoshield
Our Thermoshield Insulative Paint is a non-toxic, cost effective insulation solution. It is an elastomeric paint containing ceramic borosilicate micro-spheres, a technology used on the space shuttles to prevent heat damage as they leave or re-enter the atmosphere. We recommend Thermoshield in areas with extreme UV exposure. Coating the outside of your dome with Thermoshield will keep it cool inside, while protecting the fabric from UV exposure, thus extending the life of your dome cover. The dome will remain portable even with a thick coat of Thermoshield. It is available in many colors and with your choice of a smooth or stucco finish. Please Note: Thermoshield paint will reduce light penetration.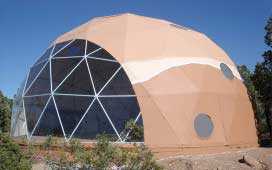 Winter Liners
Our insulative liner is made of water resistant, easy to clean, fire retardant oxford nylon backed with a thinsulate liner that is naturally mildew and mold resistant. Easy to install and to attach on the inside of your frame, keeping your dome home cozy and comfortable.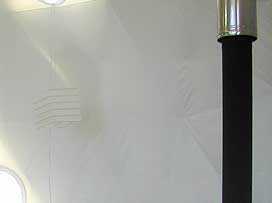 Dome Ventilation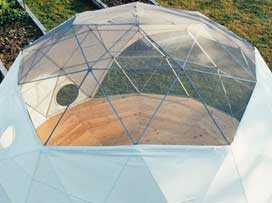 Roof Screens
Roof screens are available for added ventilation. The roof can also be zipped out for greatly increased air flow.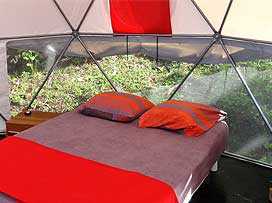 Base Rollups
The base of the dome rolls up to allow cross ventilation. This can be combined with the removal of windows, or adding of screens.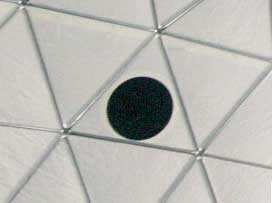 Window Screens
Window screens are available for ventilation. Each window can also be removed to allow cross ventilation.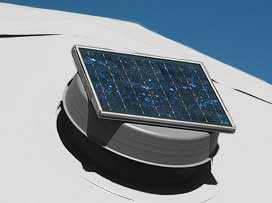 Solar Fan Air Vent
Our Solar Fan is solar powered and is the most technically advanced, environmentally friendly air vent solution for your Pacific Dome.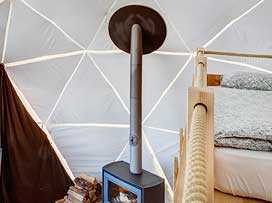 Cap & Vent Flashing
Each dome comes with an optional stove vent flashing and cap for wood stove installation. Comfortable temperatures can be maintained inside the dome while snow storms flurry outside.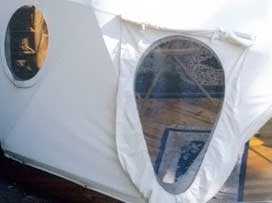 Door Screens
Door screens are available for increased ventilation. The door can be (zipped) open for added airflow.
Dome Floors
Pacific Domes offers a Heavy Duty vinyl floor that curves up the side wall in order to keep standing water out. For colder climates, we recommend an insulated floor, using Thinsulate* sandwiched between two layers of vinyl. Vinyl floors are available in many colors. The above cream colored floor worked well with the salt flat in Bolivia!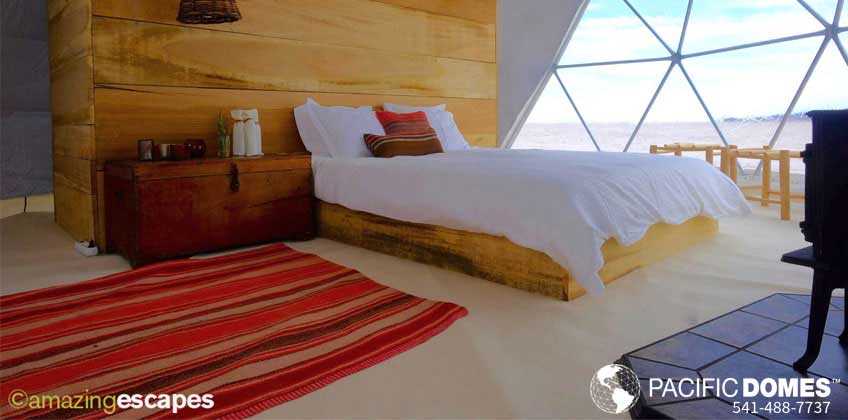 Pacific Domes offers 3 types of floor plans for your convenience. We provide Portable Mandala Floors, A Joist Method for permanent installations or a Perimeter Plan for use with earthen floors. Consult with our sales team for more information and pricing.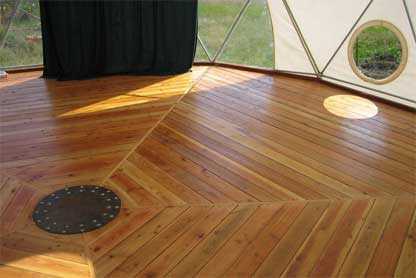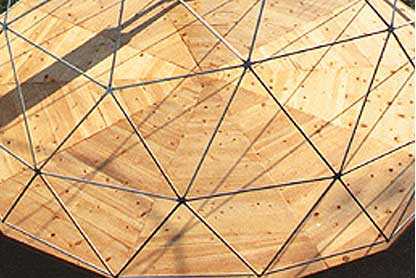 With 40+ years of dome experience, no other company can do it quite like we do. Our full in house design team can turn any dome aspiration into a reality. From custom elegant viewing windows to multiple connected domes, our team is the best in the business. Our project managers and account executives see each dome from conception to completion, ensuring your custom project is produced with every attention to detail. From amphitheaters, to geodesic spheres, Pacific Domes will manifest your wildest dreams. Contact our sales team to understand our full customization capabilities.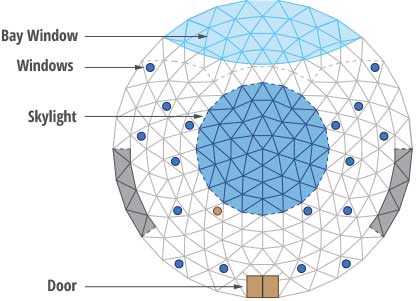 Our qualified team is able to produce and ship your ideal dome to fit the timing of your project. Thanks to our in-house manufacturing, we have a 100% track record even with custom orders.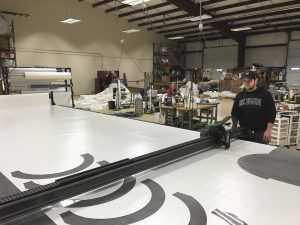 Faster turn-around times
Extensive customization options
Durable materials
Production oversight under one-roof
Our domes are portable, quick and easy to assemble. Geodesic Domes are the strongest structure known in the architectural world and will fit in the back of your car!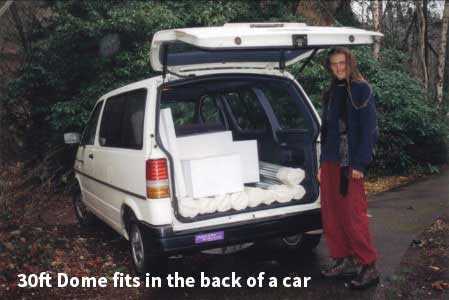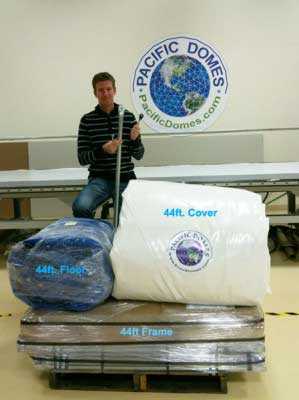 Pacific Domes offers complete instruction manuals. We also offer phone support, from constructing your deck to installing your wood stove. We also offer a qualified team that is ready to travel anywhere to insure your success.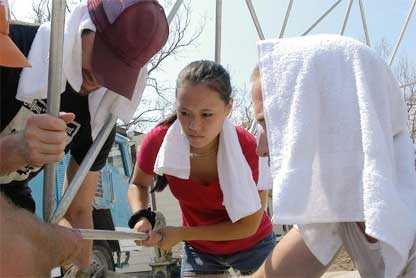 Assembly
Construction
Flooring
Foundation
Vaastu is the ancient science of sacred architecture. Much like the spheres in astrology, structures generate an energetic field. Living in a Vaastu dome will generate a conscious field which will support the evolution of the soul. Each dome comes with a personal Vaastu Dome reading. "The structure of the Vaastu inspired dome vibrates with cosmic energy and the bodily instrument resonates with this vibration. To create and offer a home of supreme bliss, and to enable us to experience that supreme bliss, here in this mundane house itself, these are the prime motives of Vaastu science". Dr. V. Ganapati Sthahati. Dr. V. Ganapati Sthapati worked with Pacific Domes to calibrate each of our dome sizes to create harmonics of consciousness. Vaastu describes the physics of creation in terms of Aum sound and Aum light, which are inseparable from consciousness. This physics has recently been validated by award winning physicist, Nassim Haramein. The sound/ light measurement in Vaastu is the same measurement found when energy turns to matter. Vaastu science dates 13,900 BC. It is believed that Feng Shui was born from this Vedic physics approximately 6,000 years ago.