Pacific Domes of Oregon, industry leader in the manufacturing of Geodesic Domes for corporate events, trade shows, and event marketing efforts, using Geodesic Dome Tents to display corporate branding messages, printed marketing memes, projected animations and immersive environments for stunning trade show and corporate event displays.
We also team up with 360 projection theater masters Vortex Immersion, as in this event, to create Virtual Reality Domes with powerful Immersive Environments, Virtual and Augmented Reality to create powerful marketing messages to their potential customers.
Attendees at this year's EMC² World IT Technology Conference in Las Vegas, NV were once again treated to an incredible full dome theater experience.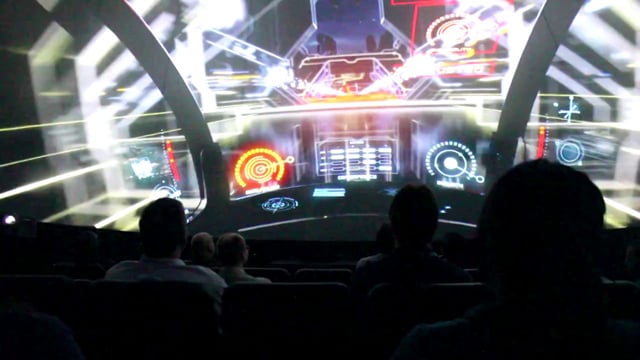 Pacific Domes partnered with Vortex, who produced a six minute full-dome film projected within the 35′ diameter geodesic dome with an immersive dome projection  experience best summarized by one stunned guest: "I felt like I was in Tron."
Guests of our Grid needed only to survive the line for the dome, steady over the two-day conference and once inside witnessed live action, captivating animation and visualization including a first person motorcycle racing experience through a futuristic downtown concept connected by grids of data information and technology.
The dome's immersive activation: an incredible synthesis between data technology, immersive media, and geodesic structuring.
EMC² is a $20 billion supplier of storage and cloud computing solutions and services. EMC World attracted 17,000 attendees and VIM's immersive dome was once again the centerpiece of this year's conference.