The Transformational Ecotourism Experience
Ecotourism is defined as "the responsible travel to natural areas which conserves the environment, sustains the well-being of the local people, and involves interpretation and education." When one steps out of the ordinary and into the magical realm of nature, a beautiful transformation happens. Wildly successful Eco Resorts around the globe are utilizing Geodesic Domes to offer this extraordinary experience while providing world-class ammenities in some of the most breathtaking locations on the planet, ultimately supporting the continued sustainability of this Earth we call home.
---
H'Ohm Jungle Retreat
Located along the scenic Hummingbird Highway in the heart of the Belize jungle, H'Ohm offers an affordable eco-vacation with the opportunity to become part of a lasting cooperative community. It opened in 2014 as an eco-retreat with a vision of wellness and sustainability.
---
Amazing Escapes In Bolivia's Salt Flats
Near the crest of the Andes mountains at an elevation of 11,995 feet, the Bolivia Salt Flats, known locally as the Salar de Uyuni, cover an area spanning over 4,086 square miles. Normally an arid, barren surface, during the rainy season, a thin film of water gathers on the vast plain of salt deposits, transforming it into the world's largest natural mirror.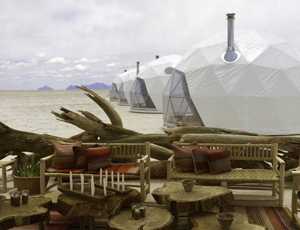 ---
Eco Resort Dome Villages
The diverse qualities of exotic Eco Resort Dome Villages appeal to those seeking responsible environmental stewardship while enjoying the comfort and tranquility of natural surroundings. GeoDomes are suited for all types of terrain and can be found at Eco Resorts and Retreat Centers in many remote locations all over the planet.