Ecoliving Dome Homes offer a number of advantages over standard building structures. One big economic advantage is the dome's superb energy efficiency.
Studies on the energy efficiency of domes have shown there to be energy savings of over 30% to comparable-size traditional homes. Due to the unobstructed interior and exterior air-flow, geodesic domes enhance ambient air and prevailing breezes, making them naturally energy efficient.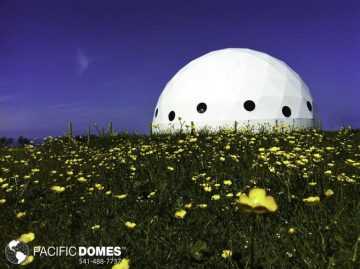 Specifically, a Dome Home is energy efficient for the following reasons:
Its decreased, spherical surface area requires less building materials that obstruct airflow. This means that exposure to cold in winter and heat in summer is decreased, due to less surface area per unit of volume.
Extreme wind turbulence is lessened because winds contributing to heat loss flow evenly around the dome.
The concave interior, with the help of return air ducts, creates a natural airflow, allowing hot or cool air to flow evenly throughout the dome.
Dome Home Faq's (Part 2)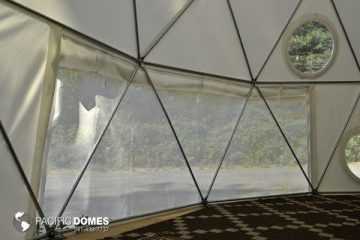 How do I cool and heat my dome?
When designing, planning and prepping your site, you'll want to position your Dome Home to maximize the sun's energy and keep your shelter warm in the winter and cool in the summer. Even in the harshest summer or winter conditions, there are several options for dome dwellers to transform their dome into a cozy refuge.
Ventilation: In moderate temperatures, strategically placed removable window screens around the dome keep the dome comfortable. Fabric roll-ups and screens at the base of the dome allow for cross ventilation.
Solar Fan: Powered by the sun, solar fans are an environmentally friendly solution that can optimize air-flow, while controlling temperature and humidity.
Winter Liners: Pacific Domes Thinsulate winter liners are made to the same standard as a 0° sleeping bag. As long as there is a source of heat inside the dome, it will stay toasty.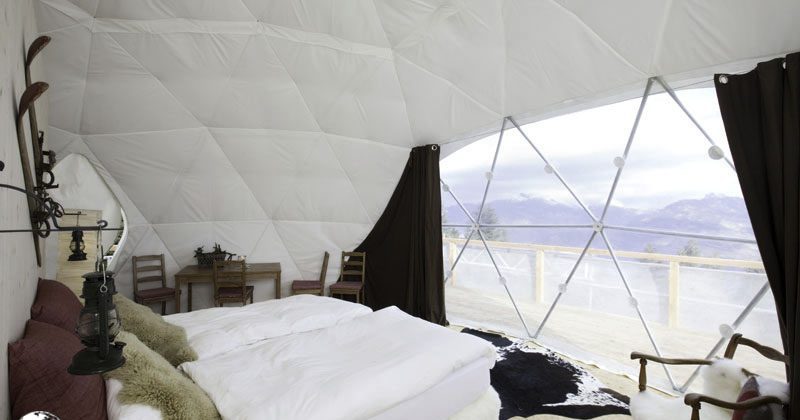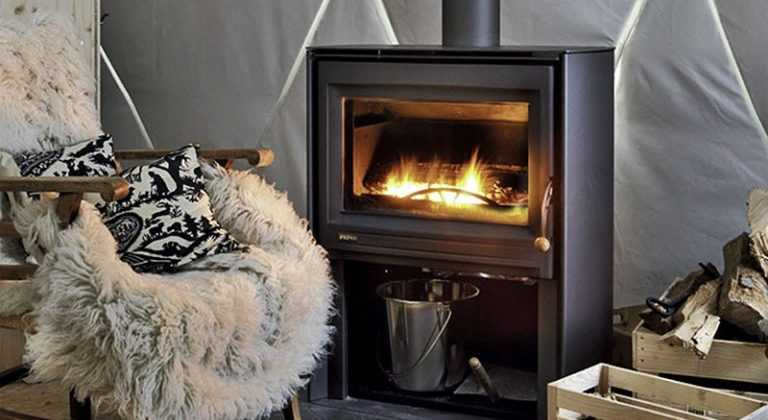 Wood Stove: Maintaining comfy temperatures in the midst of a snowstorm is easy with a cozy wood-burning stove. Dome Homes come with an optional stove cap and flashing for wood stove installation.
Thermoshield: Cutting utility bills nearly in half, space-age Thermoshield UV protective coating reflects heat back into the dome in the winter and reflects 99.98% of UV light away from the dome in the summer. In regions of extreme heat or cold, you'll reduce the required size of an air-conditioning and heating system by at least a third.
Additional Heating Options: Some Dome Home owners have run radiant heat throughout the floor. Solar hot-water heaters are another popular source of heat.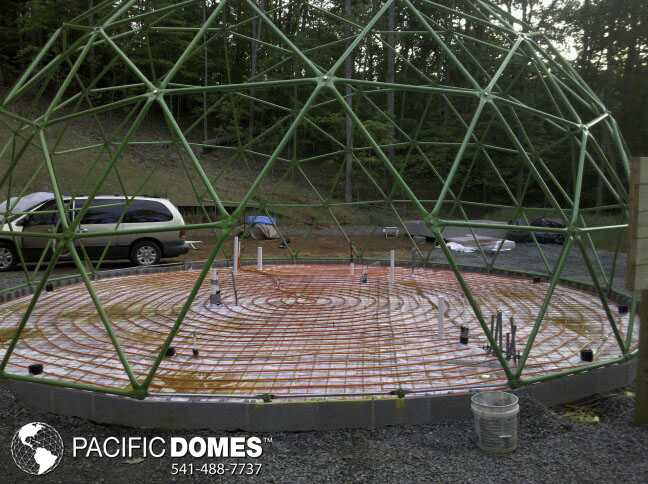 How Do I Create a Kitchen & Bath in My Dome Home?
Due to the nimbleness of the dome, solar or electric vents can be installed at the peak of the dome to remove moisture. Exhaust vents can be installed in a vertical interior wall near the top of the dome to remove water vapor from cooking, showering, laundry, etc.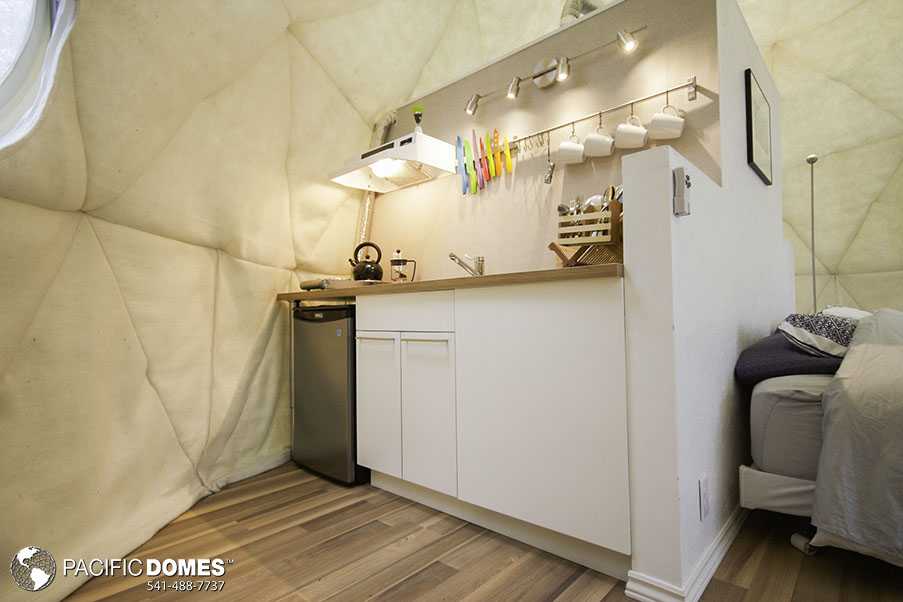 Kitchen:
The kitchen deserves careful planning and attention to detail, as it is one of the most utilized rooms in your living space. You may want to physically outline your kitchen design on the floor by masking off your space limitations to get a good visual.
In planning your kitchen, you'll need to consider moisture-proofing and ventilation, such as a vented range hood. Combo kitchen units sold to RV and boat owners are an affordable option for creating Dome Home kitchen spaces.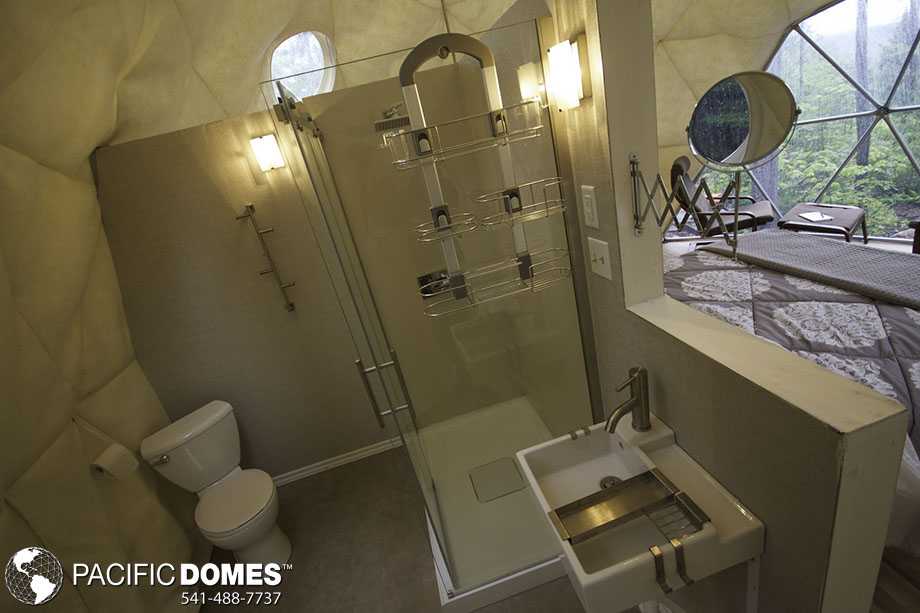 Bath:
When it comes to bathroom privacy, subdividing your space and installing electric vents is an important design element. You'll want to ventilate and moisture-proof your bathroom and shower.
How Long Will My Dome Last?
The American made, high quality galvanized steel frame will likely last indefinitely. With proper care and cleaning, a Pacific Domes cover has the ability to last over 20 years.
Over the years, Pacific Domes has discovered that a dome's interior design is only limited by one's imagination. We invite you to visit our dome gallery to view a few innovative ecoliving spaces for yourself.