Variety being the spice of life and with 5,500 miles of Atlantic coastline to explore, Bangor/Holden KOA (koa.com/campgrounds/bangor/) is a great stop-over base camp for your trip to Maine. If you've never experienced glamorous camping or dome glamping at Bangor/Holden KOA, you're in for a unique hospitality experience!
Memories are what getaways are all about! An enriching and memorable dome glamping holiday at Bangor/Holden KOA is an affordable way to experience Maine's striking DownEast coastline and Acadia National Park's deep pine forest region. The term DownEast, downwind and to the east, was traditionally the direction sailing ships traveled from New York to Boston.
Holden is a colorful rural New England town overlooking the Penobscot River Valley, nestled amidst rolling hills and conveniently located off Hwy 1A. Minutes from Bangor and centrally located on its way to everywhere, popular destinations include the authentic sea-infused sights, sounds and tastes of Bar Harbor and other classic vacation towns, one-of-a-kind attractions and seasonal events.
"Come as strangers, Leave as Friends"
Bangor/Holden KOA, formerly the Red Barn Campground, is immersed in a preserved woodland setting with natural spaces to relax and hiking trails to explore. This clean, family-friendly and pet-friendly Holiday KOA offers a number of amenities that include a large well-maintained pool, kid's playground & bounce house, as well as theme weekends, tractor rides and horse shoes.
The pavilion easily accommodates 100 people and is popular with RV clubs and Rallies. It's the perfect place for hosting meetings and group gatherings like wedding parties and family reunions.
You'll love the KOA campground's Red Barn Café, which serves breakfast foods, sandwiches, 'lobstah' rolls, Gifford's Ice Cream and fresh-made whoopee pie! And let's not forget: the best tasting pizza in town can be delivered directly to your site.
Dome Glamping Under Starry Night Skies at Bangor/Holden KOA
See all that Maine has to offer and make it a memorable dome glamping getaway. The hosts of Bangor/Holden Holiday KOA are super friendly and accommodating. You'll want to return again and again.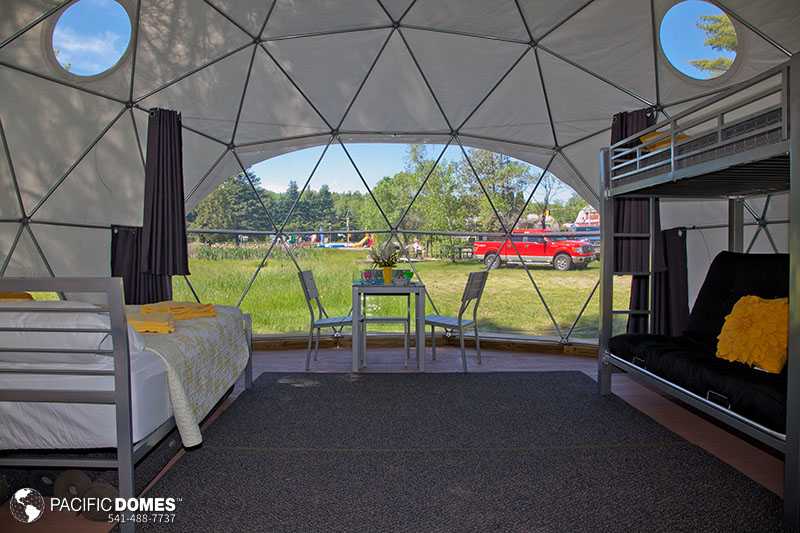 You can expect a restful night's sleep in your spacious dome, simply and tastefully furnished with a queen bed, single bunk and comfy futon. It sleeps up to 4 people. There is WiFi throughout the park. The dome also includes a USB port and one more outlet to charge your electronics.
To learn more about other dome glamping destinations, visit: domeglamping.com