"Larger Scale Immersive VR Dome Environments Have the Capacity to Affect Positive Social Outcomes in the Human Consciousness Movement". — Pacific Domes, Inc.
What if you could harness the power of people's sensory inputs and take them on an immersive, multi-sensory journey? Setting the stage for eclectic storytelling performances, the Los Angeles Center Studios Vortex Dome™ is an iconic theatrical projection mapping dome that has been doing just that since 2010.
Cultural Storytelling in a projection mapping dome isn't something you can experience at home, or, for that matter, something that any flat surface display can deliver. Weaving the magic of storytelling onto the dome's non-flat surface with awesome visual presentations, a 360° projection mapping dome shapes images that draw audiences from far and wide.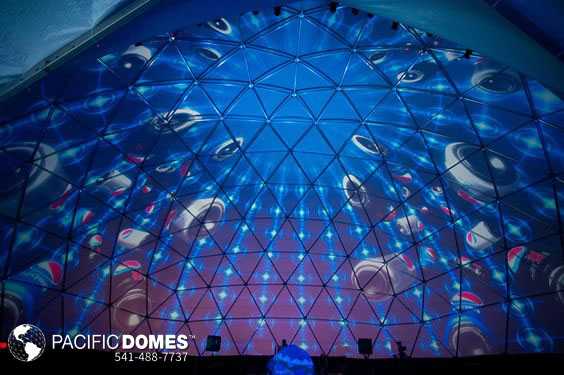 Located in the heart of downtown LA, Vortex Dome™ is the first immersive commercial event tent to host a wide variety of arts and entertainment co-productions, including live stage shows and fine arts 360° cinema theater performances. The 50' diameter dome accommodates 150 removable seats, has an 18' x 24' modular stage, 20K lumen Baco DLP projectors and 5.1 surround sound.
It's an Immersive Multi-Sensory Feast
What if you are a cultural storyteller wanting to take your art to an entirely new level? Projection mapping dome theaters are the perfect venue to take audiences on your immersive and interactive journey.
Large-scale 360° dome projection mapping theater environments deliver your powerful message to impact your audience, leaving them with a lasting impression. Storytellers find that the dome's interactive spatial arena offers limitless inspiration for creative multi-sensory displays.
In the immersive dome theater environment, you have the opportunity tell your story in a big way, inviting audience participation and empathy, influencing your audience to see things in new ways that build the collective dream for a better world. The Vortex Dome™, an outdoor event tent at Los Angeles Center Studios, sets the stage for many eclectic live musical productions.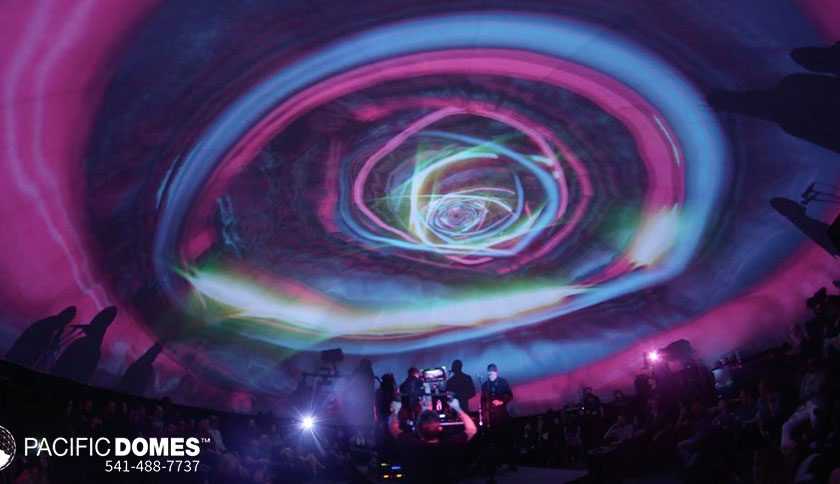 "It was a truly magical experience. As I entered the event tent that was serving as a stage for this marvelous performance, my eyes were immediately drawn upwards where I was greeted by a kaleidoscope of colors." — Aleta Arora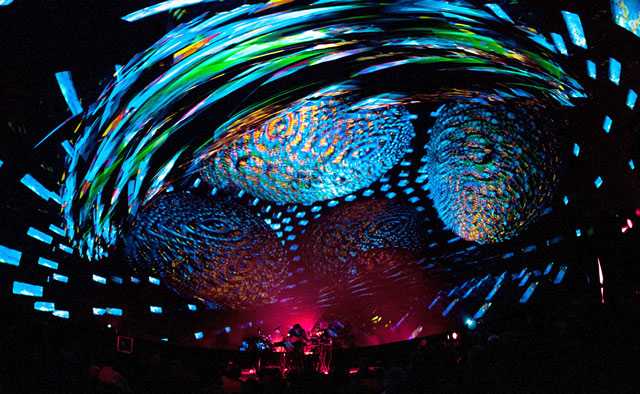 About Ed Lantz, President/CTO of Vortex Immersion Media
Visionary student of consciousness, Ed Lantz, President/CTO of Vortex Immersion Media, has realized a vision he received years ago. While still in his teens, Ed Lantz had a very clear vision of immersive dome spaces where performers were exploring the quantum 'inner space movie,' projecting their consciousness onto the dome, and transporting audiences into inner realms. While still in his youth, Lantz said he once had to choose between art and technology. Now, inside the dome, he's doing both… "It's a compelling experience," he smiles. Visit their site.
Additionally, Vortex Dome™ serves as an immersive media innovation lab and production studio. Activities include 360° product development, experiments with creative performance techniques, test marketing dome films and live shows, group/ client screenings and reviews of immersive VR content. Vortex Dome™ showcases private receptions the last Wednesday of each month, and is available for customized event rental venues.
Portable Storytelling Event Spaces
The popularity of using public spaces for collaborative event entertainment venues has increased during the last few years, and it's easy to see why large prefab geodome event tents have become the latest sensation with event planners and audiences alike. Starting with basic geodesic construction, portable geodome structures look elegant, are extremely sturdy and offer unlimited design opportunities to create the perfect immersive environment for your event.
Jackson Hole Global Immersion Projection dome, 44 feet in diameter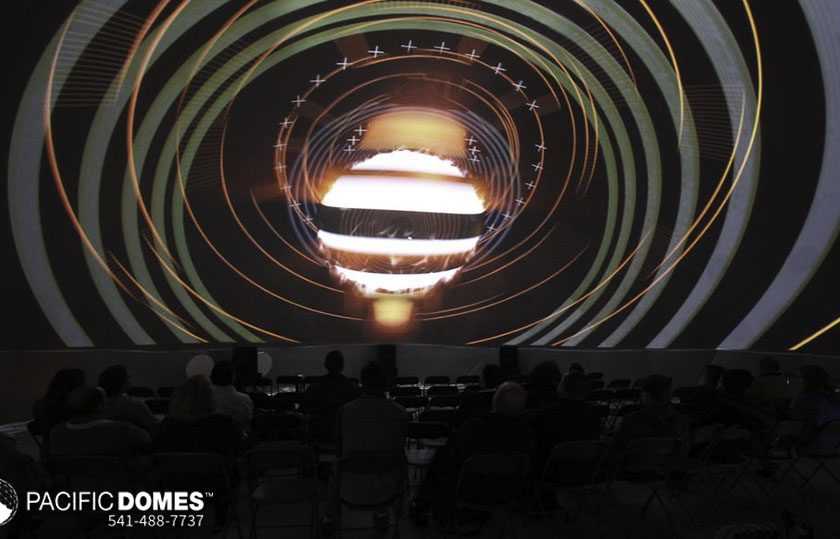 Pacific Domes, a leading US manufacturer of geo-engineered domes, in concert with multi-media partners Vortex Immersion Media and Obscura Digital, have been on the cutting edge of immersive dome environments, impacting the event industry for many decades. Together, they create multi-sensory immersive environments for interactive learning and entertainment experiences.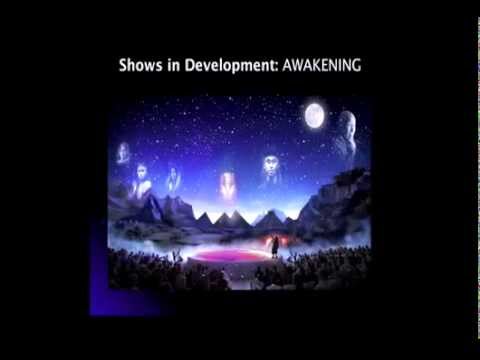 Award-winning Pacific Domes' patented Full-Dome Projection Liner is specially designed to give everyone the best seat in the house! Team partners Vortex Immersion Media and Obscura Digital are leaders in High-tech entertainment, bringing themes & projections to life to wow audiences of all ages.
Free-standing geo-engineered domes have proven to be virtually disaster-proof during inclement weather, high winds, hurricanes and earthquakes! Leverage Pacific Domes' industry expertise when planning your next corporate Storytelling Event.