Pacific Domes of Oregon, builders of the best Custom Event Tents and Commercial Event Tents in the industry, ideal Event Tents for Trade Show Marketing, Festival Promotion, and Branding Tents for Corporate Events.
Brainwave 2012 was a huge success – over 4,000 people visited NETPark to experience its summer science festival which took place over three days, in Sedgefield County Durham. The event saw over 270 school pupils from year 6 & 7 attend the 'school day' on Friday 13th and over 2,700 people attending on the public days on Saturday 14th & Sunday 15th July 2012.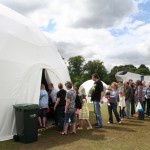 Element domes provided a complete black out dome in which seminars were held to its captive audience. The dome created the perfect place for the children to be educated in science and technology in a fully control environment. The futuristic structure looked fitted perfectly in the beautiful landscape and reminded people of a mini eden project. Our crew were praised in the speed and professional approach that was used in such a delicate location.