Portable Geodesic Dome Medical Event Tents Pacific Domes
"Our eco-friendly geo-engineered dome tents are rapidly deployable anywhere on the Planet!" — Pacific Domes Inc.
A must-have at any Event is the Medical Service Tent. Medical tent shelters are a high priority when it comes to providing first responders with a quick, versatile and economical staging solution for emergency services… event insurance!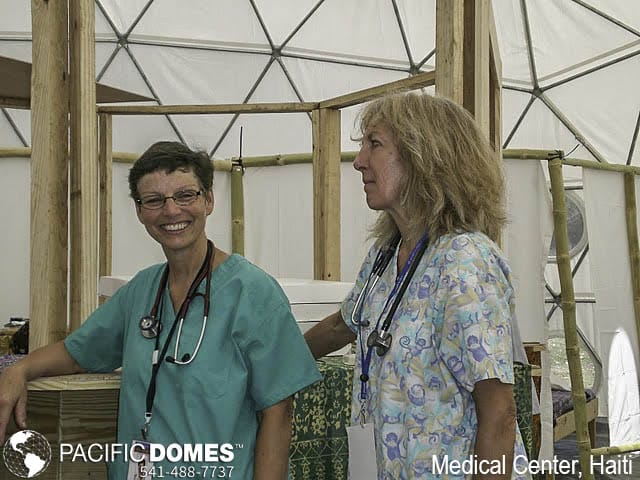 Taking the worry out of Event planning, portable geo-engineered dome tents have a proven track record, in bringing efficient first-aid tent options to a variety of popular Events. When it comes to hosting your next special Event, you may wish to consider these helpful facts in planning for your medical tent needs:
Eco-friendly geodome tent shelters are suited to all types of terrains, built to withstand harsh environments and perfect for hard-to-reach locations. The spherical design encloses the largest volume of interior space with the least amount of surface area, ensuring a light footprint.
Saving on medical tent construction costs, portable geodome shelters are rapidly deployable and easy to set up. Temporary shelters can be easily taken down when no longer needed.
The open arena of the medical geodome tent allows air to circulate freely without obstruction, thus enabling heating and cooling to occur naturally.
The architecture of a dome's interior atmosphere offers many design possibilities for convenient access to medical equipment. The overhanging truss system supports electrical; as well as, sound and lighting equipment.
Durable UV resistant, flame-proof and waterproof dome covers naturally illuminate the interior atmosphere. An added benefit if soliciting Sponsors for your event, the tensile strength, covers are available in a variety of colors for custom imprinting and product branding.
Geodome tents offer a variety of options to choose from such as: bay windows, skylight roofs, connecting tunnels and round doors. Translucent covers may be customized depending on need and usage.
Various types of floorings can be installed in domes to provide a comfortable environment for every function.
Multiple domes may be connected to create a whole dome complex.
Portable geo-engineered dome tents continue to be popular Event icons at Super Bowls, Tournaments, Marathons and numerous Sporting Events. Pacific Domes is proud to have a long-standing relationship with the Sporting Event Marketing Industry and the National Football League.
Pacific Domes, a US manufacturer of geo-engineered domes has been leading the way forward with portable geodesic dome tents for Events since 1980.