Mobile Event Tent Kits for Sale or Rent by Pacific Domes
"Because of its aerodynamic structure, geodesic domes are built to withstand Nature's extremes." — Pacific Domes Inc.
Illumination Domes: The Perfect Outdoor Tent Theater
Get ready for your next spectacular outdoor theater experience with dome magic under the stars in a geodesic tent theater! Illumination Domes tell your story in a powerful way, taking audiences to a whole new level of immersive entertainment.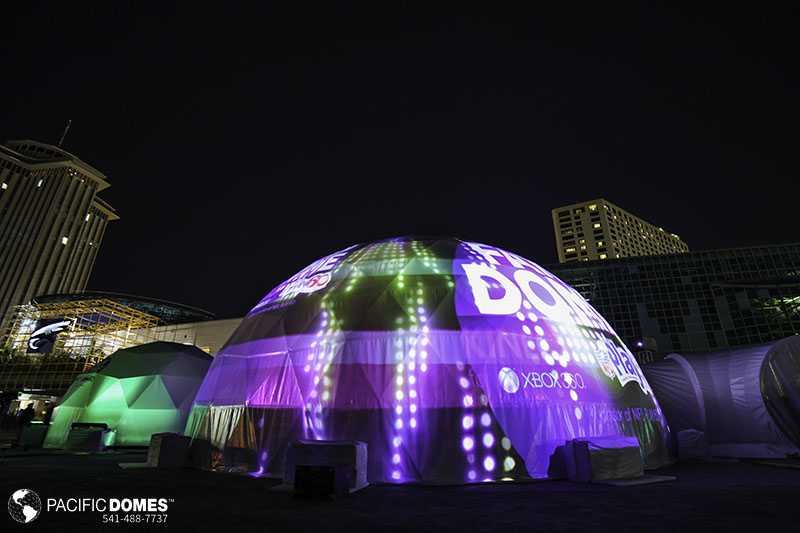 Full-dome, multi-media projection translucent through the Pacific Dome.
Illumination Domes offer a translucent full-dome, multi-media projection experience capable of projecting images both inside and outside tent theaters. An affordable option for Event planners, Illumination Domes are Projection Domes without a projection liner. You'll love these features:
Event-Lite architectural fabric is lightweight for ease of setup, and perfect for nighttime digital projections.
Made from breathable 100% tightly woven polyester (7 oz./sq. yard)
Event-Lite is fire retardant and mildew resistant
Event-Lite has a matte finish and is available in a variety of colors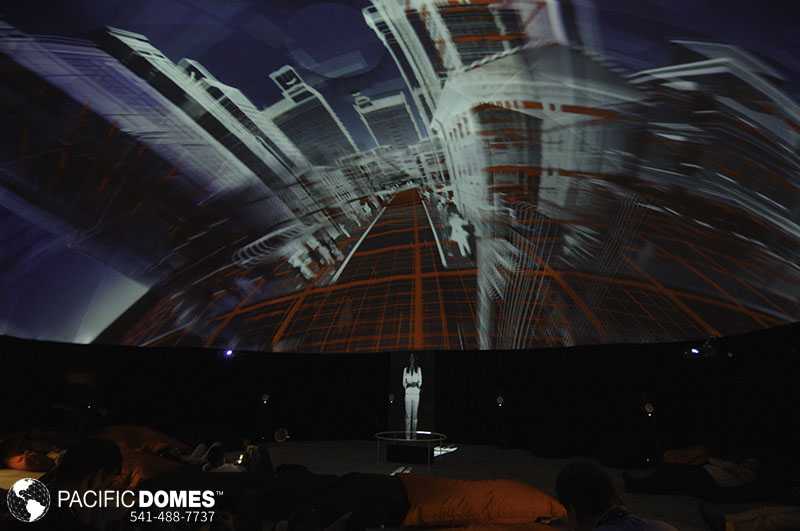 VR Projection Domes
VR Projection Domes (that's virtual reality, kids!) are designed to give everyone the best seat in the house! Through the magic of Geodesic Engineering and the medium of Immersion Technology along with projection mapping, portable 360⁰ Projection Domes create a rich environment for the benefit and enjoyment of all audiences.
360° VR projection tent domes for outdoor theaters and planetariums play a key role in the future of interactive entertainment and education, inviting live audiences to make deeper connections with the world around them through dynamic group energy. The open space of the dome theater provides the perfect spatial entertainment and educational platform for shared human interactions.
Proudly serving the Event Industry for decades, Pacific Domes is an award-winning global manufacturer of mobile VR Projection Dome theaters. In partnership with Obscura Digital, Pacific Domes built this 120 ft. geodesic dome theater for Coachella Music & Arts Festival 2017.
The Antarctic Dome at Coachella 2017


A truly spell-binding immersive experience awaited fans at the 2017 Coachella Music & Arts Festival, as Obscura Digital unveiled their latest audiovisual creation. Chrysalis, an 8-minute 360° Virtual Reality performance was projected high above domed walls, as captivated spectators gazed outstretched on the floor below.
VR projection dome theaters and planetariums offer a realistically-dimensional display space for interactive entertainment and education that is now being recognized by the expanding area of research on 3D Geographic Information Systems (GISs) and Highly Immersive Virtual Environments (HIVEs). When holographic projection is added to the dome's spatial environment, this "mixed reality" sets the stage for many inspiring venues to captivate live audiences.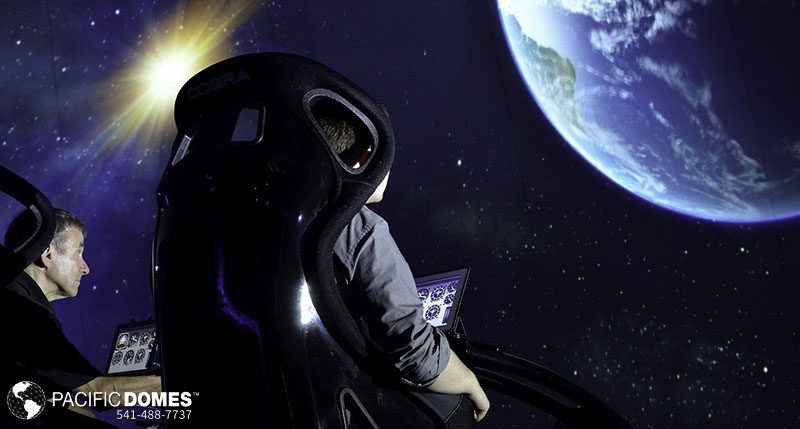 Geodesic Domes have a structurally superlative capacity for projection and lighting innovation, making geo-engineered Projection Domes and Amphitheater Domes ideal for musical and theatrical performances. Pacific Domes' patented Projection Liner is specially designed for digital projections and light shows.
Domes naturally amplify and echo sound. There are no center beams to interfere with design and the open floor of the entertainment stage. The overhanging truss system becomes the perfect housing for audio and lighting.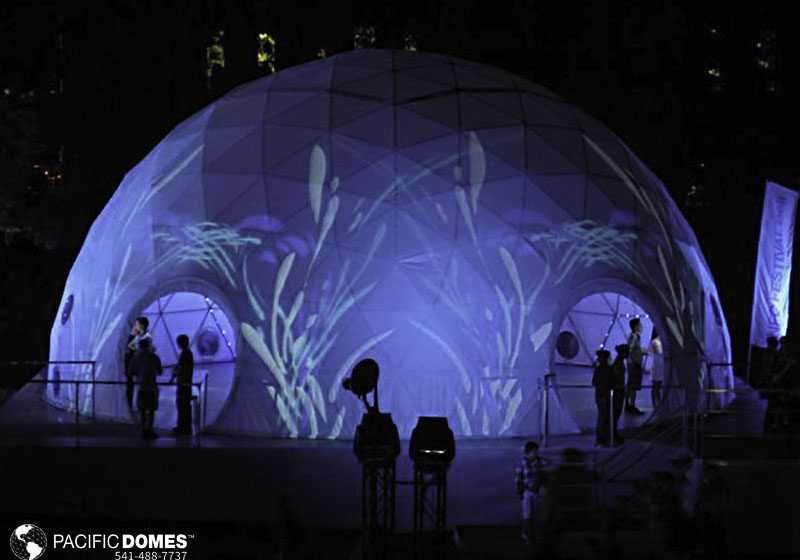 "Our VR Projection Domes are dedicated to the advancement of Highly Immersive Virtual Environments for entertainment and education technology." ― Pacific Domes Inc.
Portable Amphitheater Domes… A Geo-Engineered Work of Art!
Like Projection Domes, Amphitheater domes are ideal for concerts and theatrical performances because they naturally amplify or echo sound. Free-standing geodesic engineered amphitheater domes have a superlative capacity for projection and lighting innovation.
Together with digital media and advances in outdoor sound-lighting technology, prefab amphitheater domes are game-changers for the entertainment industry. The overhanging truss system becomes the perfect housing for lighting and sound to captivate the audience experience and there are no center beams to interfere with viewing the entertainment stage.

The versatile covers can be used for digital projections and light shows, allowing images to be seen both inside and outside the performance stage. Artwork and logos can be printed directly on covers to create high-impact branding.
Leading the way in creating themes & bringing projections to life to wow audiences in concert with team partners, Obscura Digital and Vortex Immersion, Pacific Domes offers a rapidly deployable amphitheater dome that is a gorgeous work of geodesic engineering.
Be sure to visit Pacific Domes' Event Gallery for additional inspiration and information on Event Tent Sales & Rentals.