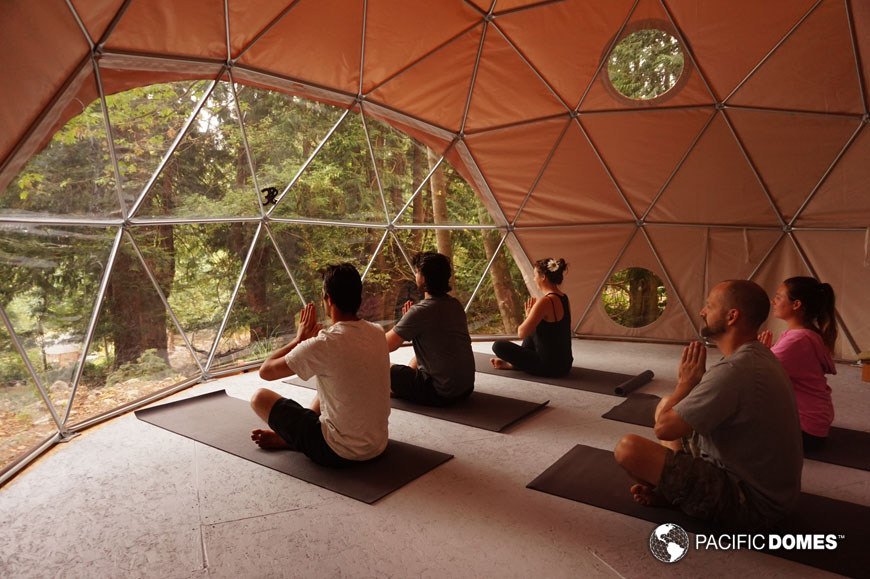 Geodesic Dome Yoga Studios and Meditation Spaces by Pacific Domes of Oregon – These inspirational Dome Studios for Yoga classes and group meditation sessions are favored by the worlds leading Eco-Tourism Retreats, Glamping Resorts, and forward thinking Meditation and Yoga Retreats across the world.
Nectar Yoga Bed and Breakfast has created the perfect space to connect with your higher self and with nature in a Pacific Dome on picturesque Bowen Island in Vancouver, Canada. Nectar Yoga opened its doors in September of 2014 and offers guests a yoga retreat experience which includes yoga classes, meditation, guided relaxation and daily healthy breakfasts. The Pacific Domes yoga dome features a large bay window and round windows that combine shelter from the elements with a connection to the gorgeous natural surroundings of Bowen island.
In search of a unique studio space that would be low impact on the natural surroundings, Nectar owner Andrea Clark researched a wide variety of possible structures for creating the perfect yoga environment- moroccan tents, yurts and even shipping containers before settling on a Pacific Dome.
"When we found Pacific Domes, we knew that their domes were the perfect structure for us. We love the ideology behind the construction of the dome, the high ceilings, the circular shape, the ability to open into nature, and that it can be used year-round. Since we live in a rainforest and can have harsh Canadian winters, the winterization capability of the dome was perfect."
Yoga has finally found it's perfect home!