Geodesic Wedding Domes
Looking for a sacred space in which to deepen your yoga practice and raise your vibration? The Geodesic Dome is a multidimensional pyramid which creates a peaceful environment imbued with Divine Consciousness. Many yogis utilize the subtle vibrations within the harmonic architecture of the Geodesic Dome to experience unity consciousness which is Yoga.
---
Say "I do" in a beautiful geodesic wedding tent
Imagine floating down the aisle under a dove white geodesic wedding tent wearing the wedding dress of your dreams. Like the dome of an outdoor cathedral, a geodesic wedding tent merges the sacred space of a holy sanctuary with the unrivaled majesty of nature. THIS IS MY SANCTUARY, your heart sings, as you gaze into the eyes of your beloved with the great outdoors unrolling around you on every side.
---
Your Epic Event is Covered
Adding a touch of elegance to your nuptial vows, a stately white geodesic wedding tent invites your special guests to partake in that blissful moment when you say, "I do". As you begin your journey through life together, your epic wedding deserves a well-designed outdoor wedding tent to provide a safe haven for your guests in the event of inclement weather.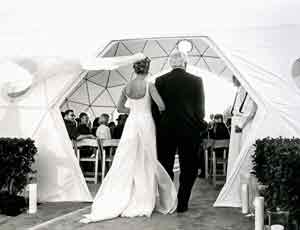 ---
Hosting the Perfect Outdoor Wedding
Add a touch of elegance to your epic event with dome wedding party tents for sale or rent. With so many wedding details to think about and plan for, one thing that will give you peace of mind, is knowing that your guests are guaranteed a safe haven in the event of inclement weather.