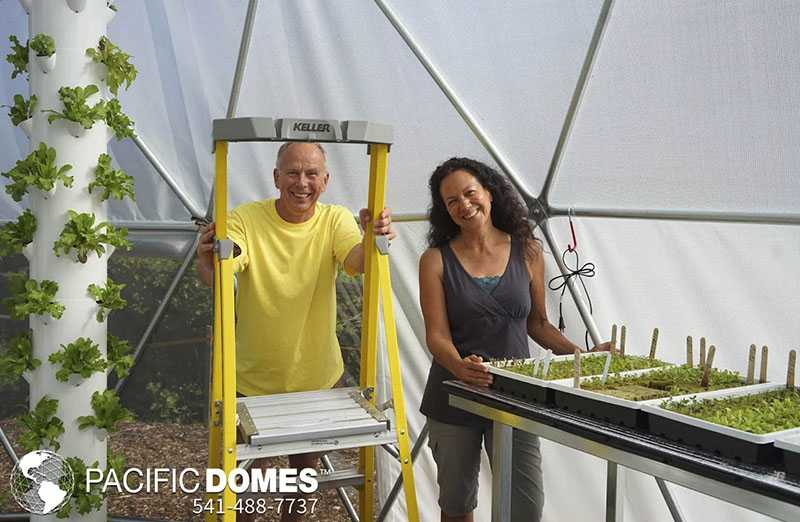 Geodesic Greenhouses, Domed Greenhouses and Grow Dome Kits for Sale by the leader in Geodesic Dome Building , Pacific Domes of Oregon. We provide state of the art Prefab Growing Dome Kits and Portable Geodesic Greenhouses for the Home Gardener, beginning Commercial Industrial Grower.
Dome Style Greenhouse let you Grow Year-Round Food for your family. Build the future of our family, one plant at at time with Prefab Greenhouse Kits by Pacific Domes or Oregon.
Backyard greenhouse growing makes perfect sense by empowering busy consumers to triumph over the challenge of providing their families with fresh, pesticide-free non-GMO foods. Now, everyone can have a 'green thumb'… thanks to innovative growing approaches, nature smart (IoT) technology and geodesic prefab greenhouse kits by Pacific Domes.
The Grow Dome Movement – There's a peaceful consumer revolution happening with a grassroots movement toward backyard greenhouse growing. The introduction of nature smart growing methods and technologies announces a new paradigm in backyard greenhouse growing, putting healthy eating within the reach of everyday consumers.
Today's educated consumer realizes the importance of knowing where their food comes from and a geodesic dome style greenhouse puts you back in the driver's seat. Saying YES to taking charge of your family's health begins by exploring the benefits of growing nutritious year-round food in your very own geo-engineered backyard grow dome by Pacific Domes.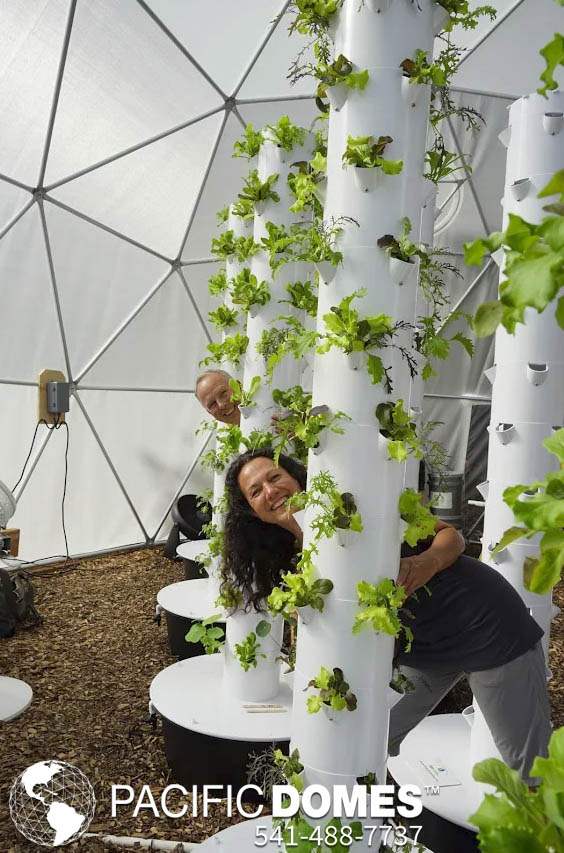 Dome Style Greenhouse are Nature's perfect structure, the open space design utilizes the 'doing more with less' principle, in that, it encloses the largest volume of interior space within the least amount of surface area. Durable and long-lasting backyard grow domes produce eight times their volume by doubling their diameter, thus quadrupling growing space.
Naturally energy efficient, dome style greenhouse environments, allow for optimal heating and cooling air circulation. The geodesic backyard greenhouse design maximizes growing potential with a 360° solar advantage.
Dome style greenhouses are excellent spaces for vertical growing towers used in aeroponics and hydroponics.
Touted as the future of greenhouse growing, a basic tower garden unit can grow forty or more plants per tower… that's a lot of food.
The patented Tower Garden® is an eco-friendly food production system designed for vertical aeroponic urban gardens that requires 90% less land than traditional growing methods. Growing towers are made from the best food grade plastic.
Aeroponics requires no growing medium inside the growing chamber, which lowers, costs and eliminates disposal issues. Because the Tower Garden® technology recycles 100% of the nutrient solution, it uses up to 95% less water as compared with conventional organic farming.
Pacific Domes of Southern Oregon, is a USA manufacturer of geo-engineered domes and greenhouses and has pioneered excellence in portable backyard grow dome kits that are built to withstand extreme environments, such as, heavy snow loads. Your investment in a Pacific Domes backyard grow dome is a sound investment in the future of your family's health.