Keep Your Dwell Dome, Your Loved Ones And Your Valuables Protected
Eco-loving folks, like you, love the prospect of living in a Pacific Domes Dwell Dome! Perhaps you've been lured by the tranquil rural lifestyle or dream of creating an off-grid wilderness retreat… yet you've  been wondering about security and have some valid concerns on how to protect your dome.
Throughout the years, Pacific Domes has been asked the question, "How secure is a dome?" So, we put this blog together to give you some insights and helpful tips to save you headaches later on. While we know every situation is unique, we preface each answer by cautioning that "just like any traditional home or cabin, anyone living in a rural or remote location will want to improve their dome's security by conducting their own enquiry."
That being said, if you're looking forward to living in an area that isn't highly populated, there are security and vulnerability risks you will want to take into consideration when doing your own vital research. Familiarizing yourself with the pros and cons of your chosen environ is a good place to start.
Planning Your Dome's Security
With so many details to consider, dome security is often overlooked in the pre-planning stages. Whether you plan to live in your dome full-time or use it as an occasional getaway retreat, you definitely want to do a little bit of homework to prevent unfortunate situations. The best place to begin your journey is with properly prepping your site.
Most people think of home security as the ever-present danger of theft by humans. This is just one of several precautions that you'll want to consider when planning for your Dwell Dome's security.
Let's Not Forget Opportunistic Critters and Nature's Extremes
Don't leave yourself vulnerable! Love being close to Nature, but oh, those pesky critters and insects! And, what about inclement weather, heavy storms, flooding, fire danger and natural disasters?
One good way to critter-proof and fire-proof your dome's perimeter is by clearing maintainable space around your dome and by creating a natural or fenced barrier.  Also, consider building an enclosed stem wall under your dome to properly seal-off all possible places of entry. This way, you're not leaving an opportunity for unwelcome visitors to invade your living space.  Critter-proofing and insect-proofing with mesh screens and lattice barriers helps eliminate pesky problems before they become unruly.
One of the best eco-friendly materials for building stem walls is hemp-crete. To learn more visit:  Colorado Hemp Project™
More Tips on How to Protect Your Dwell Dome
Whether your site is in a rural countryside with internet access or a remote wilderness with no Wi-Fi, first-responders (like police and fire) aren't likely to show up anytime soon, so you will have to rely on some creative security measures of your own.
Here's some tips that might prove helpful in augmenting your Dwell Dome Security:
Tip #1 Keeping Honest People Honest
You'd be surprised at how installing inexpensive gates or stringing rope-chains across entrances and roadways will cause honest people to turn around and go back. Also well-placed stickers and signs are a good deterrent. Of course, this isn't going to prevent a burglar bent on home-invasion, so you have to resort to more creative measures.
If you plan on living in your Dwell Dome full-time, dogs as family pets and security is a no-brainer. Peacocks make great guardians as well.
If you'll be using your dome for occasional getaway retreats, you might want to make friends with trusted locals who can be recruited to keep their eyes on your dome. Or if you're open to making some money on your vacant dome when you're not using it, you might consider partnering with Airbnb or Hipcamp for Homestays and Landsharing .
Hipcamp quells common concerns that landowners have regarding risks, insurance, landsharing and use. When you list your property with Hipcamp, you're assured peace-of-mind.
Tip#2 Install a DIY Rural Security Camera
If you have Wi-Fi, you can install a good DIY Rural Security Camera that connects to your Smart phone. You'll be alerted whenever there's an intrusion, and can capture the burglary in real-time on film. Yes, there are Rural Security Cameras for areas that don't have Wi-Fi, too.
Review of Best DIY Wireless Home Security System for 2018… In this video, the Deal Guy reviews a DIY home security system with many add-ons, comparable to its more popular and more expensive competitor, 'Simplisafe'. (4:56 min)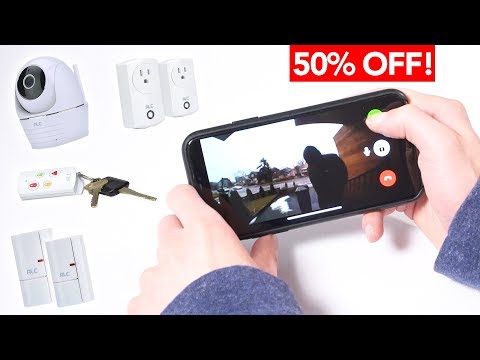 Tip#3 Install Sound and Lighting to Scare Intruders Away
With all the cutting-edge technology available in today's market, DIY dome security has become affordable and doable. Investing in a good lighting and sound system 'that will scare intruders away' makes good sense.
If  you're a 'techy' person and enjoy playing around with innovative ideas, you might look into 7D-Hologram technology and have some fun while you're at it. Can you imagine the look on an intruder's face when a UFO, dragon or Sasquatch appears on top of the dome?  Here's just one example of what you can do with 7D-Hologram technology:
Credits ―The Real Dragon Flying was made by 7D Hologram technical. (:41 sec.)