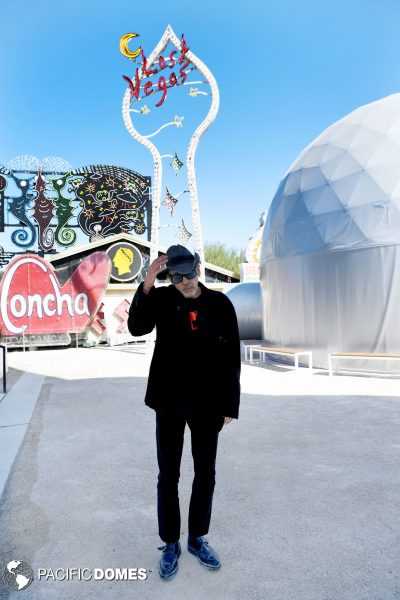 Tim Burton stands beside a Pacific Dome at "Lost Vegas." Photo Credit: Denise Truscello/Neon Museum
Tim Burton, the creative mastermind behind films such as Beetlejuice (1988), Edward Scissorhands (1990), The Nightmare Before Christmas (1993), and Big Fish (2003), has created yet another ghoulish, playful, dark world— but this time, in the only somewhat-fictitious world of Las Vegas. Located in Sin City's historic Neon Museum is a new exhibition created by Burton himself that serves as an ode to one of his most cherished, eccentric places.
One of the most striking features of Burton's exhibition is a 30 ft. Pacific Dome that houses a curious bunch of seahorse-like characters. Inside, a twisted playground of colorful figures carousel around the dome walls. At the dome's center, a character named "Robot Boy" places a coin into a life-size slot machine and summons a love interest in this short, beautiful projection show.
Tim Burton spent much of his childhood in Vegas, as he explained in an interview with the Las Vegas Review Journal. This city, much like his art, "remains weird." Burton worked with Pacific Domes to install this dreamlike projection space, which was likely inspired by a specific memory. As he explains in the interview, Burton remembers feeling awestruck by three giant sea horses inside The Dunes hotel:
"I remember those sea horses like giant sea horses…Then you look at it and they're about that tall," Burton says, holding his hands about two feet apart. "So that's a beautiful thing. And the weird thing about Las Vegas is your perception and the illusion of it. That's why Las Vegas is such a weird dream."
A dream inside a dome. Photo Credit: L.E. Baskow/Las Vegas Review Journal
Burton's Pacific Dome projection show is a nod to this personal memory, but of course, blended with his iconic darkness and peculiarity. Burton is celebrated by his unique ability to pull a child-like playfulness out of surrealistic, dark, and grotesque imaginary worlds. He has coined his own style that can be defined as nothing but "Burtonesque." By blending gothic and idyllic styles, he has made up characters that are adored for their charming and sometimes gruesome features.
Catch Burton's exhibit and dome projection show at the Neon Museum, running until February 15th, 2020. The show, aptly titled "Lost Vegas," includes some 24 site-specific works by Burton and a chance to revel in his fantastical, eerie, and imaginative creations.
Interview with Tim Burton at the Las Vegas Neon Museum – 2:21 min.