Is It Camping or Glamping?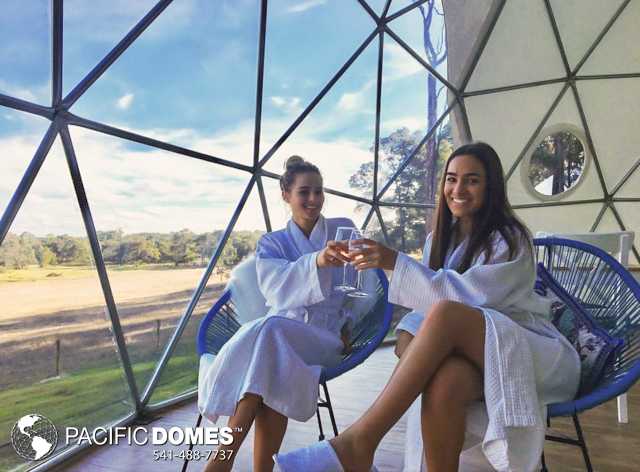 Glamping (glamorous camping) is all about enjoying the nature experience without sacrificing those simple or deluxe creature comforts you've grown to love. Once you've discovered a perfect nature getaway retreat, what do you do… go camping or glamping? If you've come to the decision to go glamping (hey, wouldn't most of us prefer the more luxurious experience?!), you'll want to know why the best choice in glamping tents for sale or rent is the portable, free-standing glamping dome.
Whether searching for glamping tents for sale or for rent, a primary consideration is whether it will withstand nature's extremes. Geodesic domes have been called the strongest structure known to man, and they've been known to be the only structure still standing in the aftermath of a hurricane or earthquake.
Another clear benefit is that glamping domes go up anywhere on the planet in a matter of hours, lending that home-away-from-home zen-like ambiance and sense of security from the elements in a much shorter time that you would initially expect given the spaciousness and luxury of the beautiful dome structure. Considered semi-permanent, domes blend in with any picturesque naturescape and can be left up year-round.
Glamping Without Breaking the Bank
DIYers love glamping domes. Due to their portability and economical building costs, ecoliving geodesic domes solve many economic and sustainability challenges that traditional building methods/materials can't compete with.
Because they are considered temporary structures, you can save money on building permits and other expensive construction costs. Domes can be relocated or retrofitted to create semi-permanent or permanent structures.
Domes Are Energy Efficient 
A dome's structure is one of the most efficient interior spaces, because air and energy circulate without obstruction. This enables heating and cooling to occur naturally.
Dome studies, comparing same-size traditional homes, have shown a 30% energy savings. The concave interior creates a natural airflow allowing hot or cool air to flow evenly throughout the dome with the help of return air ducts.
A dome acts like a giant downward reflector that concentrates interior heat, preventing radiant heat loss. Exposure to cold in winter and heat in summer is decreased, due to less surface area per unit of volume.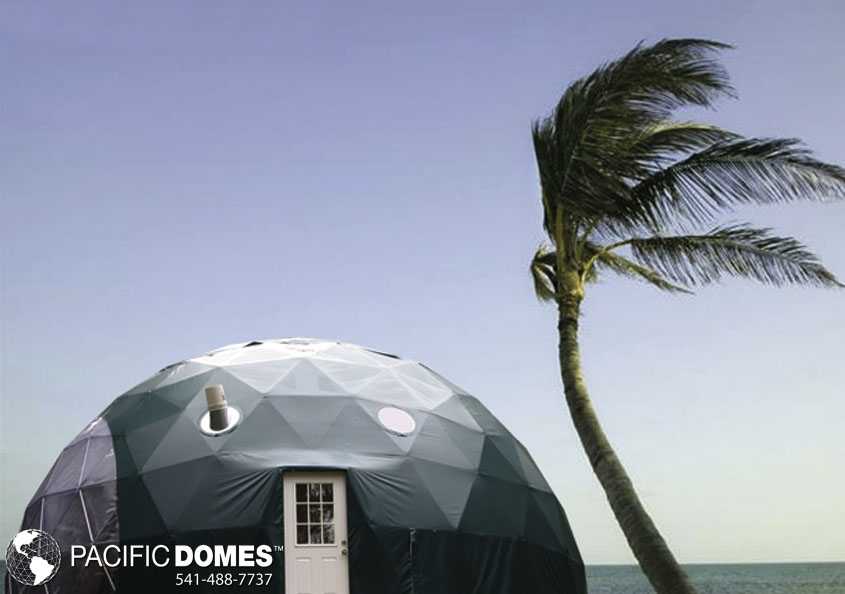 Rediscover Our Garden Planet in a Zen-like Glamping Dome
Redefining what it means to go camping, the glamping trend has taken the world by storm. The perfect blend of comfort and elegance for eco-glamping adventures, these zen-like dome glamping castles take the meaning of comfort to a whole new level by offering resort-style amenities.
Geodesic dome shelters have been built all around the world in various climates, proving to be the most efficient human shelter one can find. From basic campgrounds and base camps to luxury safari camps and eco-hospitality camp resorts, you might expect to find upscale amenities at any one of these dome glamping stays: www.domeglamping.com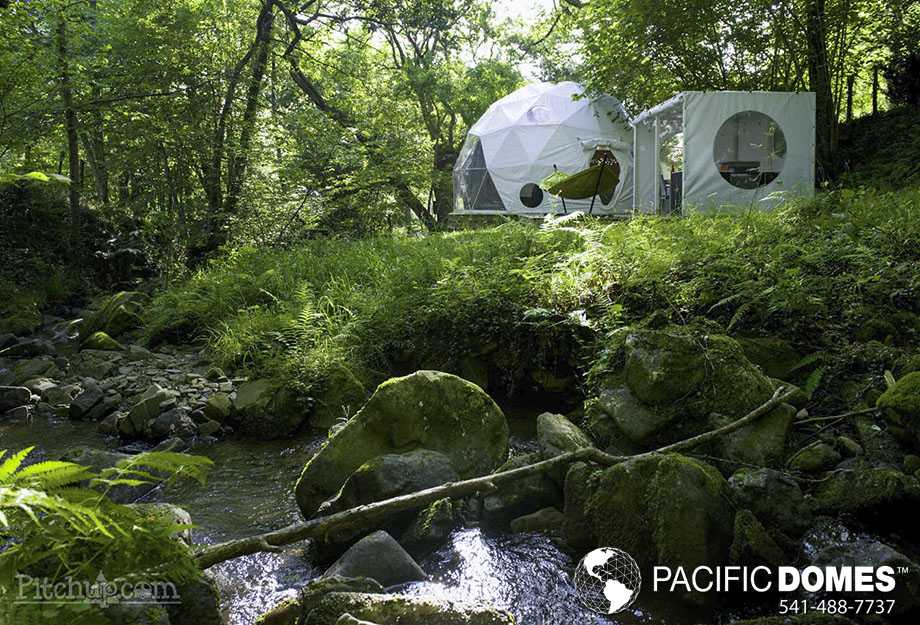 Award-winning Pacific Domes has been blazing the trail as a dome industry vanguard since 1980 with over 35 years of industry expertise. Based in Ashland, Oregon, the dome manufacturer offers rapidly deployable Domes that are gorgeous works of geodesic engineering able to be shipped worldwide.
If you're looking for a permanent or semi-permanent tent in which to experience year-round glamping, you've come to the right place. Pacific Domes International is recognized worldwide as the industry leader in the manufacture of trend-setting glamping tents for sale or rent.