Magic Inside an Immersive 360° Projection Dome Theater Using Multimedia Projection Technology
"Our immersive event domes optimize your story to impact the collective story"
— Pacific Domes Inc.
Projection mapping is all about displaying your images on non-flat surfaces, shaping them into amazing displays for interactive event venues to engage live audiences. Are you aware that projection mapping and the immersive world of dome theaters create the perfect event hosting environment for your next event?
Your event can deliver your powerful message through the magic of immersive 360° dome theater environments to impact your audience. When it comes to planning events, such as, corporate advertising and branding, live concerts, gaming, etc., many event organizers find that the interactive spatial arena of domes offers endless possibilities for imaginative projection mapping displays.
In the immersive dome theater environment, you have the opportunity tell your story in a big way, inviting audience participation and empathy, influencing them to see things in new ways that build the collective dream for a better world. Pacific Domes, a leading US manufacturer of geo-engineered domes, in concert with multi-media partner, Obscura Digital, has been on the cutting edge of immersive dome environments, impacting the event industry for many decades.
Just one example of how digital media events have been changed through dome projection is the IBM PartnerWorld Sponsored Marketing Event that brought industry giants together under the Electronic Entertainment Expo (E-3) in 2005.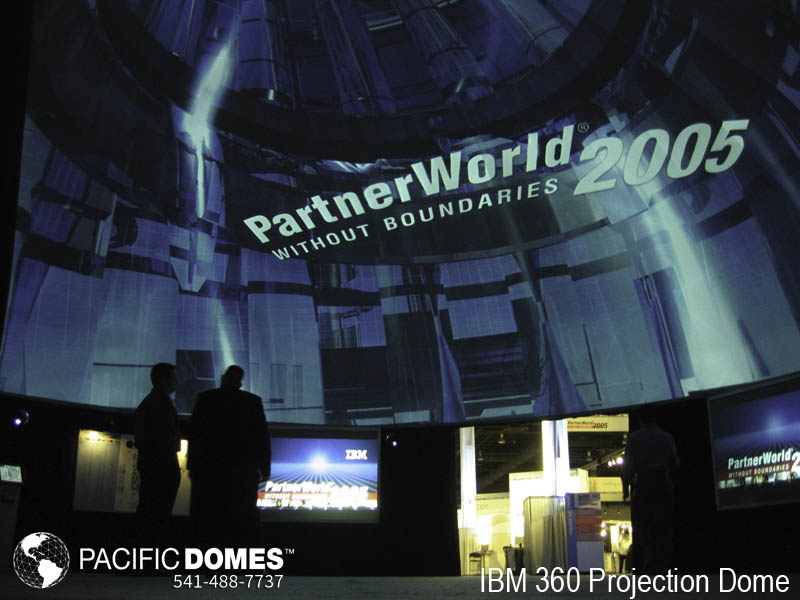 Fast forward to 2015 -16: Now an annual event with a 450% increase in VR/AR Products shown at E3 2015. VR/AR Industry expects to generate an estimated $150 billion in revenue by the year 2020. (FAST CO.)
June 13-15 2017 L.A. CA:
Representing all aspects of the video games space, E3 is your opportunity to showcase products, debut technologies, and align your brand with the future of video games. With its focus fixed on video games, E3 is where product launches happen, ground-breaking technologies are debuted, and news is made.