Fillmore's 'Taste-In' is a festive dome stand located in front of Disneyland's 'Cars Land'
"Magic happens inside Eco-friendly Event Domes!" ― Pacific Domes Inc.
Who knew you could see sacred geometry in the heart of Disney's California Adventure theme park! Greeting visitors to Disney's Cars Land is Fillmore's groovy tie-dyed outdoor eco-dome from the film.
This festive large event dome is located in front of Disney's 'Cars Land'. After dark, the colorful imprinted event dome lights up the sky with a magical display of pink, purple and blue, drawing Disneyland guests for a quiet respite to enjoy their favorite healthy snack and drink.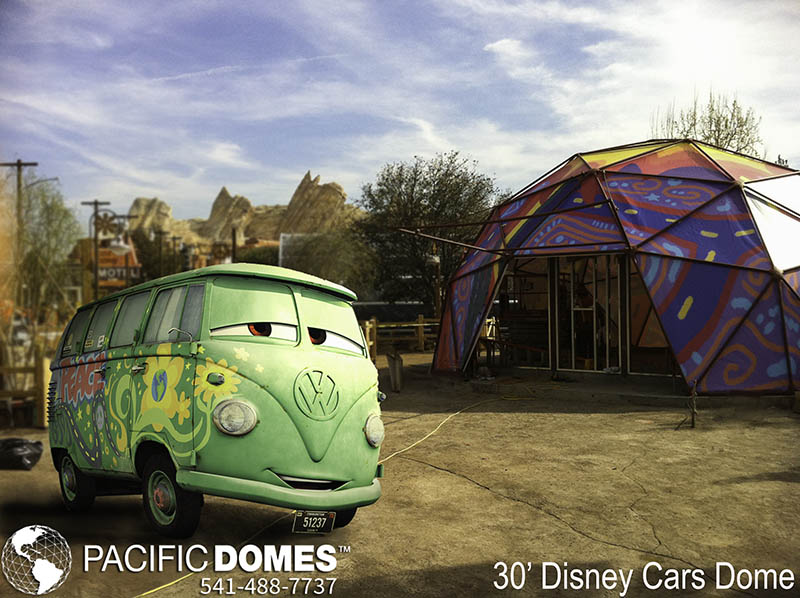 Fillmore's Taste-In at Disneyland's Cars Land
The Taste-In takes its name from Fillmore, the VW van voiced by George Carlin in 'Cars'. The sweet smells and 70's theme Pacific Domes dome, draws in visitors to enjoy a quiet break from the hustle and bustle of Radiator Springs.
A Taste-In Dome of Your Own
Now you can even bring home your very own Fillmore Dome, available as a die-cast playset, featuring a unique take on dome geometry.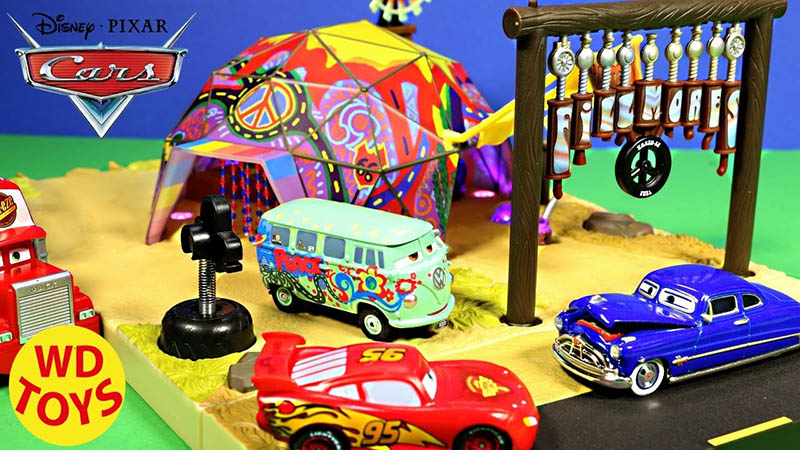 Recreate favorite scenes from the Disney Pixar Cars movie! When dark, the magical dome lights up with a sensor that activates three separate light pattern modes, inspired by true-to-movie details!
From ToyWiz.com:
Build out your Disney Pixar Cars world with this light-up Fillmore's Taste In Cafe! This premium playset comes to spectacular life with lights that flicker on and off and authentic decos, so you can recreate favorite scenes from the movie! Iconic, true-to-movie details abound, like the beaded curtain, weathervane that spins, and vintage Taste-In sign are just some of the cool features of this playset. There are three different light pattern modes inspired by the movie and a light sensor that gets activated when in the dark so the dome lights up! The exclusive die-cast Fillmore vehicle also glows when parked inside; it's colorfully cool! This set connects to other Precision Series sets for even more Radiator Springs fun. Drive on in and keep the Disney Pixar Cars action going and going! Requires 3x "AA" batteries (included).
Pacific Domes Inc. USA is a leading global builder of portable geo-engineered commercial dome sales & rentals serving the Event Industry. Team Partners, Obscura Digital and Vortex Immersion Media will work with you from inception to end to ensure that what you envision comes to life.