Affiliate Marketing Programs began appearing on the internet circa 1994 (4-years after the introduction of the world-wide web). Revenue-sharing, a type of commission-based performance marketing, is one of the most respected and effective ways to earn money online ‒ and, as we all know, the trend towards online purchases has increased since the 2020 lock-down.
As the calendar rolls over, many are wondering, "what does the future of Affiliate Marketing look like?" Projecting into the looking glass, there's a new trend emerging as more and more industries rely on online store sales to grow their business.
Talk to any business owner and ask them how their industry has changed over the past several years, and chances are they will mention their affiliate program. Manufacturing industries, like Pacific Domes, are no exception.
At Pacific Domes, we believe there's a better way to grow our business by sharing information about our industry through our affiliate partners. In business since 1980, our Made in the USA, award-winning company is poised to offer a rewarding Affiliate Program to influencers who are able to profit from customers brought in by their own marketing efforts.
How it works
Affiliate websites and their social media platforms post banner links (aka creatives) to Pacific Domes online store. Visitors are proactively tracked by the Sales Team along a prospective customer's journey. Affiliate tracking (in order to prevent broken links) ensures that affiliates receive proper credit for any resulting sales. This is key, because clients may have questions and call sales for additional information or to place a custom order.
For now, you simply need to know the basics of how Pacific Domes Affiliate Marketing Program works:
You recommend a product to your followers by posting a 'clickable' banner creative onto your website, social media platform, blog/vlog or email list.
By 'clicking' on your affiliate link, your followers are taken directly to the Pacific Domes online store where they can browse and make a purchase decision.
You, our affiliate partner, get paid a commission for a resulting sale.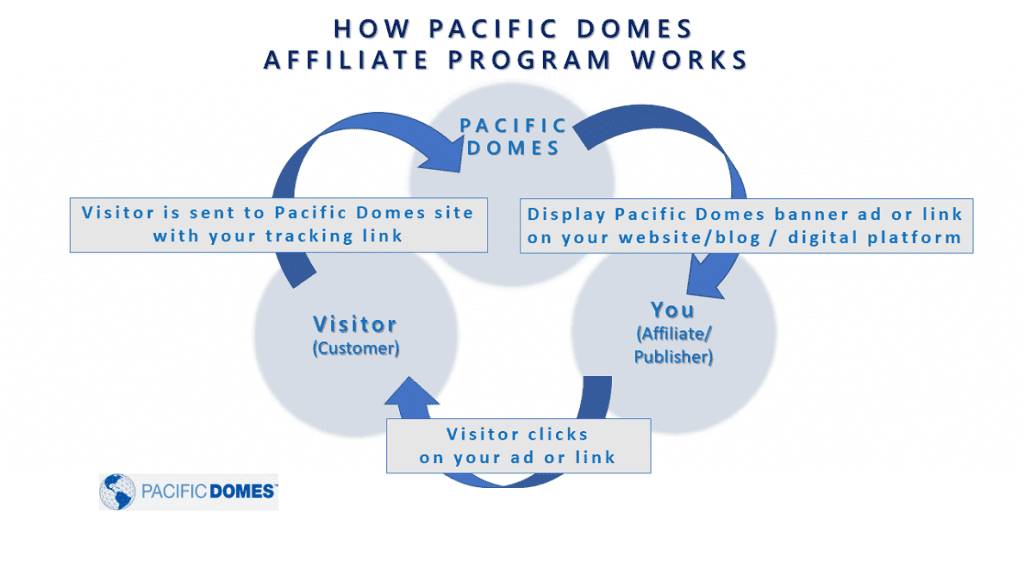 ---
Take the First Step
"We would love to partner with you — it's a win-win!"
Ask yourself these questions to determine if our product offerings are a good fit for you:
· Who is your target market or ideal customer?
· Where do your ideal customers find recommendations for products like ours?
· How do your ideal customers talk about the problems that we solve?
We invite you to get acquainted with Pacific Domes Affiliate Program —
For more information:
Are you ready to grow with us and reap the financial rewards? Apply to join the Pacific Domes partner community now.