"Our geodesic-engineered domes are built to withstand extremes." — Pacific Domes Inc.
Take the challenge! The Ropes Course Challenge, that is! There's never been a more exciting opportunity for you to build your eco-adventure or outdoor skills & education package than with our customized skill-building Ropes Course Challenge GeoDomes.
What is a Ropes Course Challenge GeoDome?
In case you're new to the concept of a Ropes Course, the emphasis is on hands-on experiential learning and physical skill-building events involving physical and mental challenges. Obstacle courses test people's physical and mental abilities, tempting them back to see what they can conquer with each new attempt.
The fundamental motivation in all ropes courses is to build strength, co-ordination and problem-solving skills. Some challenges can be very physical, building a certain level of endurance and hands-on confidence; while others are more mental, requiring creative problem-solving.
When working with groups, you can build an entire series of planned trials around interactive problem-solving challenges that require teamwork. This builds team spirit and encourages social interaction in a fun-filled environment.
Uses for Ropes Course Challenge GeoDomes
According to recent studies, Adventure Theme Parks that installed ropes course challenges grew by a huge 40%!  Are you seeing some opportunities?
With many events taking place throughout the year, there are limitless opportunities for ropes courses to enrich every experience.  Festival GeoDomes for the Ropes Course Industry are popular at such events as Burning Man, an annual Nevada Desert festival.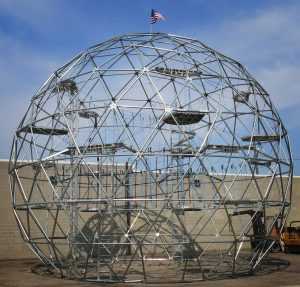 Whether you're a start-up venture, existing organization or business looking to grow your operation, it's a thrilling time to be a part of this expanding industry. To inspire your spirit of entrepreneurship, here are just a few more ways that Ropes Course Challenge GeoDomes can be incorporated into various organizations and creative enterprises:
Outdoor Experiential Learning Centers
Summer camps & Outdoor Education
Outdoor Athletics & Sports
Schools, Churches & Special Needs
Corporate Team Building
Eco-tourism and Eco-resort packages
Cruise Lines and Ski Lodges
We're here to help!
Envision limitless possibilities to build an entire theme around a Ropes Course Challenge GeoDome! Our in-house staff is here to inspire your dreams with 3-D renderings.
Pacific Domes is an award-winning family-owned business, based in Ashland, Oregon. We've been proudly manufacturing 'Made in the USA' domes from U.S. steel since 1980. In addition to manufacturing the best geo-engineered structures in the world, what we love to do most is find creative solutions to satisfy your needs and requirements!