Published in House and Garden Magazine, Shawn Hausman's 44-ft. dome in Ojai, California is a futuristic architectural landmark that inspires sustainable living. Hausman, a nationally recognized interior designer, created his futuristic dream, which inspired House and Garden Magazine: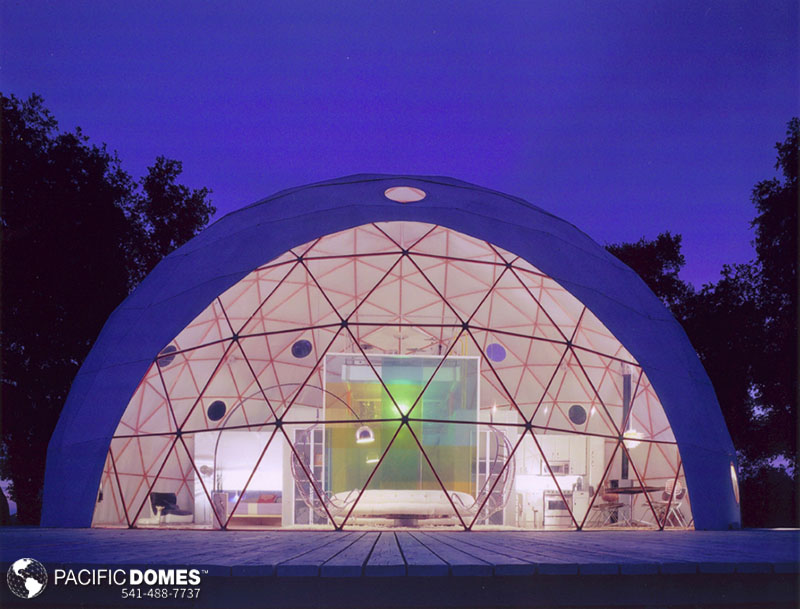 A conventional house was never an option for Shawn Hausman. Although, he originally envisioned treehouses for his plot of land, Hausman ultimately, chose a 44-ft. prefab dome home made by Pacific Domes to meet his aesthetics and budget. 
When Shawn first entertained the thought of building a home in Upper Ojai, just north of Los Angeles, he envisioned a tree house – something like the archetypal clubhouse in the sky,  yet capable of sheltering a family in relative comfort year-round.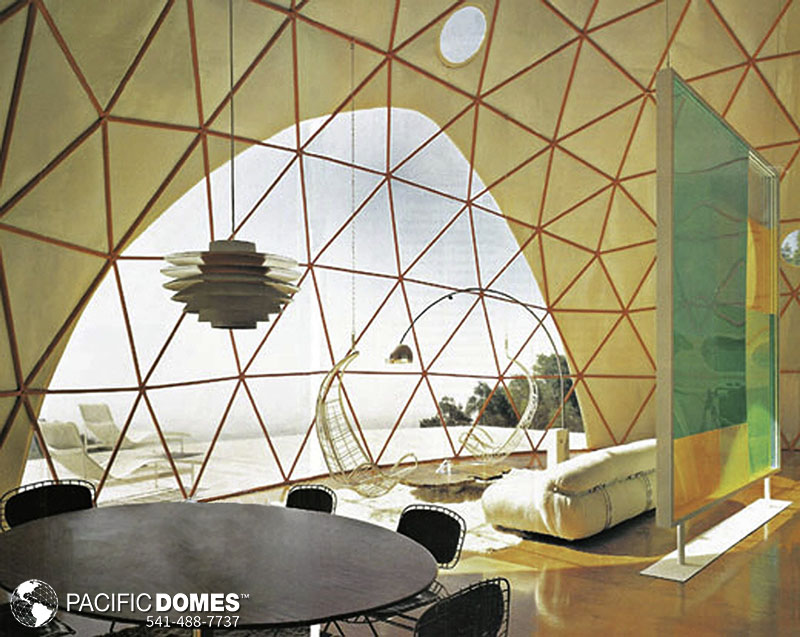 "It was a romantic idea, but ultimately impractical," he admits. "We wanted to find a solution that was inexpensive but genuinely interesting, a house that would have very little impact on the environment. We were also looking for something that could be disassembled and transported to another location if we ever decided to move."
The tree house fantasy wasn't a total failure, though…
"When we met, Shawn completely seduced me with this idea of living in a tree," recalls Jessica Kimberly, Hausman's design associate and partner in life. "We both committed to exploring wild, alternative options."
Their search ultimately led them to the idea of a prefabricated dome. They gathered information from the Buckminster Fuller Institute as well as from the Internet, where they found dozens of companies that specialize in domes. The news wasn't all good.
"We liked the concept of the dome, but not the finished product," Hausman says. "Most of the ones we saw were wood-framed, not inexpensive, and not easily transportable. A lot of them sacrificed the curving quality you expect in a dome, because of the rigid geometry of the typical triangular modules."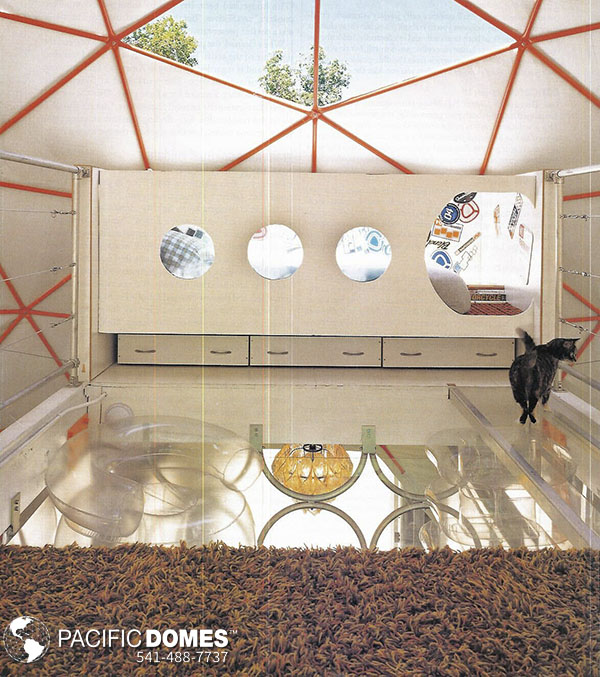 Designers, Shawn and Jessica, worked with Pacific Domes, to pull off the ambitious project.
Hausman's 11-year-old son, August, inquisitive and remarkably design-savvy, contributed his own ideas. "This was an extraordinary creative outlet for all three of us," Hausman insists.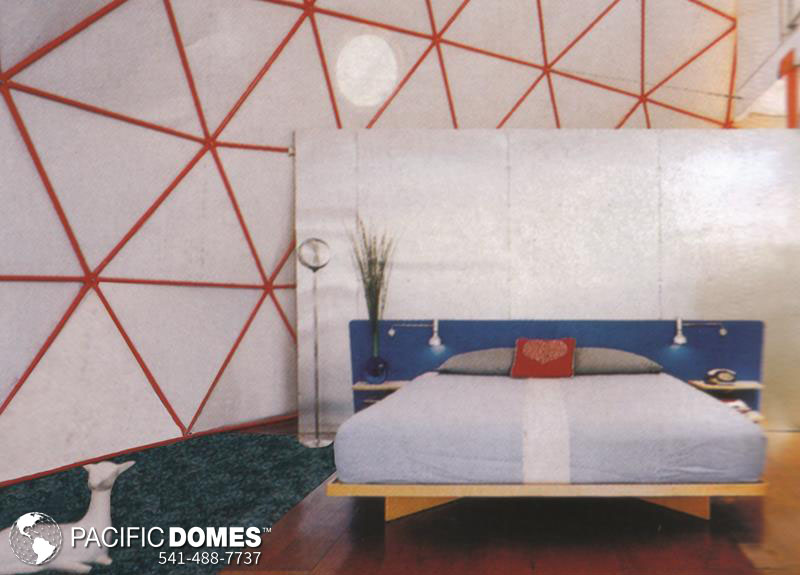 The dome itself, 44-feet in diameter and 22 feet high, perches on a simple wood deck supported by concrete footings. The frame-one-diameter conduit, powder-coated in vibrant orange – has a canvas skin treated with rubberized paint that provides a degree of insulation as well as protection from UV rays.
For ventilation, parts of the skin can be peeled back, and each of the 15 vinyl portholes can be replaced with round screens. The designers deployed furnishings – a mix of funky vintage pieces and custom elements – in an open plan that preserves the fluidity of space, light and views within the dome.
The modesty of the structure defers to the majesty of its undeveloped mountaintop site, which offers sweeping views that extend to the ocean and the Topa Topa Mountains.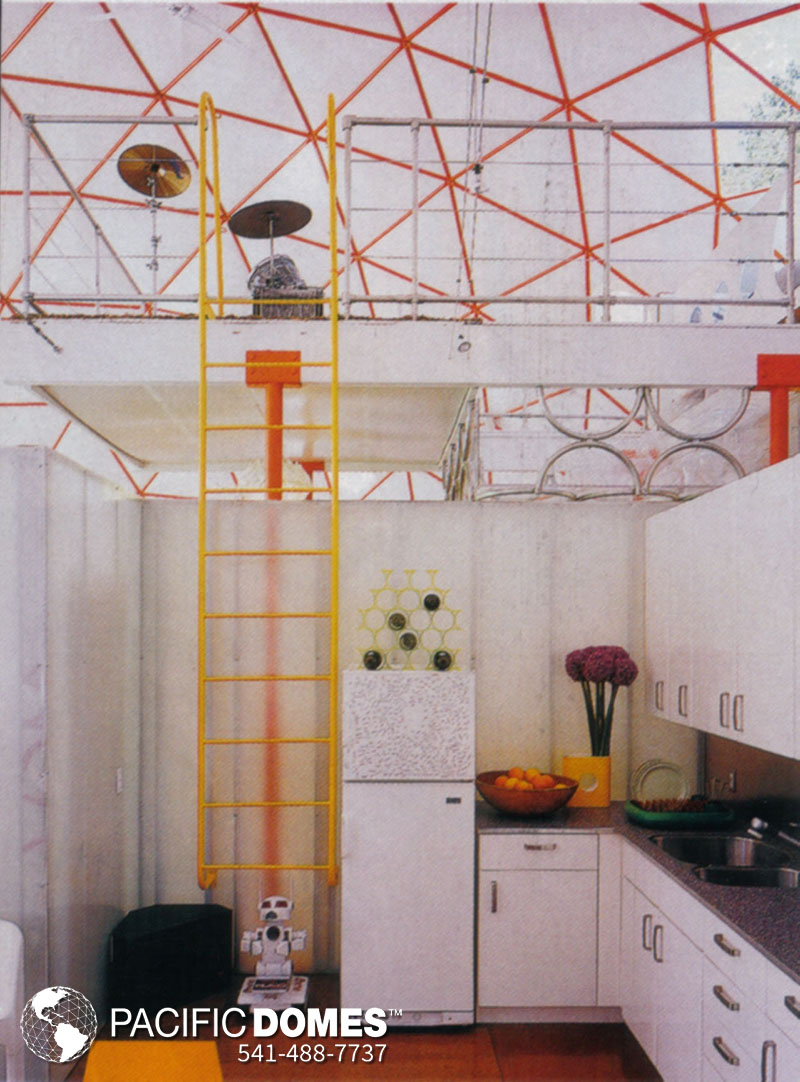 There are no paved roads, no Starbucks and no neighbors, save for coyotes, deer, rattlesnakes, owls, hawks and the occasional mountain lion. The remote location presented serious challenges to comfortable habitation: access to running water, electricity, fuel and telephone lines simply didn't exist.
The central screen of multicolored acrylic panels, Hausman's modern interpretation of a stained-glass window, encourages the spread of daylight, while subtly dividing the space. The coffee table is fashioned from black walnut burl. The Tobia Scarpa sofa is from Carla, L.A.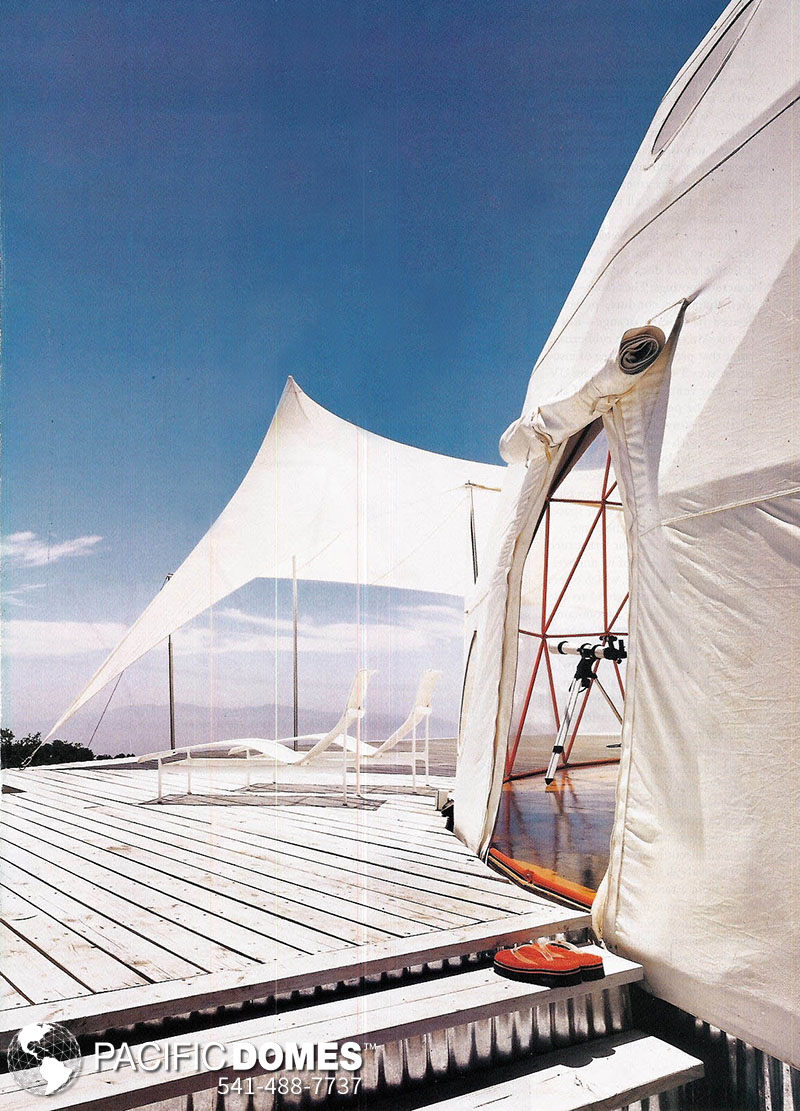 "I love the isolation – it feels really wild and free up here," says August Hausman of the completed dome. "Basically, it's really cool."
Solar panels supply nearly all the electricity. Water flows from a tank hoisted onto the property. Propane fuels the stove and refrigerator. As for the telephone line, Hausman purchased a spool of industrial-grade cable and ran it up the mountain himself.
Enjoyed reading this blog and want to learn more? Head on over to Pacific Domes Knowledge Base or YouTube Channel. You'll love exploring how easy it is to build with a prefab dome home kit.
---