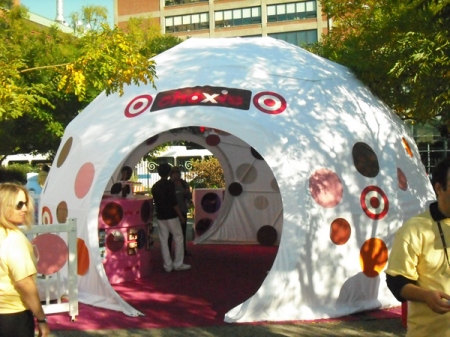 OCTOBER 9-12, 2008
New York City has been a popular place for our event domes and once again one of our portable structures made its way to the "Big Apple." This time it was for the New York City Wine and Food Festival which took place in mid-October of 2008. The event was produced by the Food Network and brought together top event planners and culinary icons from around the world, as well as many television chefs that are known throughout the country. Some of the big names that showed up included: Rachel Ray, Gordon Ramsey, Paula Deen, Anthony Bourdain, Giada DeLaurentiis, Bobby Flay and Alton Brown. Proceeds from the festival went to benefit hunger relief programs and community based initiatives such as Food Bank for New York City and Share Our Strength.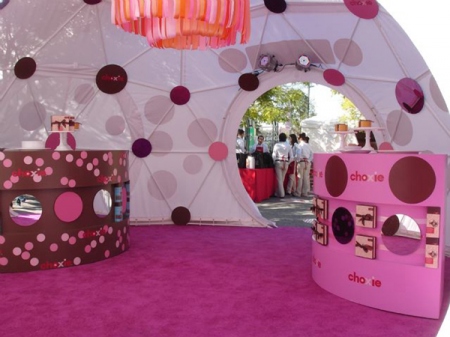 A 20 ft. Event Lite dome was rented out for the star studded occasion in New York. It was set up near the Target Welcome Center, one of the festival's event sites that was decked out with whimsical sculptures and furniture. The dome was used to promote Choxie Chocolates, Target's exclusive brand of premium chocolate products. The client decorated it with circular vinyl decals and pink decor which was consistent with the colorful patterns seen on Choxie packaging.
The playful environment they created with the dome charmed visitors while introducing them to the Choxie brand.
Using a dome for this marketing experience was ideal because its spherical design coordinated well with the circular theme that repeats throughout the brand's image.