Guide to Dome Home Heating & Cooling
Guide to Dome Home Heating & Cooling
Ready to begin exploring the unique features and benefits of ecoliving dome homes? This Guide to Dome Home Heating & Cooling will provide you with some energy-efficient methods for keeping your dome comfortable all-year long.
You'll be pleased to learn that, in addition to saving you money in construction costs, there's some added benefits such as, energy-efficiency ‒ not to mention, lowering your carbon footprint and reducing harmful toxins to which your family, guests and pets are exposed.
Winter Heating & Summer Cooling
Before we take a deeper dive, let's begin with an overview of some efficient ways to heat your dome. Passive solar heating keeps your dome home comfortable most of the year. We discuss insulation, heating and cooling in the sections that follow.
Wood stoves are among the most common methods of heating a dome home. However, any modern heating system will work in a dome ‒ radiant heat, solar, electric and gas are all safe to use in domes.
Each dome comes with optional stove cap and flashing for wood stove installation. Comfortable temperatures can be maintained inside the dome while snow storms flurry outside.
Next, how do you cool a dome during those scorching summer months? When normal ventilation methods aren't enough, many clients have found that solar fans, portable evaporative coolers and room air conditioners are very effective in maintaining comfy temperatures inside. We will also introduce you to mini-split systems for both heating and cooling.
We offer several options for keeping your dome warm: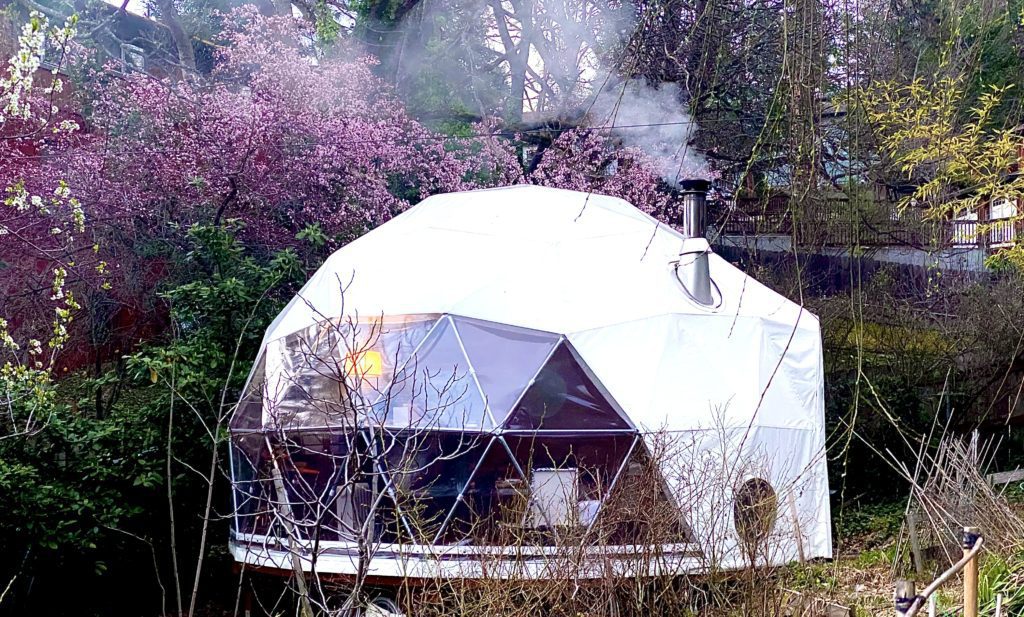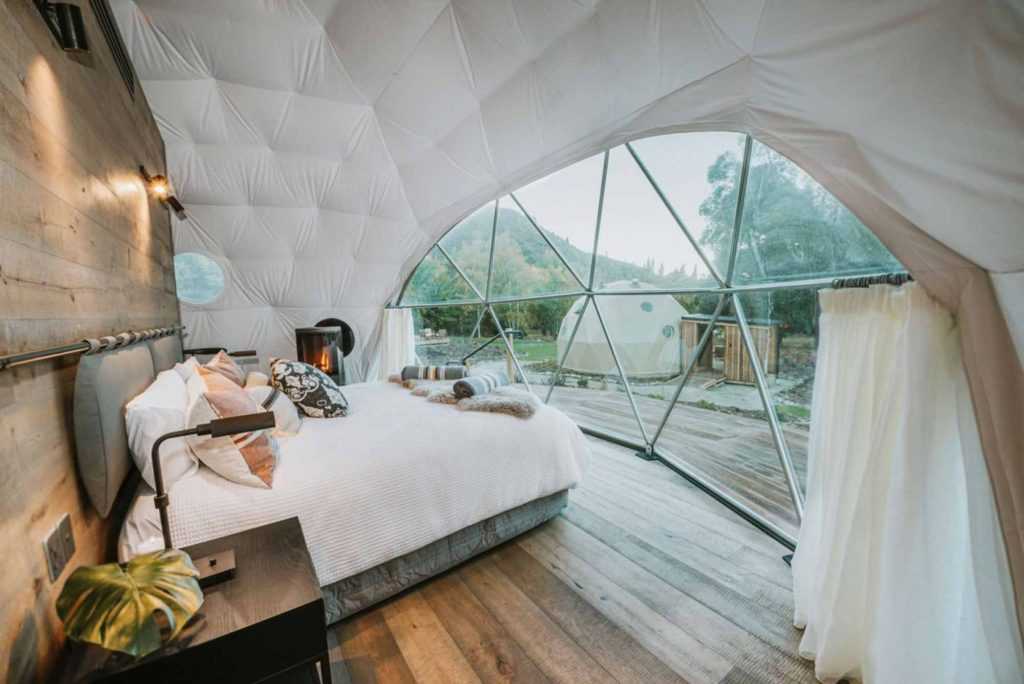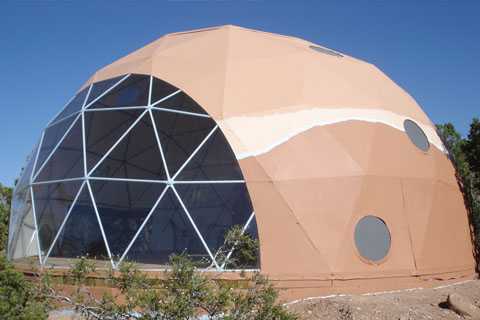 Dome Home Heating Options
Types of Dome Home Stoves ‒ Below are at least five types of stoves for heating your dome home: the energy efficient rocket stove, pellet, wood, masonry and gas. They may look similar but differ in environmental impact.
Rocket Stove Technology –There's always a better way to heat your dome home, right? Developed by Dr. Larry Winiarsky, inventor of the rocket stove combustion technology, it's an efficient and hot burning stove that can be used for both cooking and heating. Using small chunks of wood or wood chips that are readily available, rocket stove field tests, demonstrated 18 to 35 percent less fuel use compared to traditional stoves – along with, a noticeable reduction in emissions.
Pellet Stoves – burn cleanly and efficiently. The pellets are made from cardboard, compressed sawdust and other wood and agricultural by-products that are more expensive than wood – something to consider as an option to hauling, stacking and storing firewood.
Wood stoves – now feature improved safety and energy efficiency. Wood stoves produce almost no smoke, minimal ash, and require less firewood than older models. Dome home owners have been known to, also, connect radiant-heat flooring – Example: innovative below-ground piping.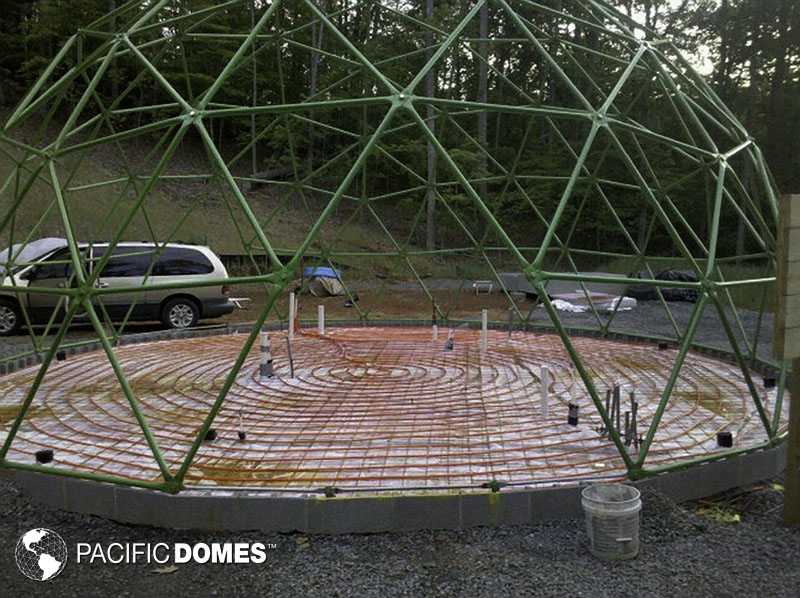 Masonry stoves – have long been popular in Europe. They are wood burning, large, free-standing fireplaces with a closeable firebox. The mass of the heater slowly warms up and radiates warmth into the room. They are much more efficient than fireplaces and radiate an even amount of heat over a long period of time. One heating typically lasts for hours. They have relatively low emissions because of their high operating temperatures.
Gas stoves – provide the clean burning efficiency of natural gas. You'll enjoy the warmth and look of a fire without the pollution. Word of caution – prior to purchasing, it pays to do your homework relevant to safety and building codes.
Wood Burning Stove Installation Basics
Optional dome home packages include metal vent flashing and pipe cap for wood burning stove installation. The 8" diameter double-wall piping will run from your stove through the flashing and rise above your dome to perfectly shield the dome's roof according to safety standards.
If you are using Pacific Domes deck plans provided with the purchase of your dome, it's recommended that you install a rock or sand hearth to set your stove on. You'll want to read and follow manufacturer's instructions and local building codes prior installing your stove.
Dome Home Cooling Options
Studies have revealed that, when compared to standard housing options on the market, domes are naturally more energy-efficient. Geodomes have at least a 30% more heating and cooling efficiency due to unobstructed circulation of ambient air and energy flow.
Designed for optimal ventilation, your dome stays cool with window screens, base screens and a zippered roof screen. A solar fan aids with ventilation in areas prone to excessive rain fall.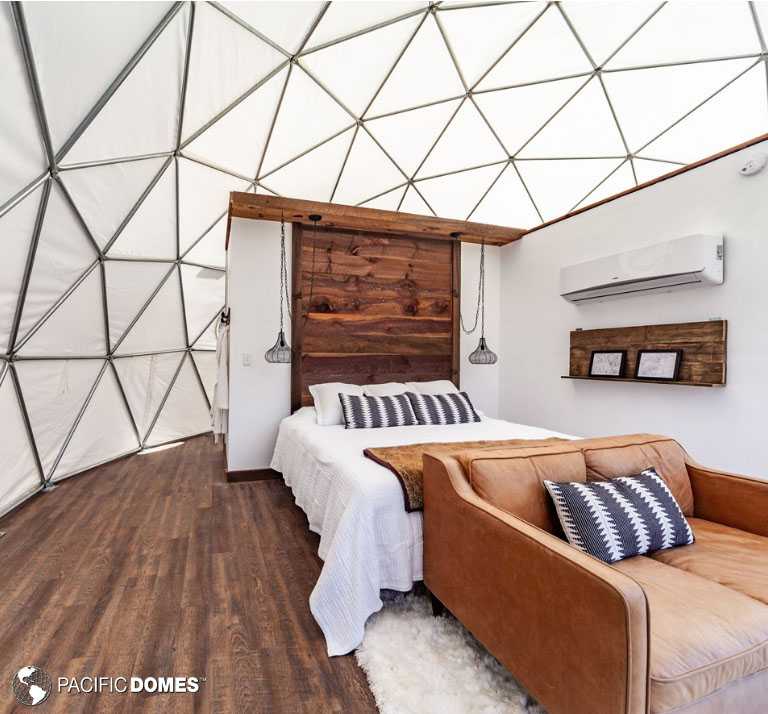 Consider a Modern Mini Split System for Your Dome Home
A mini-split is a ductless solution to heating and cooling dome home spaces. It has an exterior pump connected to one or more interior units – no need for venting.
A mini-split system allows you to easily control temperatures in separate zones with one or more thermostats. It goes without saying that a mini-split requires running electric – yet, is easy to install with a few DIY skills.
About Mini Split Systems
---
We strive to meet our client needs!
Client needs are unique. Pacific Domes always recommends doing your own online research prior to purchasing a wood burning stove for dome home. Our friendly Customer Support is here to help answer your burning questions!