---
Harnessing the Power of Outdoor Play — Pacific Domes
---
Are you looking for ways to get your kids to spend more time outdoors? Why not harness the power of outdoor play and gift your children with a climbing dome this Holiday Season?
---
A climbing dome is the safe monkey-bar – providing children of all ages with many fun-filled hours of exercise in the safety of their own backyard or school yard.
Benefits of Harnessing the Power of Outdoor Play
Experts agree that it's important to balance technology by setting aside time for outdoor play on a daily basis. Thru outdoor play such as, climbing exercises, swinging and upside-down acrobatics, young energetic children build muscles, develop critical life skills and gain self-confidence.
Countering the effects of technology overload from the indoor classroom is a challenge faced by many parents and educators. It's now more important than ever to train those young minds during their early childhood development years to enjoy spending time outdoors – thus, countering the risks from too much indoor study and recreation.
Children who spend more active time outdoors in their formative years are generally more active as they age. One beneficial side effect of outdoor play is that it helps develop a lifelong mindset based on the importance of maintaining a healthy and active adult lifestyle.
There are many physical and social health benefits attributed to outdoor play.  Here's just a few reasons why parents and caregivers might want to consider a climbing dome for their play yard:
Physical – Improved overall health, muscle strength and motor skills.
Social – Improved peer-to-peer relationships, openness with caregivers and greater confidence self-awareness.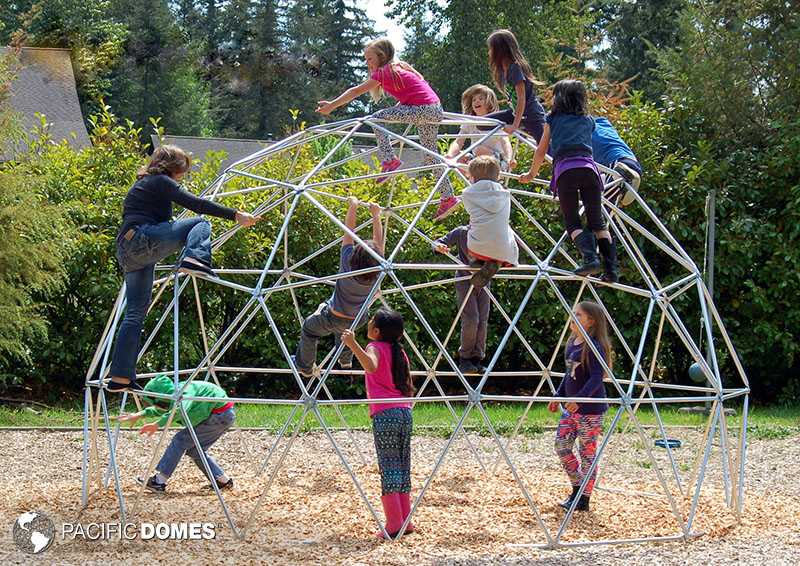 "We care for children ages two to five-years-old. The 16 ft. tall Geo Dome from Pacific Domes has been so instrumental in our school's ability to expand its 'Reggio Emilia' inspired learning program. The children enjoy inspiration from the outdoors all year round! Thank you, Pacific Domes team for helping us to create this amazing addition to our more typical indoor classroom!" —Jessica Spencian, Children's Workshop Oakland, Pre-school in California
---
"Nature makes the whole world kin". — Shakespeare
---
Harnessing the Power of Outdoor Classrooms
Pacific Domes envisions a child's perfect learning environment — an outdoor classroom with a playground dome for every classroom. Sparking the growing movement towards cultivating Nature Smart Children, many people are discovering that there are numerous benefits derived from having an outdoor classroom learning environment.
A greenhouse garden dome filters natural 360° sunlight, inviting a child's innate curiosity to explore and connect first-hand with Nature's diverse eco-system – and, playground domes are the perfect complement to an outdoor classroom.
---
---
---
Pacific Domes builds backyard climbing domes and commercial playground equipment in standard sizes from toddlers to teens. Creating your own neighborhood playground is easy with customized options such as, ropes course challenges that attract many young athletes.
If you are seeking ways to cultivate Nature Smart children, whether for your family, school, camp or nature education-recreation program we invite you to visit with one of our friendly Customer Support Reps today.
.
---