How To Set Up A Glamping Resort in Mexico PART 3/4
A Deeper Dive —Crystallizing Your Mexico Eco-Hospitality Glamping Resort
Eight months ago you were sitting in your office scrolling through Mexican real estate listings, dreaming of a better way to redefine the next chapter of your life. Here you are, taking control of your destiny and re-imagining a new future for yourself as an exotic glamping entrepreneur– living the freedom lifestyle of a blissful semi-retiree in your very own lush tropical paradise, while at the same time transforming your land into an eco-hospitality Mexico Glamping Resort.
The time has come to realize your dream. You're standing with your feet firmly planted on Mexican soil – your very own piece of terrafirma glampground– with Mexican skies above, feeling the warm Central American trade winds kiss your face, surrounded by scenic 360° vistas as far as the eye can see.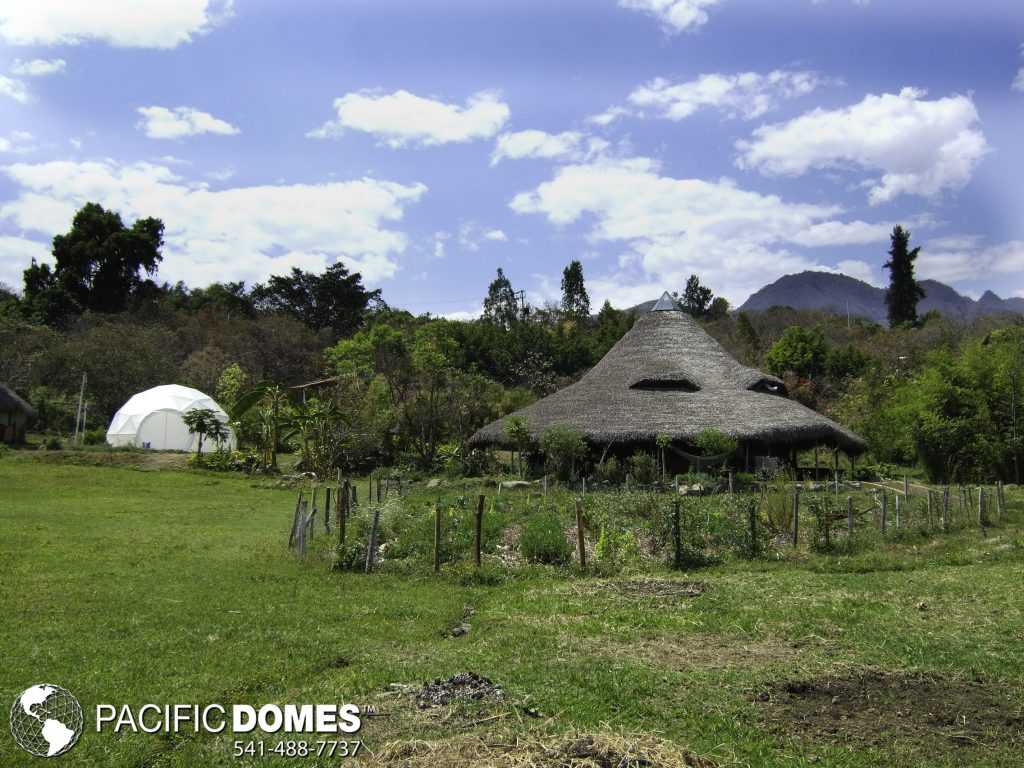 So, what's your next step? How do you make this grand Nature getaway pay for itself? Well, it's time to roll up your sleeves and decide on a business structure, site pre-planning considerations and work up a design plan. This will include research into outfitting your new purchase with some extraordinary glampsite structures to transform your dream of creating that irresistible eco-resort getaway.
Business Planning —The Legal Structure
You definitely want to put some careful thought into this. That said, you can make this fun by choosing your business name, first.
What does the legal structure of a glamping business look like? This requires some steps to protect your business assets.
Next: You'll need a roadmap to steer you in the right direction. Sketching out a simple business plan puts you in the driver's seat.
The Site —Preplanning Stage
The preplanning stage cones with a bucket-list of considerations. What's going to make your glampground stand out as a place where the beauty of pristine Nature and inviting stylish architecture meet? What separates your unique Eco-Resort from the rest, while still driving down that bottom line?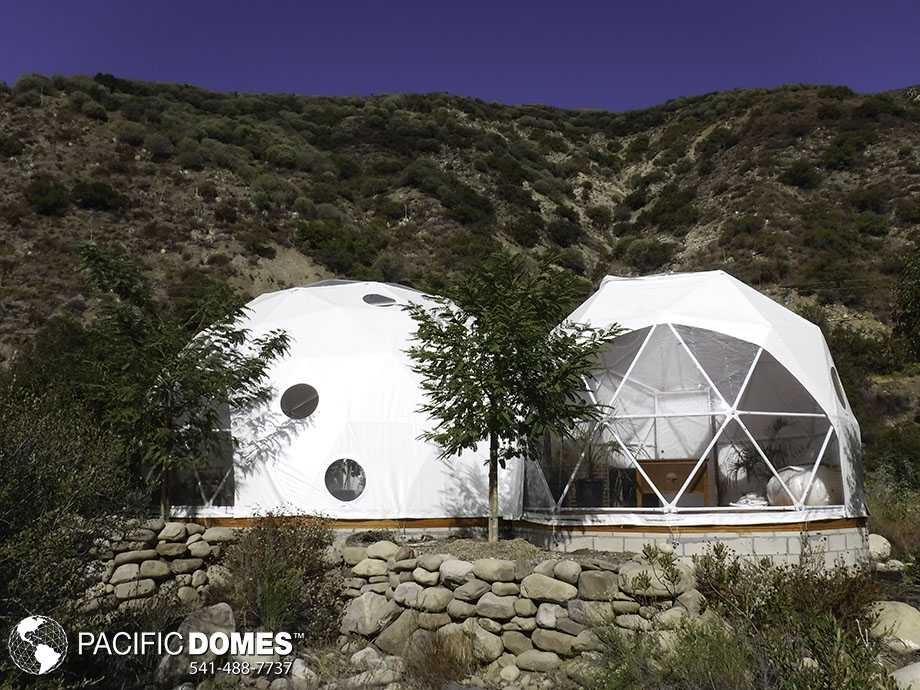 The number-one goal of an Eco-hospitality Dome Glamping Resort is to make your guests happy! The design of your site plays a key role in how guests perceive their experience.
The glamping industry is HOT, and savvy business-minded people are taking advantage of what is adding up to a simple recipe for success. As travelers of all ages and socio-economic backgrounds embrace the trend toward environmentally conscious, back-to-basics nomadic vacationing, entrepreneurs are cashing in on the enormous opportunity – the global trend toward simple, conscious eco-travel.
The number-one goal of an Eco-hospitality Dome Glamping Resort is to make your guests happy! The design of your site plays a huge part in how guests perceive their experience.
Unlike traditional campsites, glampsites need to be larger. A glampground layout must give guests plenty of space to enjoy an intimate and private Nature experience. Making sites small in order to fit more sites on a property will hinder long-term success and negatively affect each guest's experience.
When building in Mexico, you may need a building permit from the city; as well as, permission from the environmental authority when building on the coast and protected areas. Even though you may be building at a remote location, it's the builder's responsibility to obtain any necessary permitting.
The same concept applies to your glamping structures. So, forget about tents – anyone can do tents – besides, ordinary canvas tents can get claustrophobic and stuffy under seasonal weather conditions. To make your investment pay off, you have to offer something far more attractive than the basic tent structure. Glamping is, after all, glamorous camping.
You're looking for glampsite structures that invite luxurious comfort and spaciousness, yet, are capable of withstanding Nature's extremes. These structures need to stay cool in summer and warm in winter. You have to take practical logistics into consideration; as well as, aesthetics – and, your bottom line matters.
Because the fundamental concept of glamping is about getting close to the great outdoors, you don't want too many barriers between your clients and the grandness of Mother Nature. You're also looking for structures of varying sizes to accommodate overnight stays for individuals, couples and families – plus, a structure to serve as a communal space or community dinner hall for everyone to gather for special moments. Available in varying sizes, smaller dome homes can be used as glamping tents while a larger dome can serve as the community dinner hall or headquarters.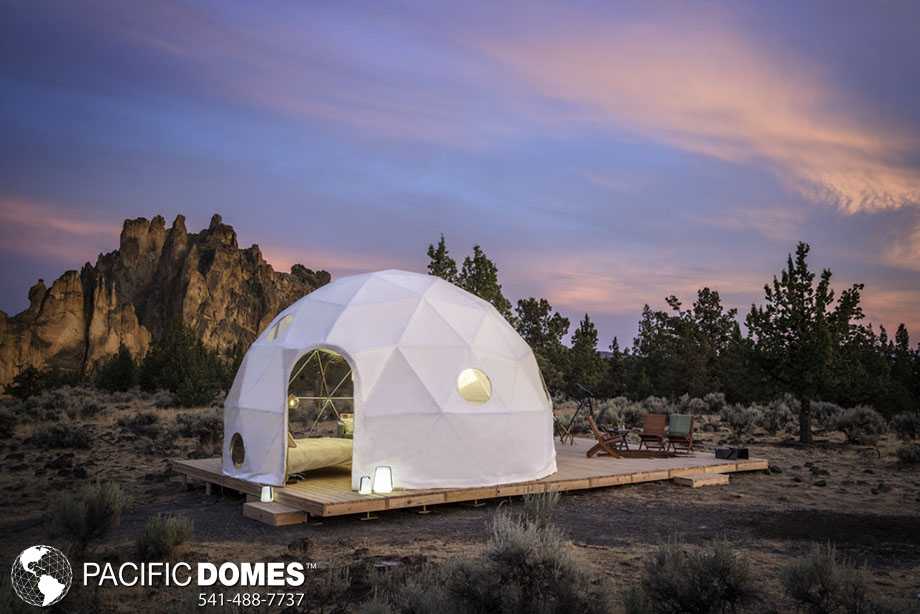 Innovation will serve you well. You'll want to consider how all the spaces will be utilized – both indoors and outdoors. Will you accommodate pets and children? This takes a bit more planning; however, you'll attract a wider pool of vacation travelers to your getaway packages. Example: setting up an outdoor playground area where parents can still see their children as they relax nearby. You can even erect a climbing dome with a jungle gym for your play area!
Allow us to introduce you to geodesic domes
Right off the bat, you're struck by the Zen-like warmth and natural simplicity of this structure – like an immense honeycomb cell that lends a futuristic mystique to any landscape. With the welcoming ambiance necessary to lure travelers seeking inspirational remote vistas and the strength required to withstand Nature's extremes, the geodesic dome is a solid WIN for anyone ready to plant their flag in the fertile soil of the eco hospitality industry.
Whether nestled in a tropical mangrove or towering arctic cliffs, these structures withstand the most extreme weather phenomena – including, high-magnitude windstorms, rainfall, snow, earthquakes; and, they've even been known to survive wildfires. Often the only structure still standing after hurricanes, the geodesic dome has received awards from the American Institute of Architects for being "the strongest, lightest and most efficient means of enclosing space known to man." If you haven't already explored the many benefits of geodesic domes, now is the perfect time.
Pacific Domes USA-manufactured galvanized steel frames are composed of interconnected triangles with powder-coated color options. Their weather-proof and flame-resistant architectural fabric covers are extremely durable and fully customizable.
While these structures look incredibly futuristic and intricate, they are surprisingly easy transport and to erect. Especially, if you choose to purchase prefabricated dome kits from the world's first and foremost geodesic dome manufacturer, Pacific Domes, Inc.
Dome home kits come with a variety of features to ensure your Eco-Resort can be as unique and charming as you can imagine it to be. These kits provide an easy solution for entrepreneurs ready to outfit the interior design and décor of their little pieces of paradise.
Ventilation: In moderate temperatures, strategically placed removable window screens around each dome keep them comfortable. Window fabric roll-ups and screens at the base of the dome allow for cross ventilation. The screened zip off roof option can be added for additional ventilation as well.
Solar Fan: Powered by the sun, solar fans are an environmentally friendly solution that optimizes air-flow, while controlling temperature and humidity.
Winter Liners: Winter liners are designed to be flame-proof and resistant to mold and mildew. Detachable velcro window panels provide insulation from the outside cold.
Wood Stove: Even the tropics can get cold at night. Maintaining comfy temperatures in the midst of winter weather is easy with a cozy wood-burning stove. Dome Homes come with an optional stove vent flashing and cap for wood stove installation.
Energy Efficiency: One big economical advantage of a geodesic Dome Home is the dome's superb energy efficiency. Dome studies have shown a 30% and higher energy savings over comparable-size traditional structures. Due to unobstructed interior and exterior air-flow, geodesic domes enhance ambient air and prevailing breezes, making them naturally energy efficient.
Built to Last: The galvanized steel frames last indefinitely, while the covers have upwards of a 20-year lifespan.
How many Dome Homes do I need?
This depends on the size of your Glampground area. That said, successful eco-resorts have as few as six and as many as twenty. Don't let this deter you from your dream. You can get creative and start off with just one or two and expand as your grow your business. Furthermore, many modern urban families are setting up single domes in their backyards and paying-off their mortgages by renting them out via Airbnb or other booking agents. You are limited only by the size of your development and the amount of liquid capital you have to invest.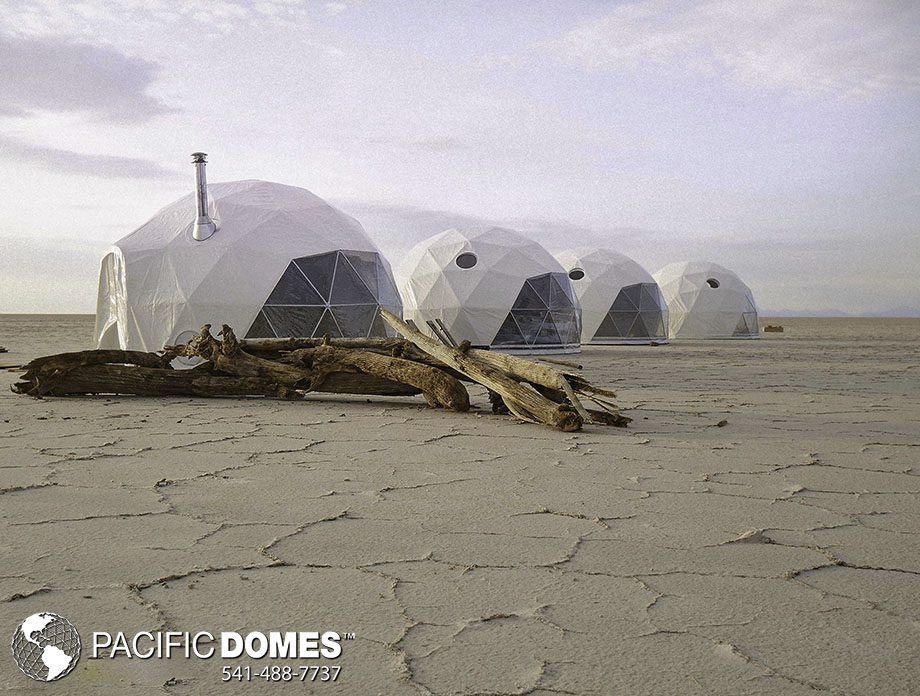 Your guests will be thrilled to listen to the tropical rain fall while they watch the stars orbiting overhead through the clear vinyl roof panels. How romantic and captivating for newlyweds to spend their honeymoon in a Love Dome, or for families to come together and eat in a Communal Kitchen Dome. You can individually stylize each dome, and your guests will help do the promotion for you by sharing their beautiful vacation photos via social media. Everyone will want to know who to call to book a stay in these beautiful domes on your very own tropical paradise.
Now you're almost ready to open your Dome Glamping Resort in Mexico for business. What do you to do continually attract visitors? Read on to learn more about promoting your beautiful life dream, your very own Eco Resort.