Take Your Show on the Road at the Next Gamespot E3 and Beyond
Showcase Your Products, Debut Technologies & Build Your Brand's Image at the Next Gaming Industry Event!
This year's spectacular Gaming Industry Event, Gamespot E3 (Electronic Entertainment Expo), drew in nearly 65,500 attendees to the Los Angeles Convention Center, giving rise to rumors that they will run out of space for upcoming annual events. No worries!  Pacific Domes gaming environments offer the ultimate portable event solution to expand your audience reach and provide an effective venue for your marketing strategy.
Your marketing strategy deserves the best when it comes to event environments. With their fetching combination of powerful geo-engineered  structures and ongoing evolving technology, Pacific Domes portable gaming environments are all about creating a spatial 360° immersive arena to build your brand's image and showcase or launch your products.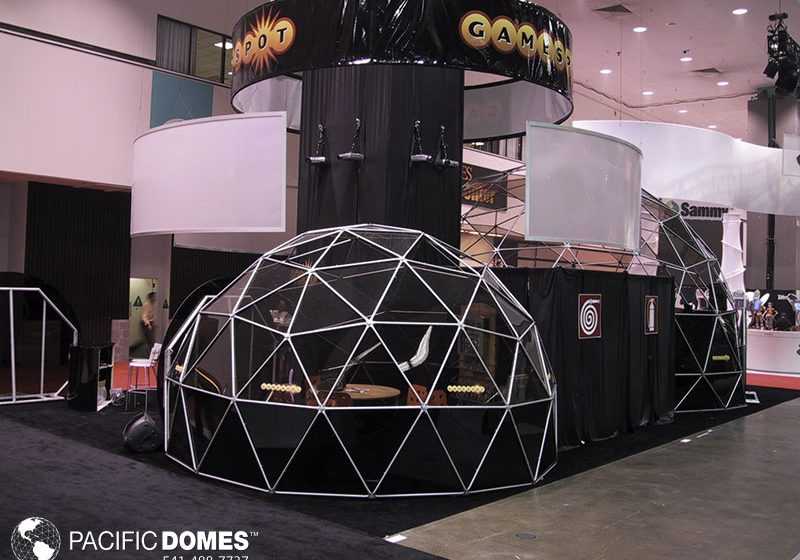 Pacific Domes teamed up with California gaming giant, EA Games, aka, Electronic Arts, Inc., to showcase their new product launch.  Gaming enthusiasts had the best virtual reality seat in the house in the spacious 360° dome! 
About Gaming Dome Environments
Lending itself to limitless creative possibilities, 360° dome projection creates a magical sense of space that transports your audience deep into the Virtual Reality gaming experience. Together with team partners, Obscura Digital and Vortex Immersion Media, our creative experienced teams provide the ultimate Virtual Reality platform to attract crowds to your next awesome event.
Ensuring a light, eco-footprint, domes are suited to all types of climates and terrains. Much in demand as temporary structures, geo-engineered domes are a popular choice with event planners, due to their capacity to withstand Nature's extremes; as well as, their portability, durability and ease of set-up.
Perfect for image branding, Pacific Domes durable translucent dome covers allow your theme to be visible from both inside and out.
Geodesic Domes encapsulate the largest volume of interior space with the least amount of surface area. When a dome's diameter is doubled, it quadruples its square footage and yields eight times its volume; thus, saving on materials and cost.
A dome's spherical design naturally amplifies sound to capture the audience experience.  There are no center beams to interfere with product staging and the overhanging truss system provides the frame for sound-lighting and equipment.
The Pacific Domes Team
When your event depends on timely delivery, you can sleep easy knowing that Pacific Domes has an outstanding track record.  Their quality geo-engineered domes are manufactured in the USA and delivered to your site.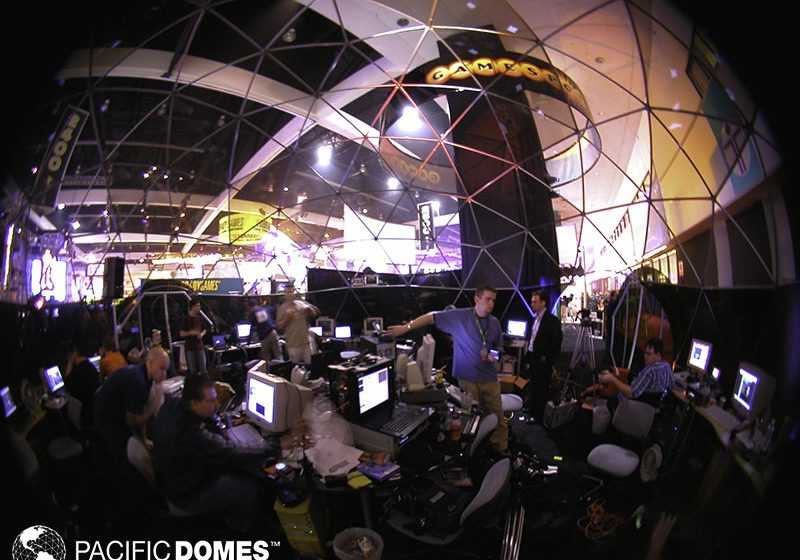 Based in Ashland Oregon, the dome manufacturer offers rapidly deployable Event Domes that are a gorgeous work of geodesic engineering.  Team partners, Obscura Digital and Vortex Immersion, are recognized leaders in High-tech entertainment, bringing themes & projections to life to wow audiences of all ages.  Together, they create multi-sensory immersive environments for interactive learning and entertainment gaming environments.
Leverage Pacific Domes experienced team to assist in planning your next global gaming industry event.  The Pacific Domes Design and Project Management Team are experts in their field and work closely with your renderings to create a multimedia work of art that will have a lasting impact.
Browsing Pacific Domes gallery of Gaming Domes is one of the best ways to spark ideas for your next event.