Discover Glamping Domes
Many private land-owners and hospitality hosts are offering private stays, such as camping and glamping in spectacular off-the beaten-path Nature retreats. We invite you to discover the world of dome glamping (glamourous camping) vacations and Nature retreats.
First, let's make an honest distinction between camping tents and glamping domes. At the very least, setting-up camp is a lot of work. And, if you're not prepared for unforeseen situations, such as inclement weather your camping tent adventure can be claustrophobic and uncomfortable.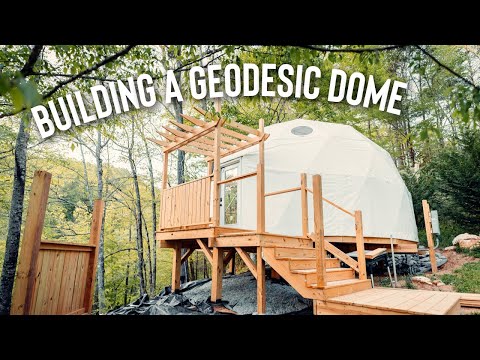 Video credit: Levi Kelly
You want a sturdy, weather-resistant structure that you don't have to transport, set-up and tear-down every time you want to get-away and chill-out close to Nature, right? After all, you want to know that you can go there on the spur-of-the-moment without leaving those creature comforts behind.
This is where glamping domes begin to make more sense. Here's why…
They are portable and semi-permanent DIY set-ups that come in many sizes to suit your lifestyle ― they go up quickly with a few friends, simple hand-tools and a ladder or scaffolding.
They are an insurance policy in itself! They're structurally engineered from U.S. galvanized steel to withstand Nature's Extremes from wind-swept deserts to arctic snows and tropical rainforests ― they're often the only structure left standing after natural disasters.
The Nature-inspired organic design leaves a light Eco-footprint ― they have fueled the eco-hospitality industry and have been used in resorts and retreat centers all over the planet.
They are super energy efficient ― constant air & energy circulate freely… you can expect to save at least 30% heating-cooling costs over conventional structures. In regions of extreme climates, added heating and cooling equipment is also, less expensive.
They have unparalleled strength and can be left up all-year round ― Buckminster Fuller, father of the modern geodesic dome won numerous awards from prestigious organizations; such as, the American Architectural Society for inventing the strongest structure known to man.
The Free-standing structure is self-supporting and doesn't need internal columns or load-bearing walls ― the openness lends itself to innovative and uplifting interior designs that nurture the soul.
They are sun-filled by day and illuminate with natural light creating a relaxing, healing and blissful Zen-like ambiance.
Security ― Just like any home, you will want to protect your investment while away from your retreat. Consult with our helpful staff to discuss adding security to your site.
They look awesome ― the durable 20-year architectural covers blend harmoniously with any natural landscape.

If you're ready to take a deeper dive and explore setting up a geodesic dome, we hope you will find this Blue Ridge Glamping video helpful: Building a Geodesic Dome ― Luxury Glamping Dome. A big shout-out to Levi Kelly for his contribution.
Thanks for visiting. If you're ready to get started, Great! Please check-out our Glamping Domes Brochure to spark some ideas. Also, be sure to check-out Pacific Domes YouTube channel.