New research conducted by a team of architects and neuroscientists strongly suggests that the harmonic architecture found in geodesic domes may indeed have measurable effects in promoting more positive mental states. Additionally, recent data from the study of physics and molecular biology explains and validates the environmental influence of shapes on human beings, demonstrating that human brain patterns are notably different in frequencies created by harmonic architecture versus dissonant, box-like, concrete jungle environments.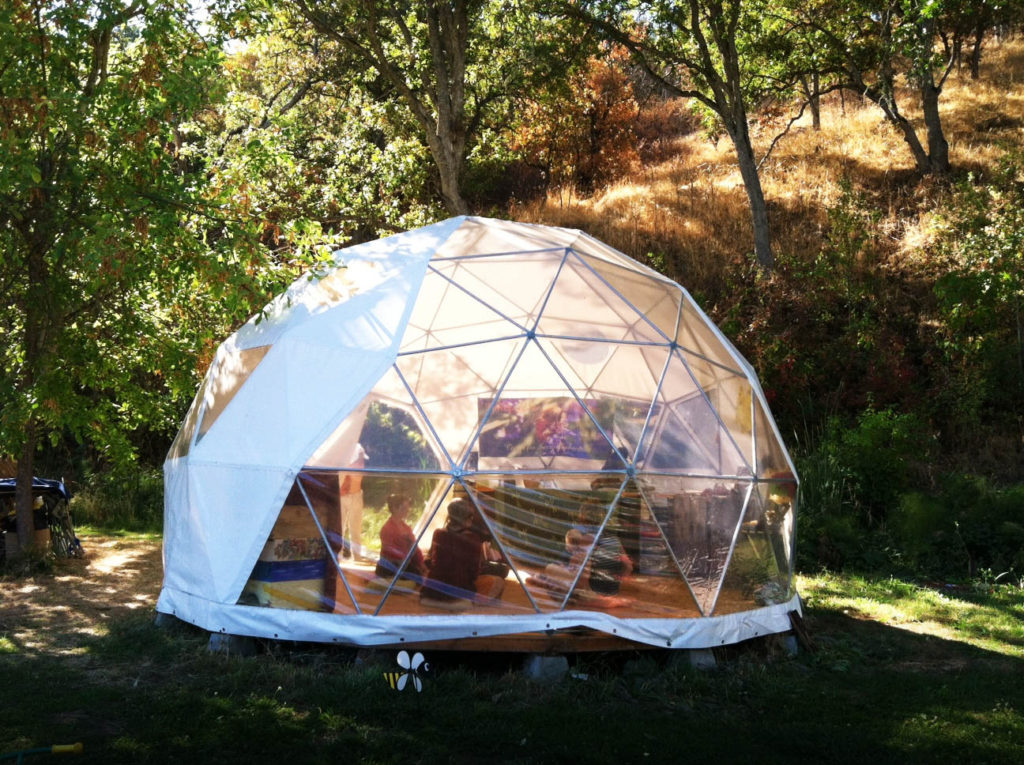 Harmonic architecture is a philosophy of organic architecture, which promotes harmony between human habitations and the natural world. Harmonic architecture stems from a reverence for the inter-connectedness of all life, and focuses on the understanding that the human psyche cannot thrive when disconnected from its natural environment.
Organic design approaches can be found in the study of ancient sacred geometry principles, such as the traditional Hindu system of Vaastu, in which dwellings and the surrounding areas become a unified, interrelated composition. Today, more and more people are re-discovering health and healing through the harmonically attuned architecture of geodesic domes.
Ancient Vaastu geometry merged with powerful Harmonic Resolution Therapy™ (InnerSense, Inc.) technology when Pacific Domes of Southern Oregon partnered with InnerSense, Inc. to bring you the Sound-Light Healing and Meditation Dome Studio. InnerSense, Inc. utilizes sound, light and color to create immersive meditation spaces for transformational healing, and induce states of deeper self-awareness. This triggers the body's innate capacity to heal itself, and as we know, transforming the world begins with healing ourselves.

To this end, Pacific Domes Sound-Light Meditation Dome Studios have become an integral part of bringing the healing and harmony of the
natural environment to humanity. Synchronizing us to the frequencies of Universal Energy and encouraging total relaxation with harmonic architecture, Sound-Light Meditation Domes vibrate with cosmic energy, enhancing the perception of Oneness. This is the sensation that one experiences in a Vaastu Sound-light Meditation Dome.
Smaller, portable meditation domes are available to accommodate private homes, while larger Sound-Light Healing and Meditation Domes are ideal for healing centers, retreat centers and on-the-road tours. These immersive "InnerTainment" Meditation Studios, created through the collaborative efforts of InnerSense, Inc. and Pacific Domes, are limited only by one's imagination. Transform your life today, and see the influence self-healing has on the healing and transformation of the entire planet!