"Your Gaming Event Partners" — Pacific Domes, Inc.
It's All About the Immersive 360° Dome Experience
Mobile gaming domes are the ultimate immersive platform to showcase your latest VR/AR games. Pacific Domes believes that the future of mobile gaming is here with VR projection. And, everyone gets the best seat in the house beneath the circle dome!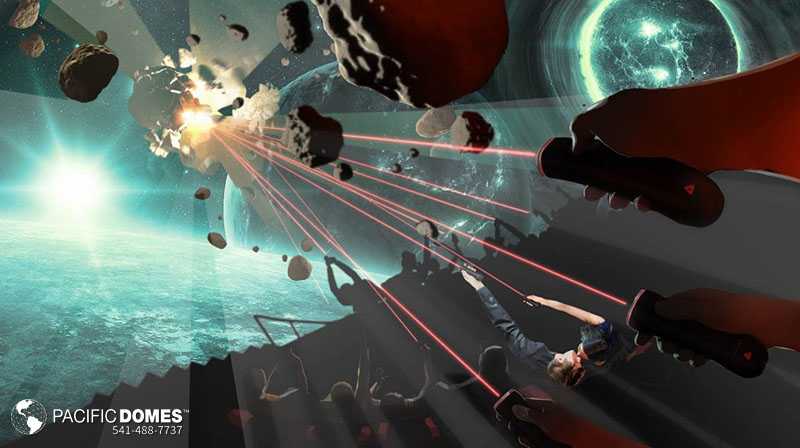 The California gaming giant EA Games chose Pacific Domes' immersive gaming dome environments as the perfect venue to showcase their new product launch.
Dome Skies offer Limitless Possibilities!
The portable gaming dome theater's open, unobstructed arena provides a spacious 3-D venue for shared human interactions. Whether for entertainment or for educational game based learning environments, VR/AR is all about feeling like you're in the story.
As a learning tool, gamification invites live audiences to make deeper connections with the world around them through dynamic group energy. When holographic projection is added to the dome's spatial environment, this "mixed reality" sets the stage for many inspiring venues to captivate and engage your audience.
Gamification in the Portable Classroom
Why games? Ask any student about game based classroom learning and they'll be quick tell you: it's fun! Students are more apt to be curious and learn faster, and they are more determined to overcome learning challenges.
Can games change the world? According to Asi Burak at Games for Change, gaming has the power to have a positive impact on our world.
Gamification in Business Training
There is a huge potential for virtual reality projection through VR and AR gamification in business training. People are more apt to engage, participate and collaborate in a game based environment.
Although the technology is still young, there have been some serious strides forward in VR/AR gaming technology for business applications. Pacific Domes works with some of the world's leading innovators and change makers to bring your dreams to life with mobile gaming domes.