DOME DWELLER INTERVIEW featuring Curran Boyle and his 24' Tiny House Dome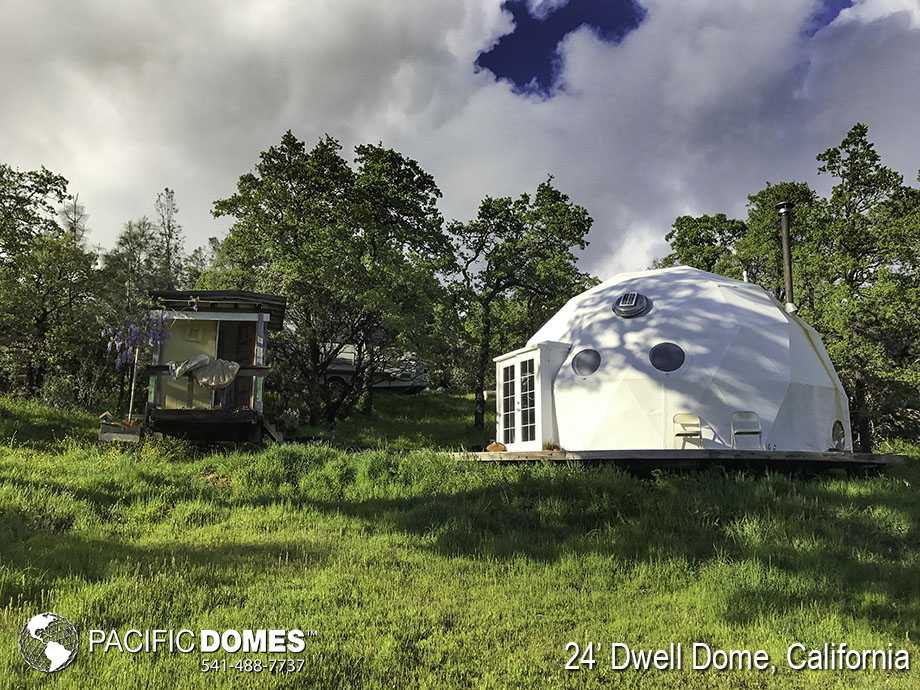 In this interview we speak with Curran Boyle, Experiential Designer, dome dweller, husband and father. Part visionary, part strategist, Boyle spends his days thinking about ways to improve modern public spaces. He is passionate about conveying how emerging technologies are relevant to people's environment/experience.
PD: Hello Curran, thank you for speaking with me today!
Curran: Thank you!
PD: How long have you lived in your dome?
Curran: Four years. We lived in conventional housing for ten years after school in LA while I worked in architectural offices. But I was interested in sustainable off grid living and began looking for a piece of land to buy. We bought 10 acres, 40 miles Southeast of Chico, CA. Being in the design world, I came across geodesic domes and realized that I would love to live in one while I payed off my school loans and saved to build a house for my family. One summer in 2006, at Burningman Festival where I met my wife, I was impressed with a dome I saw and how it held up in the extreme conditions. I started shopping for one, and I met someone on craigslist with a dome that I bought. It ended up being a Pacific Domes dome, and it was owned for 10 years before me.

PD: What was it about the domes you saw at Burningman that drew you to them?
Curran: So the amount of raw material vs. the available space was notable. Not to mention being able to transport the structure to a remote location… but mostly the way the structure weathers the storms; that part was incredible. One would have to experience the storms out there to understand, but I am convinced that the geodesic dome is the ultimate structure.
PD: What would you like people to know about dome life?
Curran: It is an alternative lifestyle, like living on a boat. But for us, it had its advantages. I would not recommend it for everyone, but for those looking for something outside the box, dome life is the perfect match. 😉
PD: What about permitting?
Curran: I contacted Pacific Domes and they sent me what the county would use for wind and snow loads. The dome is considered to be a temporary structure; I have it on concrete peers which means it is now a moveable structure. When you build a foundation or pour concrete, you need permits, which are expensive. This is a temporary structure until we build our permanent home. This helps us to not pay high rent and to save up and not be in a lot of debt. Our mortgage is $400/month. We pay off student loans with the savings.
PD: How long did it take to turn the dome into your home?
Curran: As soon as the kitchen was built, we moved in. However, we spent 3 years finishing up the materials and details: weatherproofing the skin, tile in the kitchen, building a loft. Currently we are adding a 16' dome connected via a tunnel for a bedroom/bathroom.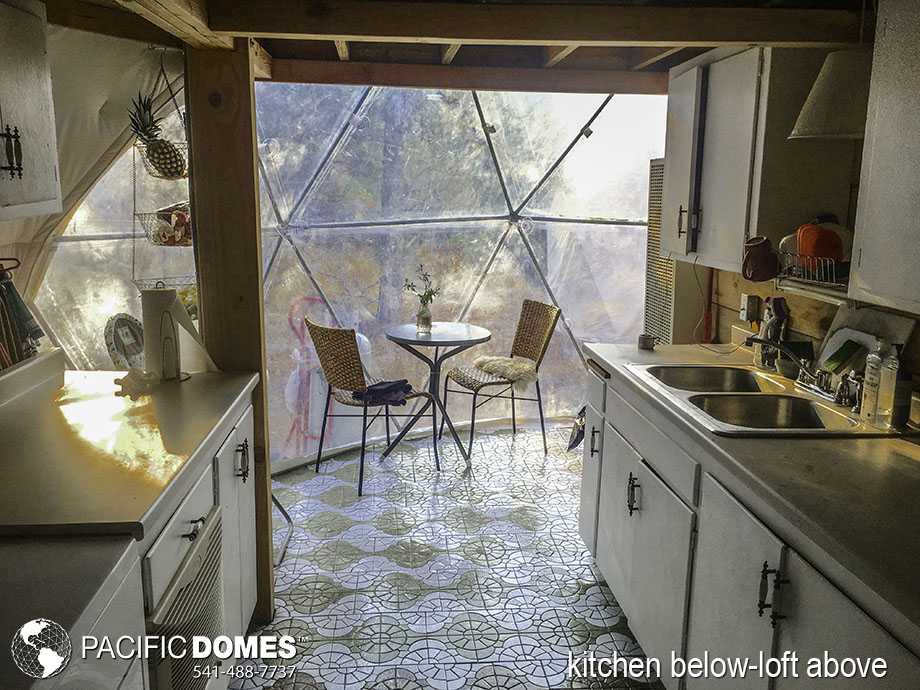 PD: How do you power your dome?
Curran: We are off grid; we have a solar system and an inverter which powers the well, refrigerator and lights. The batteries last 7 years. The dryer runs off propane. The propane bill was $200 between February through March.
PD: How do you heat and cool your dome?
Curran: Fans, wood stove and propane wall heater. The ceiling fan changed everything, and really moves all the air around the room to create consistent temperatures. I painted the outside with Thermo-Shield every year. The paint seals up everything. I even painted the inside of the dome. This stopped moisture build up.
In winter, the wood stove helps dry out the dome. The liner changed everything. When I got it, the liner was super thin, so I was skeptical, and it was challenging to install. Heating became 100 times better after the winter liner was installed, and I had to build smaller fires because the dome heated so much better. When the fire goes out at 4 am, the propane heater would kick in and heat the dome until we got up again to build the fire. With the liner, there is no condensation on the dome anymore. The liner made it more of a home. I want to add a swamp cooler and get cool air through the kitchen. It is 90-100 degrees on our property mid summer.
We burn 4 or 5 cords of wood in a year. I filled propane 7 months ago and I have not refilled it since. The liner holds the 55-60 degree temperature. When the sun shines through the bay window, we get passive solar heat in winter. A sun umbrella provides shade in May, the time of year when it heats up too much at the angle the sun comes in. The solar fan in the window pulls moisture out and pulls out hot air build up at the top, and the ceiling fan moves the air around. Air circulation cuts down on mildew and mold. It keeps the air crisp. In summer, I choose which windows to open. I also use shade to block some windows to prevent sun from coming in.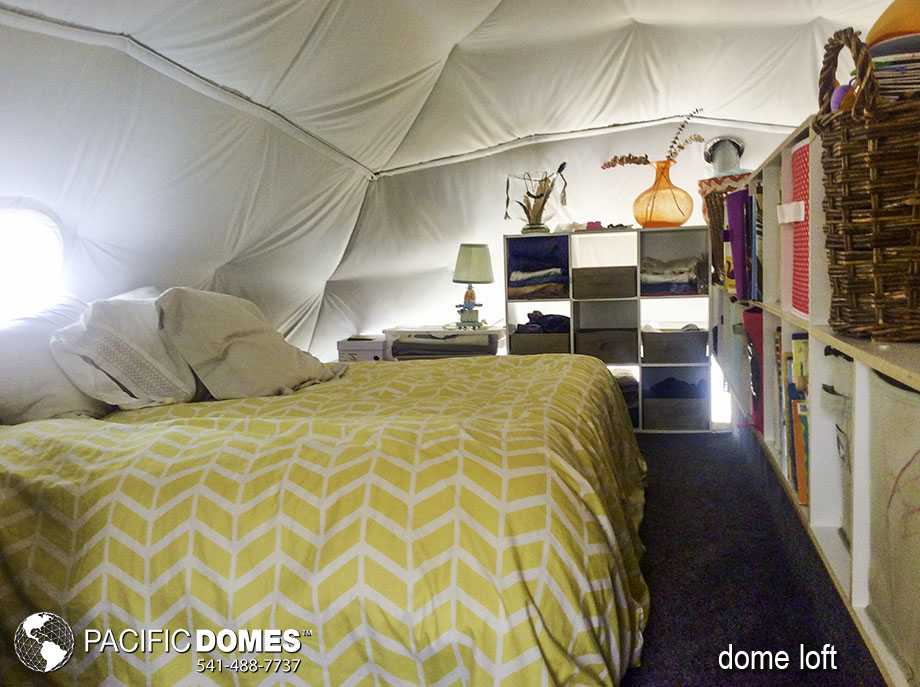 PD: What is your favorite thing about living in your dome?
Curran: Its shape; you don't feel like you are trapped in a room when you are moving from space to space. Stuff doesn't get piled up in the corners. My daughter likes to run around and around through the kitchen to the living room.
PD: What challenges have you faced in converting to living in a dome as your home?
Curran: Before we got the liner, we faced challenges heating and cooling. We love the liner! We also get gail force winds, and had a tin shed rip out concrete anchors and blow away into a tree. But the dome totally held up. The dome holds up in all sorts of weather.
PD: What inspired you for your interior decorating?
Curran: Our loft in downtown LA was really modern, a penthouse with glass and steel. We juxtapositioned the really modern with boho chic interior. It was a rebirth of older materials and textures.
PD: What is it like raising a baby in a dome?
Curran: I prefer it; she runs around to the spaces over and over again. I would recommend a slightly larger 30 ft. dome for a family of three, but we love our space and talk about adding more rooms as we need them. We are currently finishing up installing a 16′ dome connected to the 24′ dome to use as our master bedroom. It is a work in progress.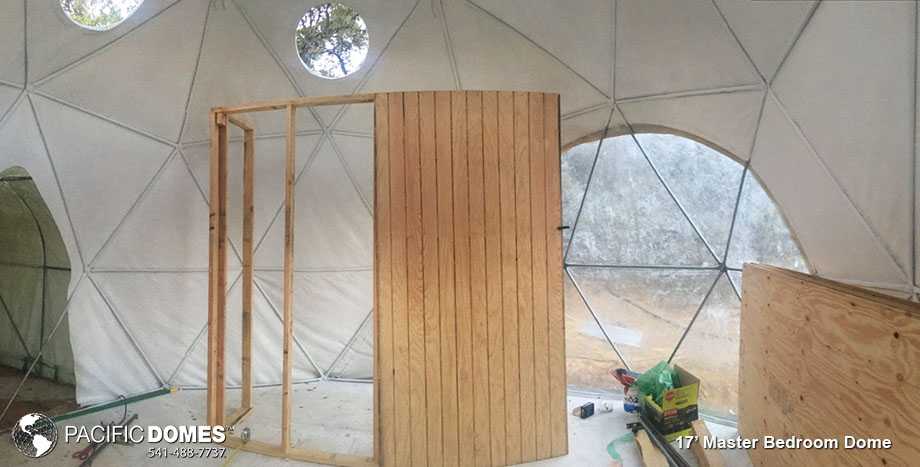 PD: How old is your daughter now? Has she ever lived in anything other than a dome?
Curran: Our daughter is two years old. During the winters we rent a ski condo in Tahoe, which we love. But it feels like living in a box, and it doesn't have the same flow. Living in the dome feels like living in harmony with the land.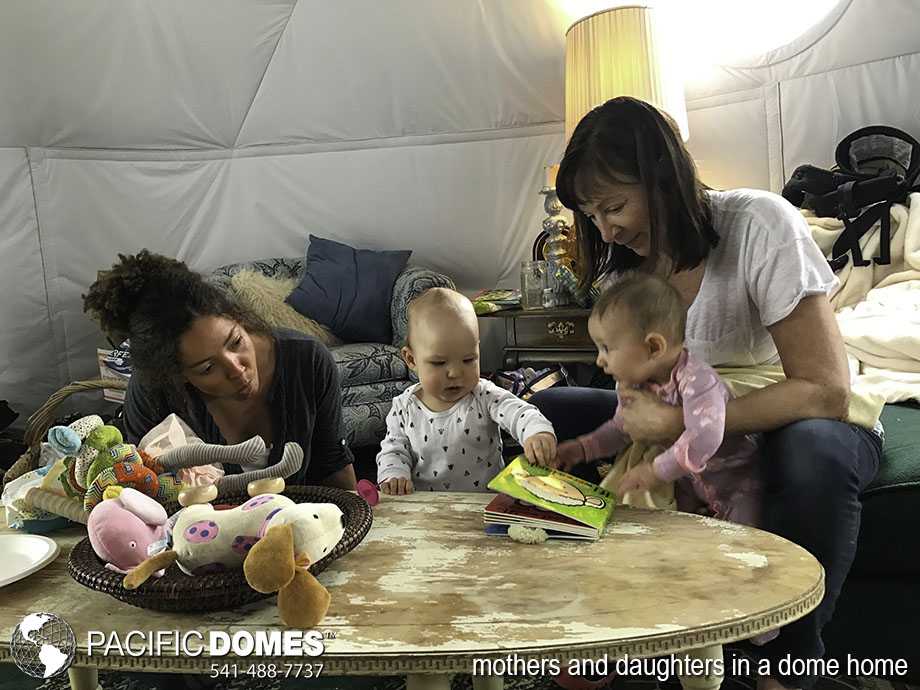 PD: Any final conclusions?
Curran: Building and living in our dome is one of the greatest joys of my life. I love the freedom to build and design the structure as I need to. The energy is always fresh and a joy to be in. It's definitely an alternative lifestyle, but with so much going on in the world, it feels appropriate to be exploring other living options.