"Your Event Hosting Partner" — Pacific Domes, Inc.
Award-Winning Event Domes & Glamping Zen Domes
Whether your outdoor event is large or small, simple or extravagant, hospitality is always key. Seasoned event organizers recognize that a vital ingredient in bringing people together in an engaging, interactive way boils down to utilizing the best festival tents on the market.
Eclipse Festival Dome
When it comes to hosting epic events, Event Planners recognize that people have more fun when given the opportunity to collectively participate and share their experiences. The best festival tents are free-standing Event Domes that bring your event to life in the ambiance of an immersive, interactive 360° theater.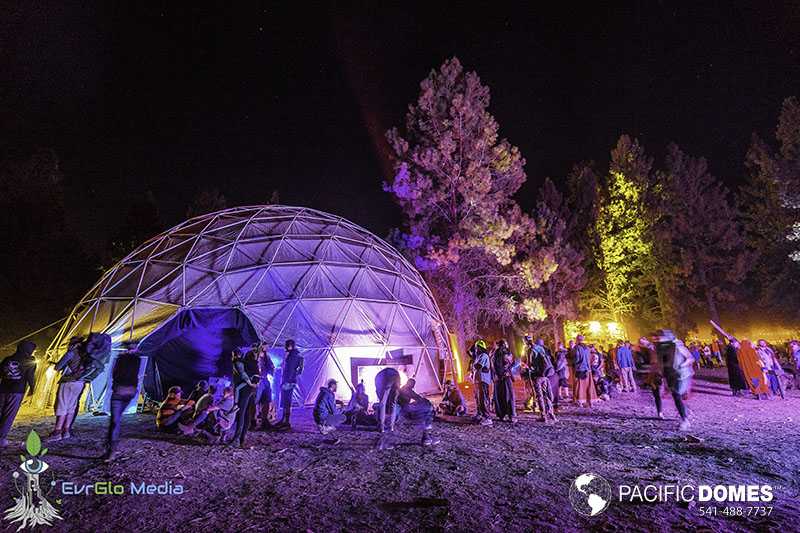 What awaited guests at this year's Solar Eclipse Festival? A glowing projection dome theater! 
Festival Dome Cities On-Demand
On the leading edge of eclectic event venues, the best outdoor festival tents are award-winning ecoliving domes. Assembling all the elements for a successful on-the-road festival, the larger Event Domes provide an immersive staging arena, whilst mid-range Zen Dome tents offer resort-style lodging for your guests and celebrities.
Unlike canopy tents, prefab domes are suited to all types of terrains; they are fully deployable to just about any location on the planet, and can be erected in hours with as little as 2 people using simple hand ratcheting tools. Larger event domes require a small crew and equipment, such as tall ladders, scaffolding and cranes.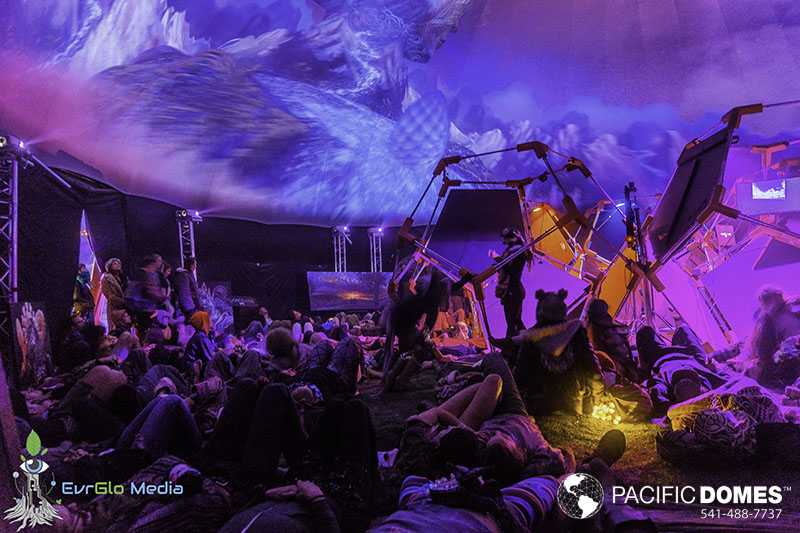 At the Solar Eclipse Festival, the dome's spacious circular arena provided everyone the best seat in the house.
A dome's spacious interior offers limitless possibilities for creativity. Its circular design encloses the greatest volume of interior space with the least amount of surface area.
A dome's structure is one of the most efficient interior spaces because air and energy circulate unobstructed. If heating or cooling becomes necessary during seasonal extremes, there's little energy lost, due to the dome's enclosed space.
Dome Walls Talk with Cutting-edge Projection Mapping
Projection mapping is a projection technology that transforms objects, places and scenes into captivating displays. Geodesic Domes have a structurally supreme full-dome capacity for projection and lighting innovation.
Projection Domes utilize high-powered projectors to full advantage in delivering spectacular scalability. In concert with Pacific Domes sister company, Obscura Digital, they provide 'outside the box' artistry for every event hosting theme.
Draw your audience into the exciting world of projection mapping with visual effects, presentations and entertaining educational films. The larger free-standing Event Domes have the capacity to comfortably seat 500 people in a comfortable air-conditioned environment.
The Antarctic Dome at Coachella 2017 (1:26 minutes)

You are only limited by your imagination when it comes to creating a truly unique space for your event venue. With the magic of 360° projection mapping, you'll find up to 6 times better imaging synchronized with incredible sound effects.
Whether your project is simple or extravagant, the Pacific Domes and Obscura Digital creative teams are always ready to support your ideas and help the 360° experience come to life with Full Video Mapping Service.
Zen Dome Festival Glamping
Party like a celebrity! Event Planners and partygoers alike love glamping domes for unforgettable otherworldly accommodations during festivals and overnight events. Unique geodesic Zen Domes offer super-star luxury in outdoor lodging.
Glamping in a 20 ft. Zen Dome is an ideal way for you to enjoy any festival event in comfort. The package often offers the best in creature comforts, so you can leave refreshed and ready to enjoy your weekend event.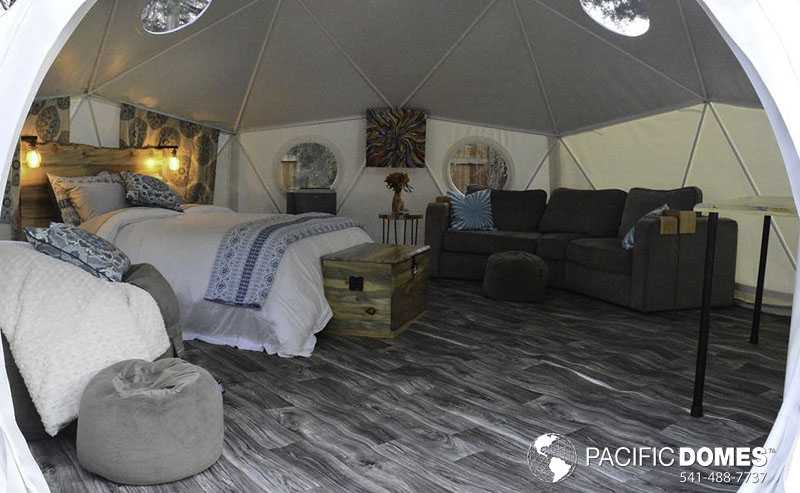 Take your event to the next level! Discover for yourself, how the best festival tents in the event industry are manufactured right here in the USA by Pacific Domes.