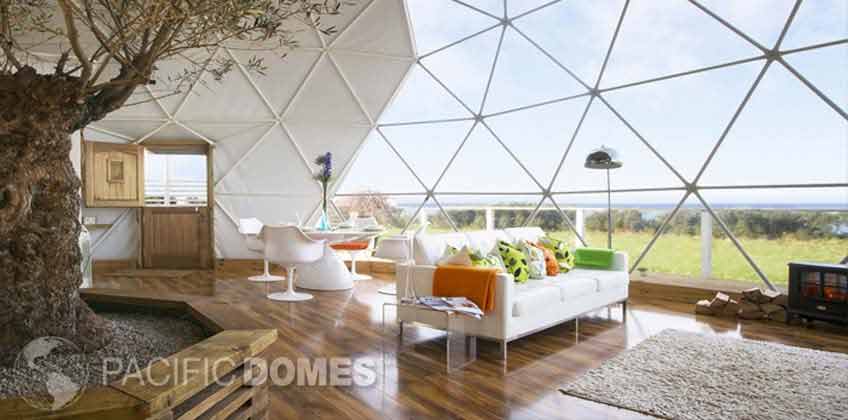 Eco-Living Domes
Our Domes illuminate with natural light to create closeness with nature in a comfortable and energy efficient environment. From Michigan winters to Arizona summers, people live comfortably in our eco-friendly Dome Homes. Our eco-living domes are architecturally designed using patterns found in nature. They are safe in high winds, heavy snows, and earthquakes, making them a durable and unique housing alternative.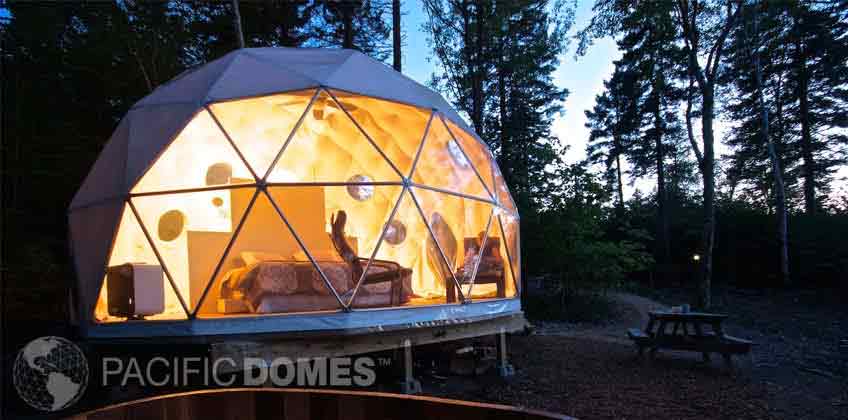 Eco-Resort Domes
Pacific Domes has created numerous world-renowned Eco-Resorts and Retreat Centers. Our futuristic, geodesic domes can occupy a harmonious space amongst the most breathtaking of ecosystems. Our elegant resort domes can be insulated against heat and cold to create a safe environment for families, tourists, and conscientious travelers.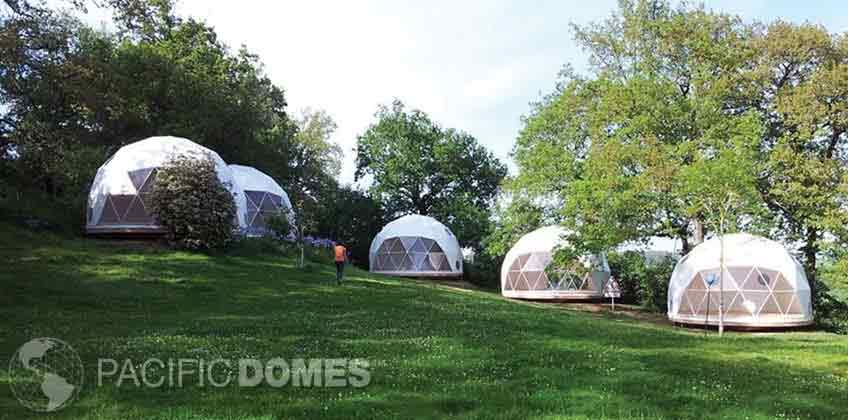 Glamping Domes
Energy efficient, environmentally friendly, resilient, and versatile, our domes provide world-class comfort and luxury with a minimal carbon footprint. You can have one of our elegant domes for a fraction of the cost of virtually any other semi-permanent portable structure. Guests love the unique and peaceful feeling of sleeping in our geodesic domes. Our harmonic architecture is a philosophy which stems from a reverence for the interconnectedness of all life; we hope to inspire your guests to feel the same.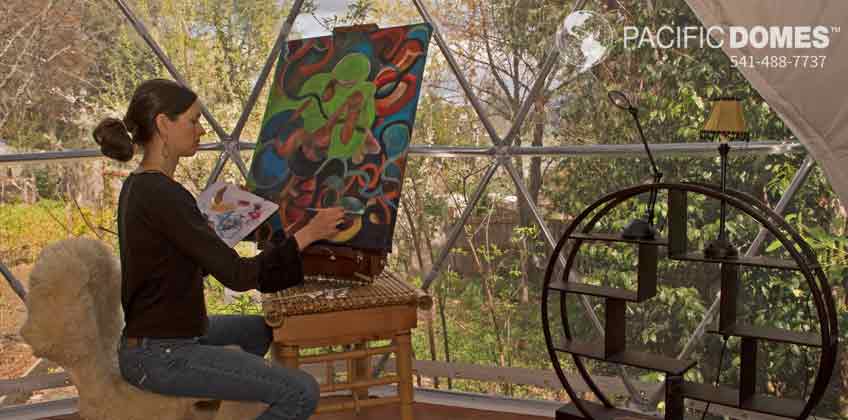 Studio Domes
Inherent to the geodesic dome is creativity. The geometry and shape of the dome helps to foster loftiness in thinking and expansive inventiveness. Our Studio Domes are ideal for artists or musicians that need a space for their sound, vision, and inspired projects. Pacific Domes strong, portable structures allow the freedom to bring your studio with you as you travel, or to have a private space at home for art-making. We can help you build the creative studio of your dreams.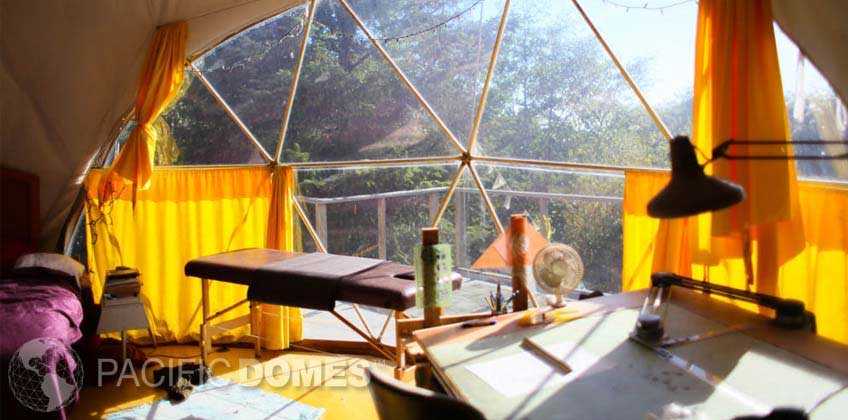 Healing Domes
Vaastu, Sound Light, Sacred Sanctuary, Massage and Meditation, Health can be restored, stress reduced, and pain diminished, through harmonic resonance. Our physical universe consists of vibrating sound and light, and our health is greatly influenced by our surroundings as we dance with these vibrations. The structure of our Vaastu Dome sings with cosmic energy, enhancing the effect of our Sound Light Healing Dome. HRT is a sophisticated vibration therapy that utilizes light, sound, color, and tactile vibration to synchronize and cohere the sensory mechanisms, promoting an extremely relaxed state. Pacific Domes synergetic, Vaastu geometry enhances this resonant field, promoting health and healing. We offer home or commercial units, and our engineered dome frames will support any therapeutic bed. Connect with a representative to learn more about our partnership with InnerSense Inc. and our healing domes.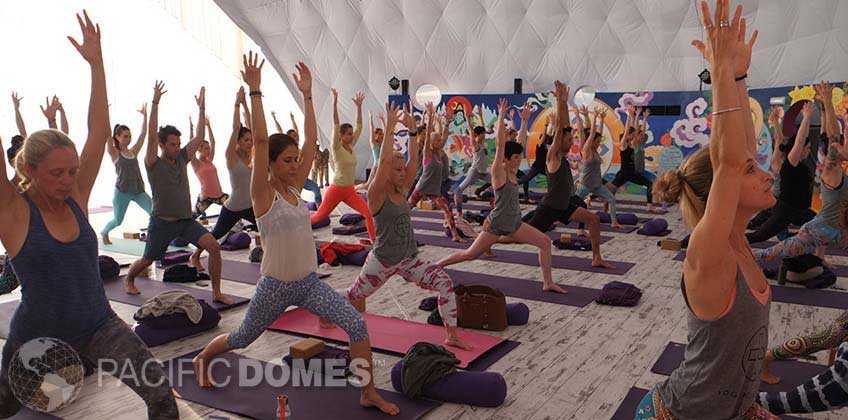 Yoga Domes
The clear-span geodesic structure allows for freedom of movement while the engineered frame will support Yoga swings. Depending on the size of the dome, you can create a personal place of meditation, or build a classroom with a number of people. Our floor plans are designed to be used with radiant heat, creating a warm place to lye in shivasana. Our domes compliment the yogic philosophy of physical well-being and spiritual harmony. Check out our gallery to see the successful use of Pacific Domes at Prana Festival and Wanderlust.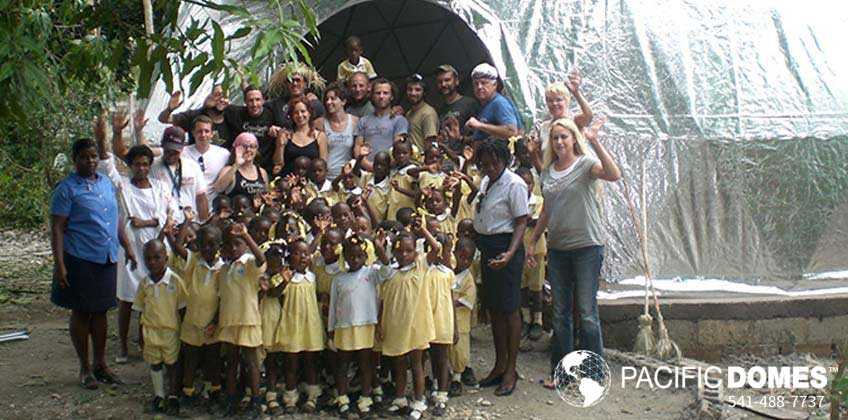 Relief Domes – Dedicated to providing immediate disaster relief
Our larger domes can be used for warehouse purposes, distribution of supplies, and also as a kitchen for food services. Our mid-range geodesic domes are perfect for classrooms and as portable medical centers, and our smaller domes provide a safe and weather proof shelter for displaced families. Make a tax-deductable donation today and help those in need. Add a dome package to your survival gear!