Stove Cap & Flashing
The Custom Dome Options come with a stove vent flashing and pipe cap for wood stove installation. Comfortable temperatures can be maintained inside the dome while snow flurries outside. There are four types of stoves Pacific Domes recommends for heating your dome: pellet, masonry, gas or wood. They may look similar, but have different environmental impact. For the Basic Dome Package, the wood stove setup can be purchased separately.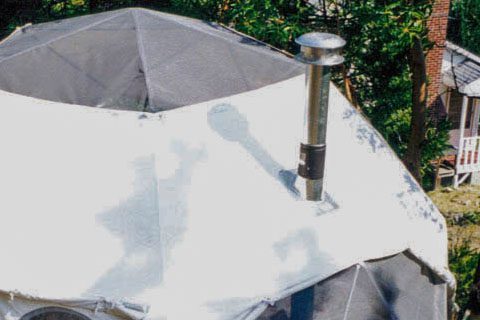 Solar Fans
Our Solar Fan is solar powered and "run by the sun" and is the most technically advanced, environmentally friendly ventilation solution.
This is the number of solar fans that the manufacturer recommends based on 10 air-exchanges per hour (their ideal)
The fans move 1200 cfm under ideal conditions (at noon, no obstructions or clouds, no mechanical problems, etc.) under normal conditions, the various sizes may require more than this amount to achieve 10 air-exchanges per hour.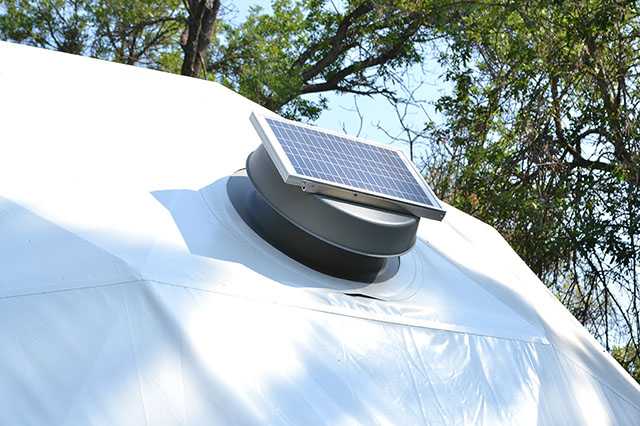 Thermoshield Insulation Paint
Our Thermoshield Insulative Paint is a non-toxic, cost effective insulation solution. It is an elastomeric paint containing ceramic borosilicate micro-spheres, a technology used on the space shuttles to prevent heat damage as they leave or re-enter the atmosphere. We recommend Thermoshield in areas with extreme UV exposure. Coating the outside of your dome with Thermoshield will keep it cool inside, while protecting the fabric from UV exposure, thus extending the life of your dome cover. When applied to the dome, Thermoshield reflects heat back inside and is an effective alternative to our Insulation Liner. The dome will remain portable even with a thick coat of Thermoshield. It is available in many colors and smooth or with a stucco finish. Please Note: Thermoshield paint will reduce light penetration.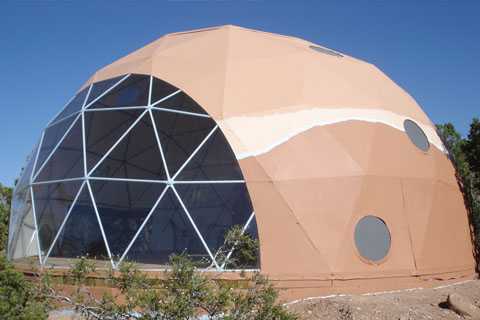 Click here for application instructions
.
Air Chairs
Enjoy your dome floating in the comfort of a Pacific Domes Air Chair. Hung from any hub, they will support up to 350 pounds. The fabric will not fade or mildew with outdoor use. Offered in adult and children sizes, the air chair makes a great swing.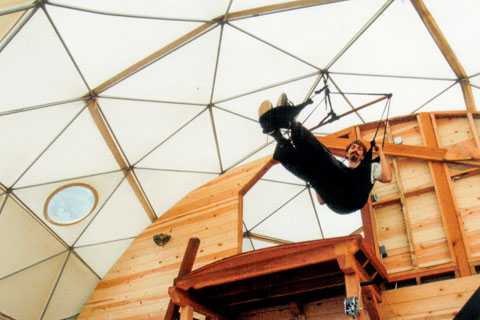 Floating Beds
It feels like floating on a cloud. The suspension conforms to your body and is safe and stable. It's unique 360° pendulum motion creates a super-relaxed resting state.