Elegant Boating Exhibits Deserve to be Showcased in Style! Sail the Ocean Blue With Pacific Domes
"Hosting Solutions for Large Outdoor Events with Geodome Event Tents" — Pacific Domes Inc.
Boating Event Planners and Event Tent Industry experts will agree that it's no laughing matter when high winds and unexpected turbulent weather conditions spoil an otherwise spectacular boating exhibit that has taken many months of preparation and planning. This is where portable geo-engineered tent structures have proven their superior strength and capacity over many traditional structures.
Geo-engineered event tent dome structures meet the highest industry standards in providing a safe and immersive gathering hub for boat lovers and fans during extreme weather. Showcasing your boat and your brand image on a printed dome tapestry is a crowd drawing attraction.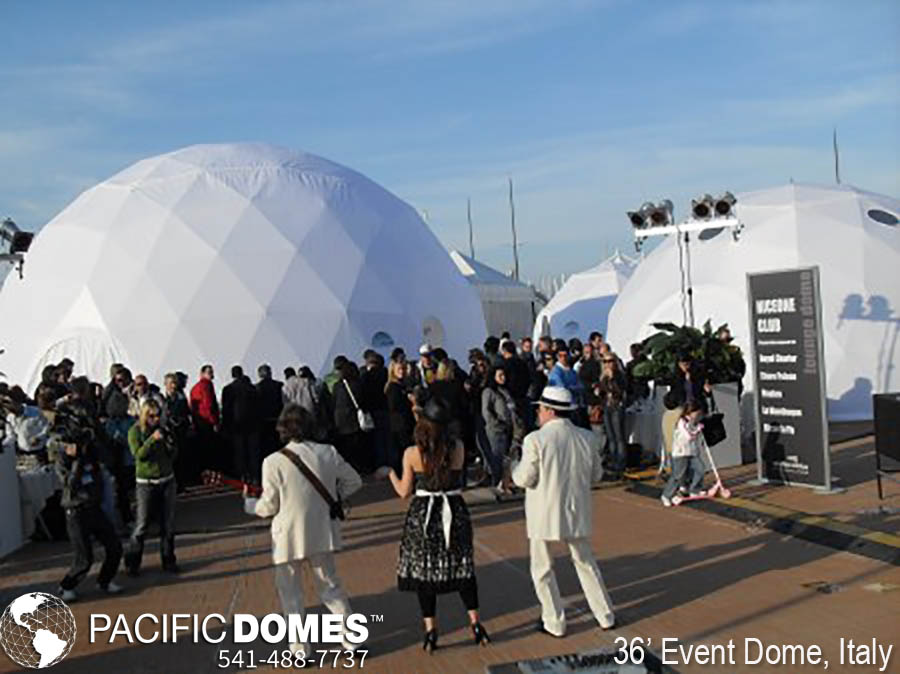 "Under the dome, life is always beautiful!"
When high winds of more than 38 knots came up, the domes proved their capacity and earned praise from many operators and attendees, who took refuge in the domes.
The "Quintessentially Blue Terrace Boat Show" in Rimini Italy, is the most glamorous boating event of the season. The Rimini Fair organized their annual exhibit, engaging Pacific Domes to characterize the appointed space for 400 exclusive guests of honor.
Each of the three installed domes attracted immense interest from Rimini Fair goers.
The three installed domes, measuring respectively 16, 30 and 36 feet in diameter, were used as the Information Desk Dome, the Lounge Bar Dome and the Star Office Dome (the business center for the fair and its guests).
When it comes to planning your next successful boating event, you can expect to steal the show, while providing economical event solutions and peace of mind!
Serving the Event Industry for many decades, Pacific Domes Inc. has earned global recognition with award-winning portable event geodome event tents.
Jump aboard and get ready to enjoy a seamless event planning experience from beginning to end with Pacific Domes Inc. USA.