---
"We Bring Years of Industry Expertise in Creating Spectacular Environments" — Pacific Domes
---
Event Tent Rentals by Pacific Domes Inc.
When it comes to planning your event, the event tent rental marketplace has many designs and sizes to choose from.  Unless you have a clear roadmap for your venue and know to ask the right questions, searching online through the many types of tents for events can leave you feeling a bit dizzy.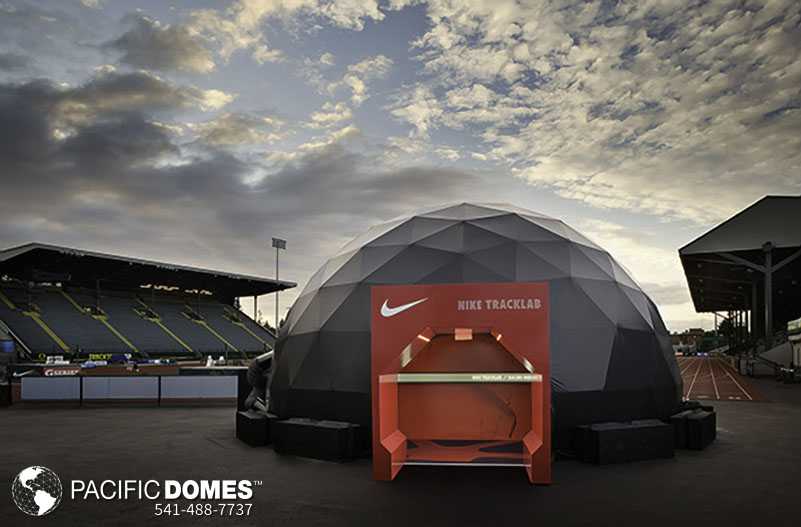 Choosing the right event tent rental for your venue begins with understanding some tent basics.  Did you know that there are two basic tent styles – pole-style tents and clear span frame-style tents? 
Although, pole tents tend to be slightly less expensive, they require tent stakes to anchor them to the ground and are mostly limited to soft grassy areas and milder climates.  Pole tents require stake lines around the tent with up to a 10-ft. buffer zone around the tent's perimeter for staking; sometimes, posing a safety concern.  Additionally, the center pole can be a design obstruction. 
Unlike pole tents, clear span dome tents can be set up in any terrain and its open circular design is free of obstructions and center poles. Interlocking steel-frame bars aka struts are joined together forming a freestanding geodesic-engineered work of art – thus, eliminating the need for buffer zones to anchor stakes.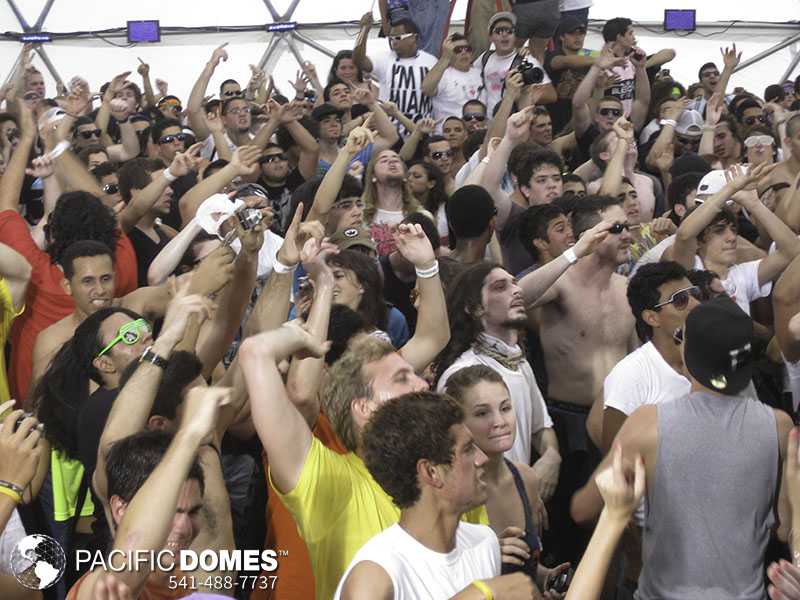 Event tent rental companies oftentimes offer free advice and provide checklists to help guide your process, in the hopes that you will engage their services.  You may find their information useful in avoiding some of the pitfalls. 
Also, depending on the complexity of your event, there are companies that specialize in event planning software.  Pacific Domes offers 3D renderings to help you visualize your dome environment.  Professional teams are there to help plan your event each step of the way.
Checklist: Asking the Right Event Tent Rental Questions
A checklist can eliminate some of the stress and help you plan a seamless event.  By asking yourself these simple questions, you'll be further along on your journey towards becoming aware of what truly satisfies your event tent rental needs:
What type of event will the tent be used for?
Not all tents work for all types of events.  It pays to weigh in on the features and benefits that the different tent styles lend to your particular venue.  Does the tent structure support electrical, sound, lighting and multi-media equipment?
What's your Budget?
Whether you're hosting a large or small event, knowing where best to allocate funds and accomplish your goals is important.  Having a realistic idea of how much you want to spend on your event tent rental will determine tent styles and sizes.
What's the time frame for accomplishing your goals?
Keeping track of what you need to do and when you need to do it is key.  All the effort you pour into planning your event evaporates quickly if the event tent rental company can't fulfill your expectations in a timely manner.   How long does it take to set up and tear down your tent?
Where will your event take place?
Knowing where your event will be held, simplifies working out the logistics; such as, will the tent size fit into the event's venue space? 
What is the anticipated size of your event?
How many attendees?  Will there be space to include design elements and décor? What about entertainment staging and seating?
What is the typical seasonal climate during your event?
Mother Nature can be unpredictable.  Sidewalls, enclosures and canopies are outdoor event must haves; however, they aren't always included in your basic package, so, it pays to ask.
What's the event terrain like?
Is your terrain grass, cement or pavement?  Is your tent going up on uneven ground or terraced slope?

Why Choose Our Geodesic Dome Rentals?
As an eco-friendly event shelter, you'll appreciate our domes portability, quick installation and take-down. Domes are suited to all types of terrains.
Domes enclose the largest volume of interior space with the least amount of surface area, thus ensuring a light footprint. When the dome's diameter is doubled, it quadruples its square footage and produces eight times its volume, thus saving on materials and cost.
A dome's spacious interior offers limitless possibilities for design creativity. Domes have a superior capacity for projection and lighting innovation.  The round arena naturally amplifies sound and the overhanging geodesic truss system becomes the perfect housing for 360° projection to capture a fully immersive audience experience.
Geodesic steel frame domes have a proven track record for their capacity to withstand the extremes of wind, snow and even earthquakes. The unparalleled geo-engineering strength of dome tents for events makes them the natural choice for either small or large-scale gatherings.
You wouldn't want to leave your event open to chance. The attractive dome skin is snugly secured to fit over the frame and has you covered no matter what Mother Nature has in store.
Custom printed dome covers are available in a variety of colorful fabrics, accessories and event stretch décor.
An affordable option, Illumination Domes light up naturally, yet, are ideal for projection.  Event planners love our Event-Lite Illumination Domes, capable of projecting images both inside and out.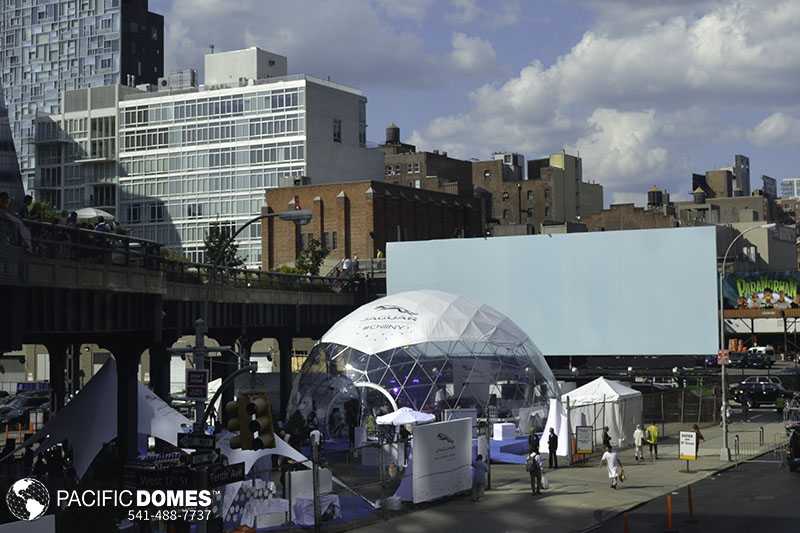 ---
Based in Ashland Oregon, Pacific Domes has been blazing the trail since 1980 with decades of Event Industry expertise worldwide.  Our Team partners are global leaders in immersive high-tech entertainment, bringing spectacular 360° themes & projections to life.
Take the tour! Browsing Pacific Domes Event Brochure is the first step towards exploring the benefits and versatility of geodesic domes for hosting your next big event.
Pacific Domes offers event tent rentals from new and used in-stock inventory; as well as, used event tents for sale at discounted prices.  The discounted price is determined by the dome's condition.  Full-warranty applies; shipping is extra.
---