In planning your next event, you may be experiencing some angst regarding one of the most critically important details in determining the success of your event: the event staging arena. If you're looking to impress your audience by adding that 'WOW' factor, learn why Event Planners choose ez-up Event Dome Rentals by Pacific Domes International.
Event Dome Rentals for Hassle-free Pop-up Events
Looking to create an awesome indoor or outdoor event in a hurry without the hassle of outfitting and setting up your event staging arena? For a number of all-inclusive reasons, Event planners have long relied on Pacific Domes Event Dome Rentals to deliver a "turnkey" experience.
How Does Pacific Domes Deliver Superior Quality?
Setting the industry standard since 1980, Pacific Domes is recognized world-wide as an early pioneer in the manufacture of architecturally impressive indoor-outdoor geodesic domes. Their engineered dome structures have received numerous awards for outstanding, innovative designs in various event staging venues.
Pacific Domes' professional sales, design and customer support teams take pride in walking with you every step-of-the-way to ensure event success. Using the latest technology, their in-house design teams have the capacity to maximize your event idea by delivering excellence in creative 3-D renderings from start to finish.
Event Domes occupy a unique market niche with the engineering strength of Made in the U.S.A. steel frames to handle extremes in wind, weather and even earthquakes. Pacific Domes' structural integrity, versatility and functionality is suited to all types of terrains, while offering limitless possibilities for design innovation.
The spherical design of an event dome encapsulates the largest volume of interior space with the least amount of surface area, thus saving on materials and cost while ensuring a light eco-footprint. Custom printed dome covers are available in a variety of colorful indoor and outdoor fabrics with accessories and options to choose from.
Translucent covers may be customized depending on need and usage. Tensile strength outdoor covers constructed with durable UV resistant, flame-redardant and waterproof materials naturally illuminate the spacious interior atmosphere. Various types of floorings may be installed in domes to provide a comfortable environment for every function.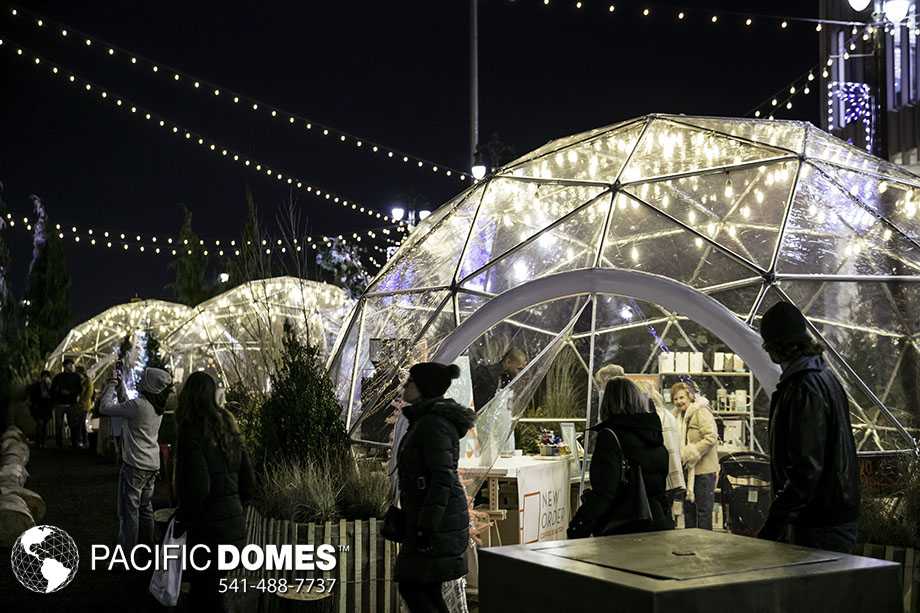 From customization, to efficient cost-effective execution, to manufacturing and quick tear-down once the event is over, you can count on Pacific Domes to deliver a seamless experience.
Transform Your Event with Event Dome Rentals by Pacific Domes
Not only do Pacific Domes look awesome, but when it comes to the audience experience, you can expect to 'WOW' and even bliss-out your attendees, stealing the show every time.
Domes have a superior capacity for projection and lighting innovation. The round dome arena naturally amplifies sound and the overhanging geodesic truss system becomes the perfect housing for 360⁰ lighting and sound equipment to smoothly produce a fully immersive audience experience.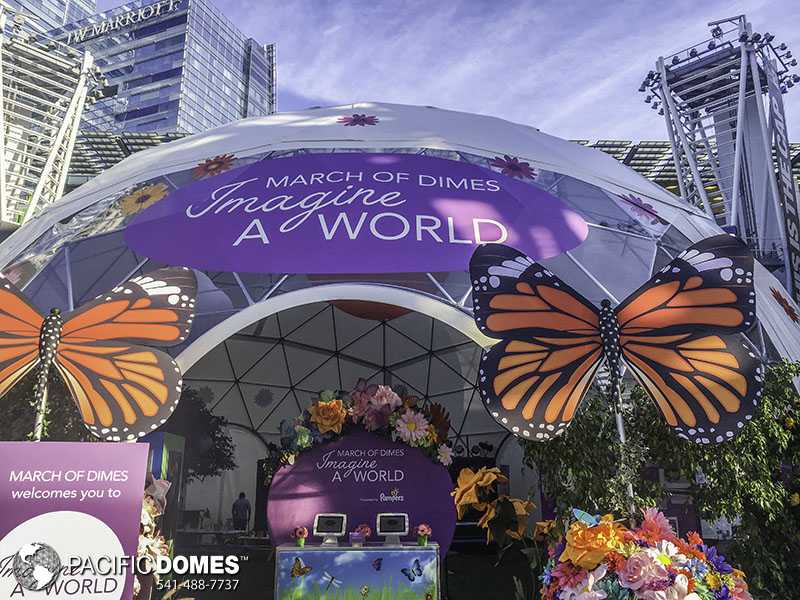 Your Event is in good hands with Pacific Domes.Our audiences have come to expect an unforgettable, immersive and interactive 360° experience, and we take our commitment to you seriously!
Check out our Event Domes Brochure
When hosting your next awesome event, browsing Pacific Domes' inspiring of Event Domes Gallery is the first step towards exploring the benefits and versatility of geodesic domes.