Buckminster Fuller envisioned a Utopian future for humanity. If Fuller could have gazed into his crystal ball, he would have foreseen that the evolution of his invention, the geodesic dome, would lead to the innovation of digital projection planetarium domes ‒ and, a 'Fuller View of the Universe'
Out of the strength and portability of Bucky's cosmic, geodesic blueprint, Pacific Domes designed the first and largest mobile Planetarium Dome ever found on earth. An immersive 360° projection screen which displays scenes of stars, planets and celestial objects that appear to move realistically, simulating the motions of the heavens.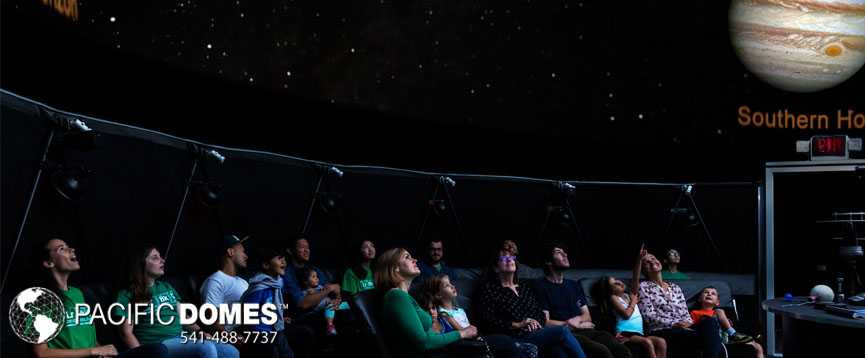 "What better place to navigate the heavens, than from within the very structure from which it's designed?" 
A truly spell-binding immersive visual and sound experience awaits visitors to a digital Planetarium Dome, taking viewers on a journey into the mysteries of the universe. With over 40-years of industry expertise, Pacific Domes has created an immersive 360° Planetarium Dome out of Bucky's geodesic architectural model. The Full-Dome Projection Liner is specially designed to give everyone the best seat in the house!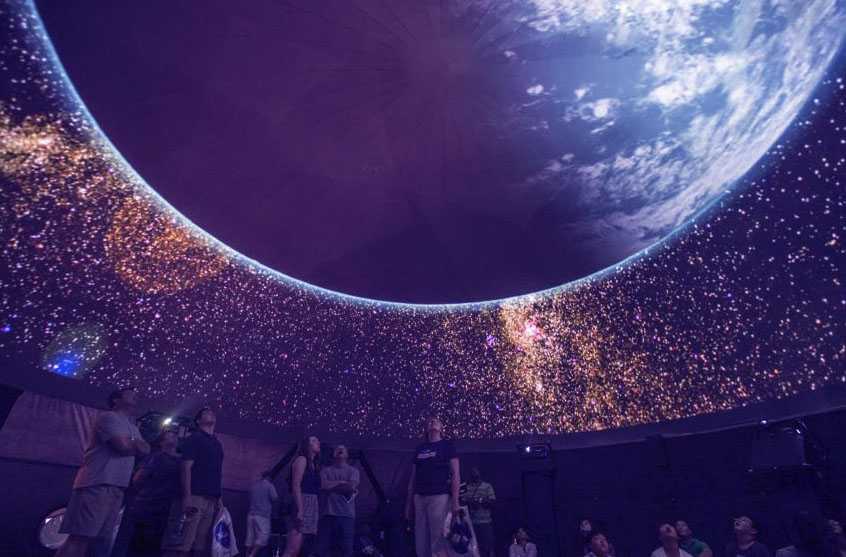 Pacific Domes mobile Planetarium Domes are recommended by Planetarium leaders. Freestanding  projection dome theaters can be implemented for one tenth the price of other planetarium systems.
Planetarium Dome Uses
Visualizations can directly impact and enhance decision making. Planetarium Domes are used for educational and entertaining shows about astronomy, the night sky, or for training in celestial navigation ‒ this enables interactive exploration of both earth and space science. Topics, such as climate change, come alive, allowing people to understand global issues.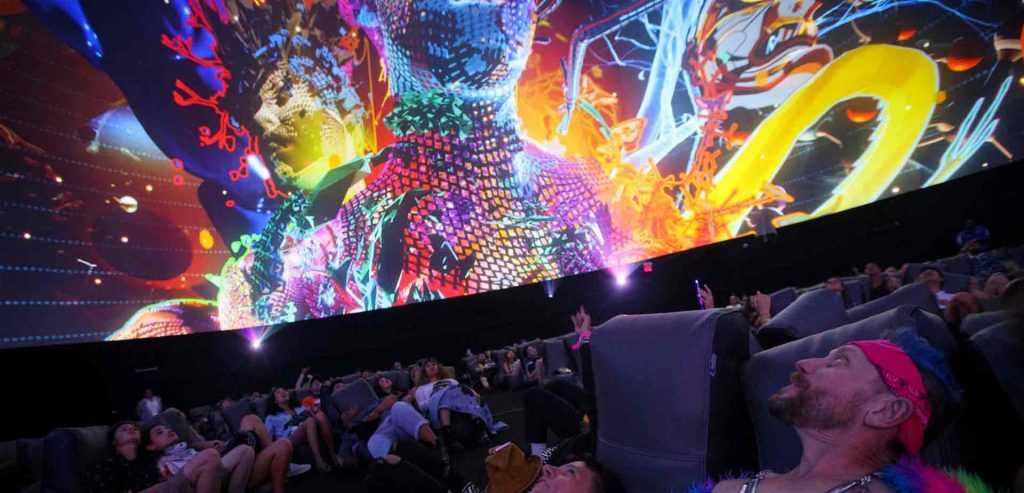 Pacific Domes of Oregon is on the forefront of Immersive Digital Technology, creating amazing 360° Planetarium Projection Dome Theaters for entertainment, education and interactive training. The manufacturer works closely with the world's leading  360° Projection companies, such as Vortex Immersion Media. Their combined engineering and technical know-how is a natural fit for the creation of an unparalleled Planetarium Dome adventure!
We're Here to Help
At Pacific Domes a planetarium is more than simply a dome.  We're here to assist you along each step-of-the-journey from design concept to completion!
Our experienced sales staff works closely with you to offer complete solutions and tailor your specific needs. We pride ourselves in taking your planetarium domes to a whole new level of astronomical entertainment or education.
In-house design engineers are here to assist you with innovative ideas to maximize your planetarium architectural design. Our Planetarium Domes can be setup as a permanent structure or can be deployed rapidly for continuous on-the-road extreme portability.
Our manufacturing facility is meticulous in attention to detail.
Our on-the-road team can handle installation and take-down, logistics, equipment rental, heating and air conditioning needs, flooring solutions, and projection needs for the ultimate visit to distant stars, planets, and other celestial objects!