Dwell Domes or Dome Homes? What's in a name?
Although we love the name Dwell Domes for our dome dwellings, a few months ago we received a letter explaining in legalese that the name Dwell is trademarked by Dwell Magazine.
In response they received this letter:
"We love Dwell Magazine. The owners were married in one of our domes on Treasure Island.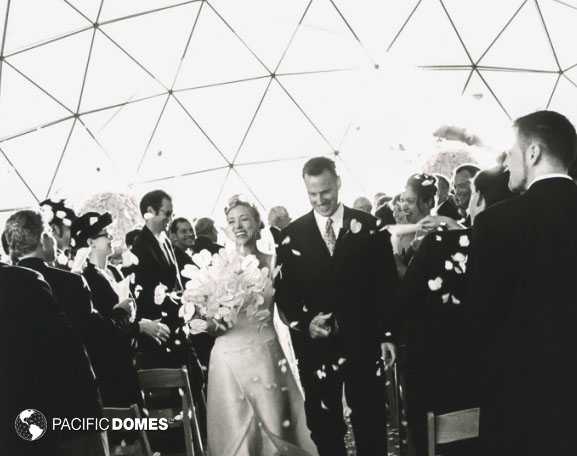 We are proud that our dome was part of their love story.
Please note that Pacific Domes adopted the term "Dwell Dome" many years ago as a marketing strategy, completely unrelated to Dwell Magazine, or to our association from it's owners wedding.
We now understand that there stands a Trademark of the word Dwell. Since Dwell is a common word, I am sure there are many businesses that use it.
Is there a possibility we can continue to use the term Dwell-Dome? How shall we proceed?
With the greatest respect,
Asha Deliverance
Founder of Pacific Domes"
Who would know that the word dwell could be owned? Thankfully, the Dwell Magazine law firm, both Justin Thiele and Raffi Zerounian, are heartfelt lawyers and were very understanding of the situation. They acknowledged the time and energy required to develop our brand, Dwell Domes.
We were able to arrange a grace period, as a name change would involve creating a new website, removing the word dwell from all our content.
What is in a name? Well, these days a name means everything with online marketing. It requires thousands of hours, expended over many years, and superior product integrity to win search engine optimization. A name change involves more than meets the eye!
This process has taken several months, but thankfully we are nearing the finish line. Pacific Domes is proud to announce our new website will launch May 1st! We were able to turn this into a positive experience and are confident that our new site will be better than ever!
Our goal is to make it easy for you to find everything we offer; deck plans, fabrics and materials, ideas for layouts, heating and cooling, and beautiful photography of all the types of Domes we offer.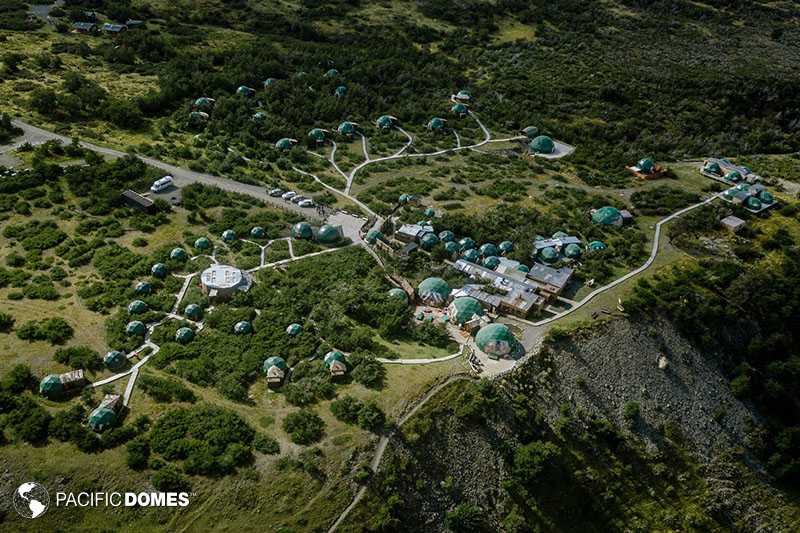 Our Dwell Domes (a.k.a. Dome Homes) receive the greatest interest. A large percentage of our clients are interested in a backyard dome or a dome on their rural property to enhance their living space or to host guests. Many purchase Dwell Domes to rent as Airbnbs, or for Glamping resorts, both of which are perfect ways to create a thriving family business in a beautiful natural setting. Many families are generating high incomes renting out Dwell Domes, while offering fun vacations to adventurous clients.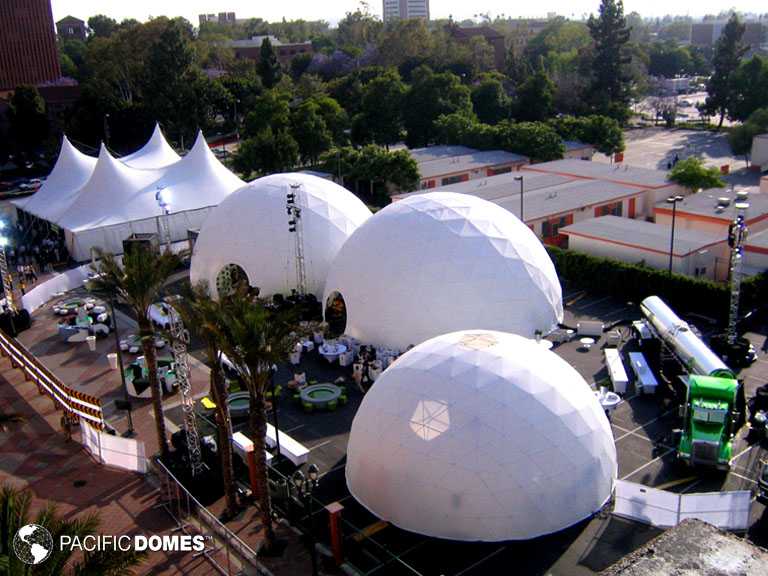 Did you know Pacific Domes also makes sizeable Event Domes? Yes, we make up to 120-foot diameter geodesic domes, for projection theaters and tradeshows! 20 years ago, Pacific Domes pioneered a new venue for concerts and performances with the striking and novel ambience of our large geodesic dome hemisphere. A portable projection theater was created in collaboration with Obscura Digital, an innovative projection company originally launched by Christopher Lejeune, the oldest son of Pacific Domes' founder, Asha Deliverance.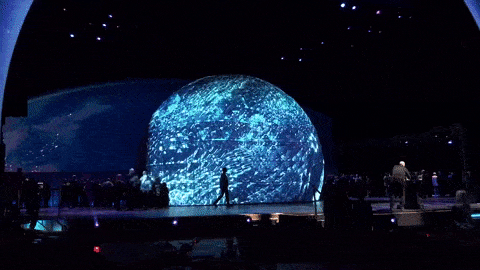 Madison Square Gardens purchased Obscura Digital two years ago in order to launch their MSG Sphere, the largest dome concert venue ever! Pacific Domes worked with Obscura Digital to create a mini version of the soon to be global MSG Sphere, yet another creation inspired by the Pacific Domes family.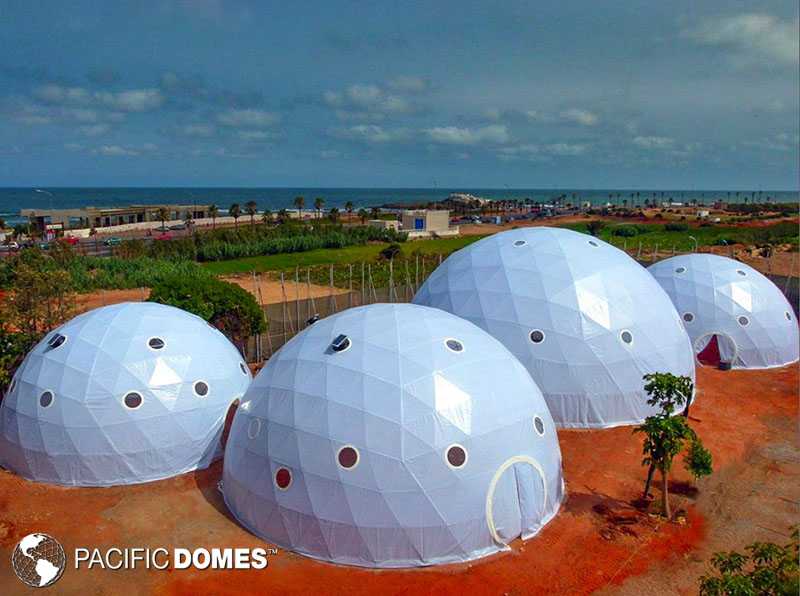 We also offer Pacific Domes Greenhouse Domes. Although our Greenhouse Domes are more expensive than a traditional polypropylene hoop-house, our architectural fabrics will last 10 times longer! Our high-quality greenhouse vinyl can last 10 years or longer, depending on the climate. Most greenhouses fall apart with the first strong wind, but the integral fabric and the shape of the geodesic dome greenhouse allows the wind to just blow around it! Our domes are often the only structure standing after a hurricane wind!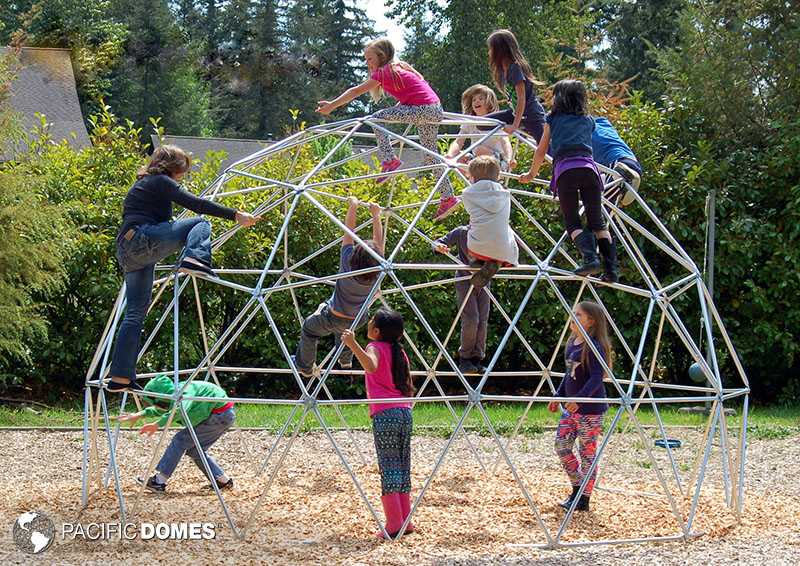 Our playground domes create an engaging environment for every child, right in your own backyard. They come in three sizes, 8 ft diameter for preschool, 11 ft diameter for kindergarten and 15 ft diameter for elementary schools. The optional powder coated steel frame will stay cool in the summer and you can choose from a large variety of colors.
So come celebrate with us and Dwell in one of our Pacific Domes Dwell Domes, soon to be called Dome Homes!