"If Burning Man is about anything, it's about personal Liberty." ― Larry Harvey
Celebrating its historic 35rd year, the artsy, anti-establishment event in the Nevada desert will be sponsoring art projects, but there will be no official ticket sales. Last year thousands of artists attended Burning Man even though it was cancelled dubbing it "The Burn That Never Happened." An update was shared to The Burning Man Journal in which its organizer's announced this year's theme: Terra Incógnita, which translates to mean "unknown land."
A Forbes article states that organizers of the Burning Man festival are considering whether to require attendees to prove they have been vaccinated against Covid-19, reports the Associated Press. While Burning Man 2019 drew an estimated 70,000 people to attend its annual Black Rock City festival in the Nevada desert, it remains to be seen what the number will be for 2021.
The last official "Burn" was in 2019, and this is what went down. The 'Metamorphoses' theme was "an invitation to explore new forms of alchemy – reliant, not on some elusive Philosopher's Stone, but on the limitless powers of the heart – this ethos is the living heart of our community, our conscience and our collective memory."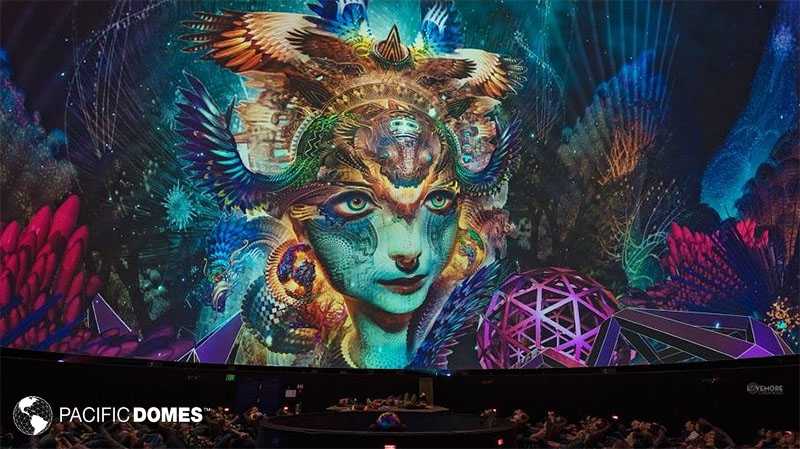 Samskara Dome
The stunning digital paintings of world renowned artist Android Jones were experienced like never before in a fully immersive 360 Dome film. Samskara was a fully immersive experience at Black Rock City alongside his new interactive Microdose VR installation.
In the most powerful combination of senses, Android Jones and his team created an art installation at Burning Man in 2017 that included his latest Microdose VR Interactive Virtual Reality Technology plus the 360 Fully Immersive Film, Samskara.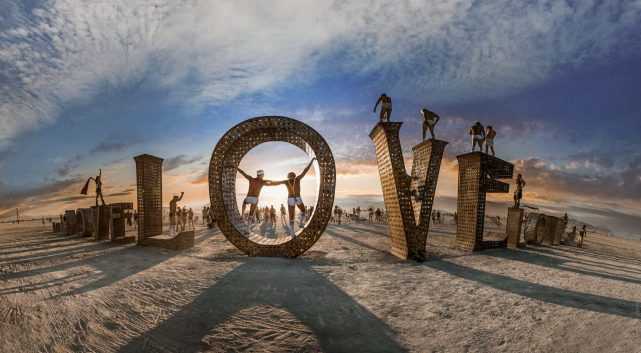 Once a year, tens of thousands of event-goers gather to brave the unpredictable wind-swept playa dust and co-create a temporary desert metropolis, Black Rock City, dedicated to community, art, self-expression, and self-reliance. It's a shared philosophy, based on Ten Principles that permeates every aspect of Burning Man culture.
Today, Burning Man Project, headquartered in San Francisco, California has grown to be a global non-profit network of people inspired by the core values reflected in the Ten Principles and united in the pursuit of a more creative and connected existence in the world. Burning Man Project will bring experiences to people in grand, awe-inspiring and joyful ways that uplifts the human spirit, addresses social problems and inspires a sense of culture, community and civic engagement.
Burning Man Seeks a Sustainable Future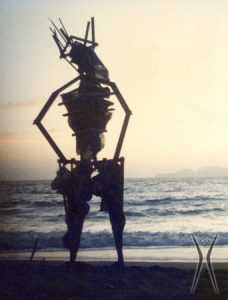 Burning Man has long been engaged in environmental stewardship through its partnerships and initiatives. Burning Man was born in 1986, the brain-child of the late philosopher-artist, Larry Harvey, whose vision and mission was for the cause of Liberty to survive. Larry magnanimously credited all those who contributed their efforts to keeping the Burning Man vision alive throughout its many years of existence.
The MAN ― "To this end, this summer another monument will join our Liberty (R)evolution ― a thirty-foot man carved from a huge, twin-tree stump, roots up. Our Fire Inside will burn top-down, as close the temple as possible like a giant torch!" ― Larry Harvey (1948 – 2018)
(1986 Burning Man Photo) Contributed by Burning Man Curation Team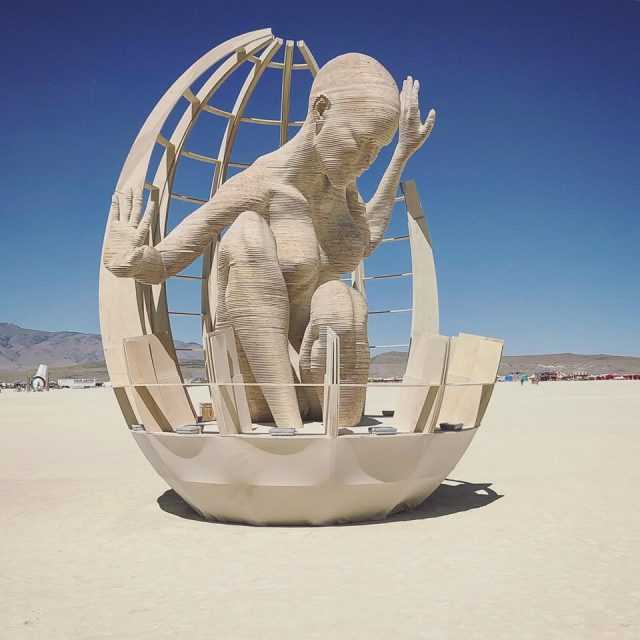 Towering above the desert floor, Mariposita, meaning "little butterfly" is just one of the spectacular themed Metamorphose art exhibits. According to Burning Man's official site, the creation of artist, Chris Carnabuci "represents rebirth ― a coming out of a shell, escaping confinement, and breaking through to a more meaningful and enlightening existence or experience." ― a Renaissance envisioned by Larry Harvey!
50 artworks in 5-minutes
Featuring art exhibits from previous Burning Man festival archives, 50 artworks in 5-minutes is well-worth taking the time to watch. "Since my first burn in 2011, I've always been fascinated by the art of Burning Man and the communal efforts behind it. As we prepare for the last burn of the decade, here's an homage to some of the incredible creations from the last 9-years."― The Work of Vincent Rommelaere
Shady Waffle Dome
The Sady Waffle Dome Camp is marked by a 40-foot geodesic dome, distinct with its trapezoidal cloths in bright blue, green, yellow, and purply pink. This dome served as the stage for the camps gift to the Burning Man community: a sit-down breakfast restaurant, opened from 10 AM – 1 PM throughout the week.
The camp inhabitants brought cast iron skillets and waffle irons, giant woks, and an ebelskiver mold. They hauled out enough flour, milk, eggs, and butter to feed hundreds of people. Hell, They even got a food establishment inspection from the Nevada State Health Division.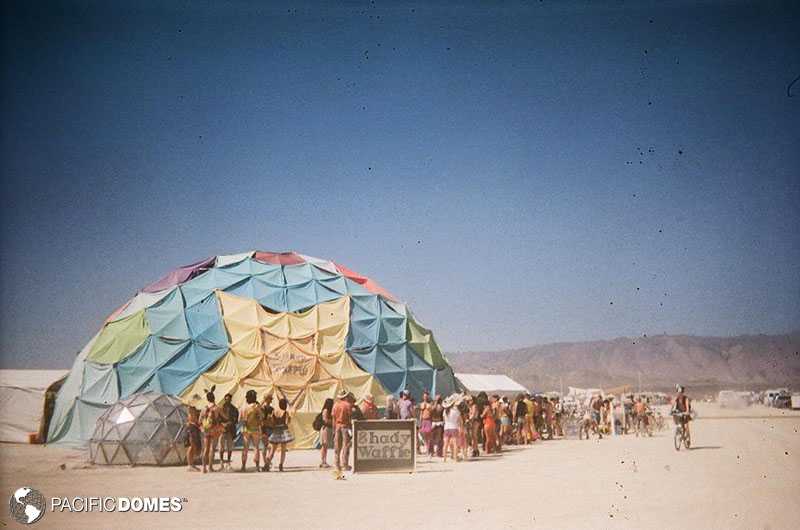 During the burn,they had a rotating menu of specialty pancakes, waffles, french toast, scrambles, and home fries. We got fancy after a year of serving just coffee and tea, adding chai and hibiscus tinctures to our beverage list. And no matter what you were wearing, what state you were in, or how much (if any) sleep you got the night before, we would seat you at one of our fifty places and give you a full-service meal.
With their restaurant, Shady Waffle aimed to help take care of and nourish the Burning Man community. Reflecting on those dusty, sun-lit mornings serving up breakfast in the desert, it looks like they succeeded.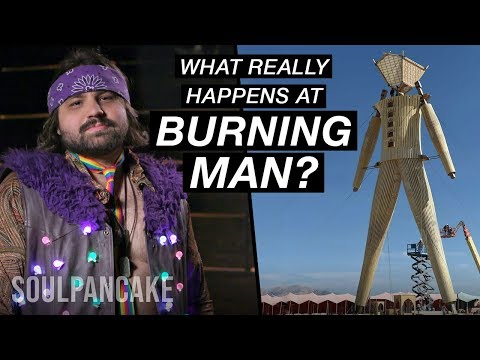 Showcase your artistic side at Burning Man
In recent years art exhibition domes have been a hit at Burning Man. They provide a great space to showcase your artistic side, while they shield your valuable art pieces from fine sand particles during unpredictable windy days. Freestanding domes are portable, easy to install and are strong enough to handle nature's extremes. If you're looking for a suitable glamping shelter with maximum comfort and shade from the sun at Burning Man, then you'll love spending down-time in a dome.