Showcase Your Trucking Events or Any Trade Show in Commercial Dome Tents
"We bring Your brands to life" — Pacific Domes Inc.
It's back on the road again in 2017 for Trucking Events and Trade Show Exhibits showcasing the latest in commercial vehicles. When it comes to transcending the ordinary, while staying within reasonable sight of economical solutions, consider purchasing or renting a portable commercial dome tent from Pacific Domes of Southern Oregon.
So how many transport vehicles can you fit inside a geodome tent? Commercial geodome tents typically range in size from 40ft. all the way up to 120ft in diameter, large enough to fit several large vehicles or giant semi-trucks.
There's something magical about a geodome tent that crowds find inviting. Once inside the spacious tent arena, the Pacific Domes expert team is there to inspire and capture their attention with the latest 360° light and sound technology.
Here's a few ideas to spark your imagination and create a buzz around your event and brand.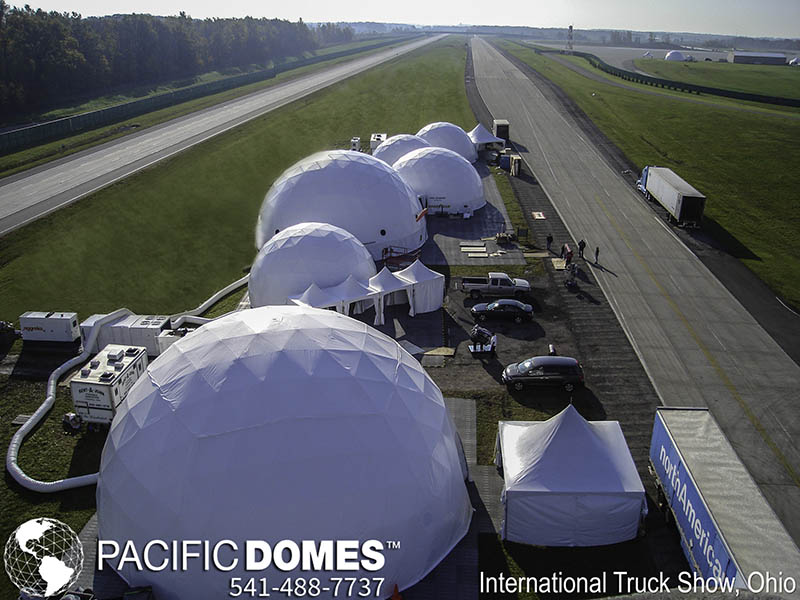 International Truck Show – Legacy Ohio Dome
This huge 60ft. dome was one in a series of domes that were erected for an international truck trade show in Ohio. Pacific Domes created an immersive and interactive environment to showcase the Legacy Ohio Trade Show's latest commercial models.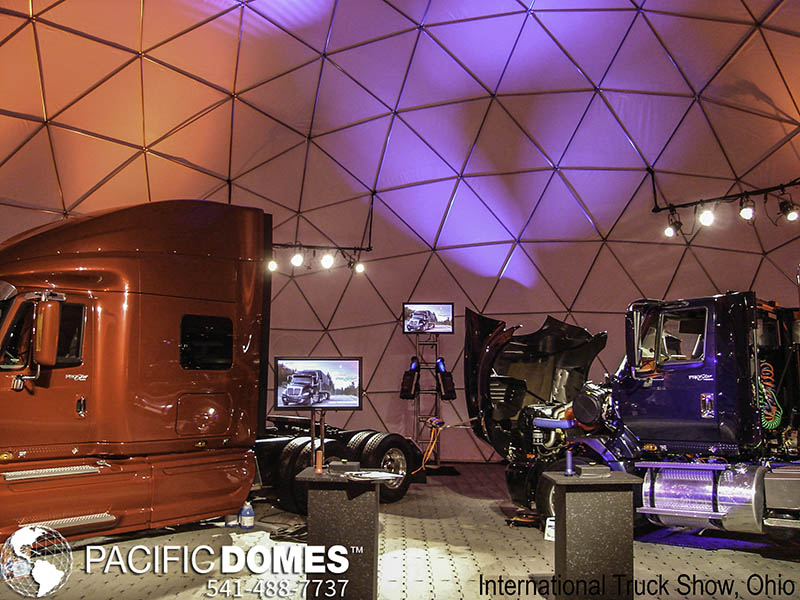 Freightliner
Guess how we got this Freightliner inside of a 60ft. Dome? You're right, we didn't drive it in the door! Much to the delight of Freightliner exhibitors, the Pacific Domes expert field team encased the portable dome over their humongous truck, showing the incredible mobility and portability of our domes. They're among the sturdiest and most portable structures available on the market today.