"An outdoor geodesic dome can house the system, and we enjoy maximum yields from little labor. It's an ethical way to make healthy, quality food, affordable and profitable." ― Erik Oberholtzer, Co-founder of Tender Greens Restaurants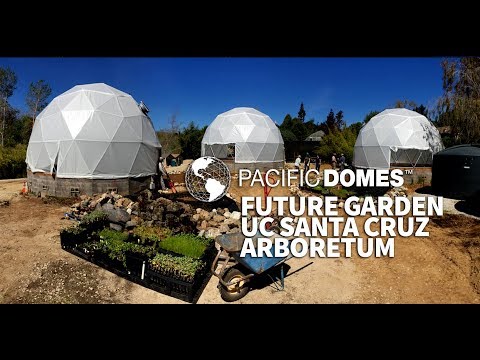 Were you aware that free-standing geodesic domes make great all-season greenhouses? Thanks to advances in space-age technology, growing your family's healthy farm-to-table food is now easy and affordable inside the controlled environment of an automated greenhouse dome.
Today's concerned health-conscious consumers are asking, "Will there be enough food to feed 9 billion-plus people by 2050"? Pacific Domes champions portable geodesic-engineered greenhouse dome kits as a timely solution to mounting evidence that our planet is suffering from climate change, loss of growing habitat and controversy over the health-risks posed by genetically modified seeds (GMO).
Pacific Domes Mission-driven Goal
Inspiring innovation through education, as to the benefits of geodesic greenhouse growing, Pacific Domes mission-driven goal is to empower schools and health-conscious consumers to grow their own farm-to-table food.
Why should we care where our food comes from? Because, according to data compiled by scientists and independent researchers, our food choices impact the future of life on earth.
YES, we're on to something, here – Pacific Domes agrees that growing nutritious, pesticide-free produce isn't only a wise food choice, these days – it's the future of sustainable farming.
Here's three illustrations of how greenhouse domes are empowering the growing of food through education:
1) UCSC Greenhouse Domes Grow Future Food
The three geodesic domes at the Arboretum – UCSC are models of how we, humans, can take responsibility as good earth stewards during times of cyclic change on the planet. Additionally, the Arboretum is host to all types of gatherings.
2) Learning Gardens
"Our results speak for themselves  — 98% of teachers agree that Learning Gardens increase their students' knowledge of healthy foods; and, 93% tell us that their students participate more in the Learning Garden, than they do in the classroom." ― Kimbal Musk, Co-founder & CEO of Big Green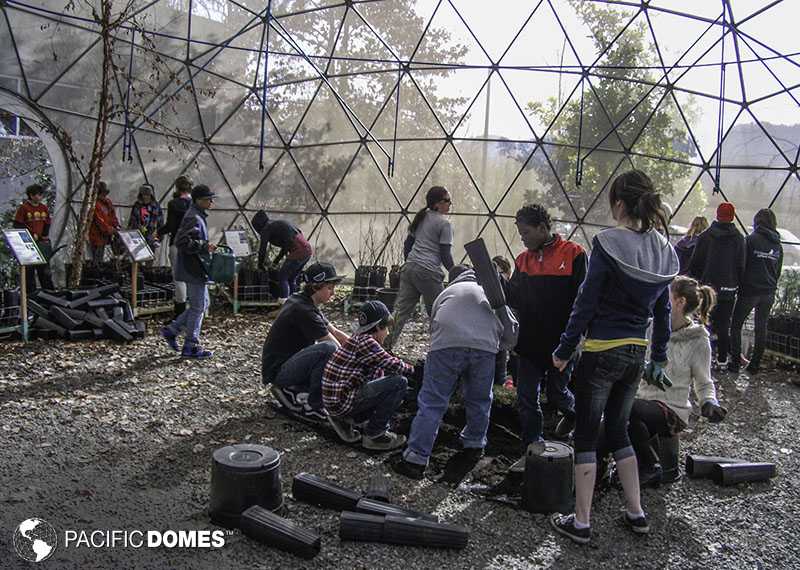 3) Hemp University
But wait, there's some recent headline news arriving on the scene. With the Farm Bill being passed, hemp is now legal to grow in all 50 states, territories and indigenous nations. Many people consider hemp to be a superfood.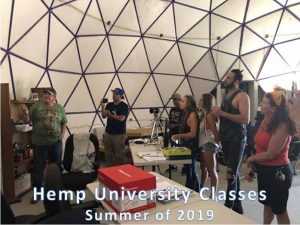 Seven domes make up the future learning center for Hemp University. When completed, one of the larger domes will be equipped to live-stream Hemp University courses.
Benefits of Geodesic Greenhouse Structures
One of the primary benefits that geodesic dome structures offer is an extended growing season in climates that are less than moderate. Regions that experience more dramatic drops in winter and extreme heat in the summer, find that geodesic greenhouses can extend their growing season, along with other benefits.
The spaciousness of the greenhouse dome's interior structure offers limitless design possibilities from raised bed gardens to vertical growing towers. Its circular design encloses the greatest volume of interior space with the least amount of surface area.
Geodesic Greenhouse Structural Strength
Geodesic Domes are composed of inter-connected triangles that give them unparalleled structural strength. Buckminster 'Bucky' Fuller, father of the modern geodesic dome, demonstrated the difference in strength between a rectangle and a triangle by applying pressure to both structures. The triangle proved to be twice as strong and remained rigid while the unstable rectangle collapsed.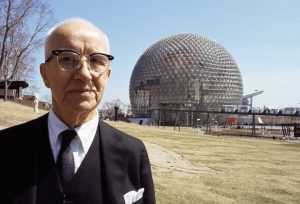 The American Institute of Architects calls the geodesic dome "the strongest, lightest and most efficient means of enclosing space known to man." Pacific Domes prefab greenhouse kits are manufactured in the USA, using the highest tensegrity (tensional integrity) geo-engineered standards.
Energy Efficient and Cost Effective
Don't mean to repeat, but did you know that geodesic structures make great year-round greenhouses? A dome's structure is one of the most efficient interior spaces because air and energy circulate without obstruction. This enables natural heating and cooling.
Specifically, a dome is energy efficient for the following reasons:
Its decreased surface area requires less building materials
Exposure to cold in winter and heat in summer is decreased, due to less surface area per unit of volume.
The concave interior creates a natural airflow allowing hot or cool air to flow evenly throughout the dome with the help of return air ducts.
Extreme wind turbulence is lessened because winds contributing to heat loss flow evenly around the dome.
It acts like a giant downward reflector that concentrates interior heat, preventing radiant heat loss.
Dome studies, comparing same-size traditional homes, have shown a 30% energy savings.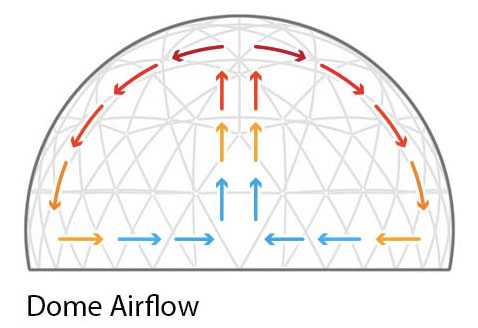 Greenhouse Dome Design and Growing Methods
Modern technology has made it possible to install systems that are fairly self-regulating and require very little maintenance, such as vertical tower systems and-or, aquaponic systems. Designing and outfitting your dome begins with asking yourself what type of system works best for you. You may wish to explore the convenience a basic grow tower system or include a closed-loop aquaponics system.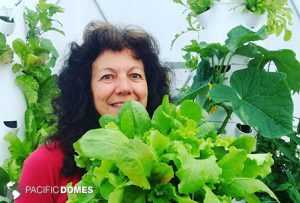 Automation doesn't mean that you can just set-it and forget-it, though. You'll still need to monitor what's going on in your greenhouse dome.
That said, the rewards of growing your very own farm-to-table produce is well-worth time invested – especially, when you make it a fun family endeavor. You'll be pleasantly surprised at how much food you can continually harvest – you can grow enough pesticide-free organic produce for your entire family, friends and even share your abundance at your local Farmer's Market!

Greenhouse Domes increase air circulation to plants, which prevents powdery mildew on the plants.
Speaking of Our Future Food
People ask the question, "Will vertical grow towers and hydroponic greenhouses replace farmlands in the future"? With the advent of space-age technologies to grow food, it certainly looks like high-tech indoor farms are steering the future of food-production.
Whether you are contemplating a backyard farm-to-table greenhouse, a mid-sized urban family micro-farm or a large-scale production facility, Pacific Domes greenhouse domes have you covered. Pacific Domes prefab geodesic greenhouse grow dome kits are available in various sizes, from backyard to commercial sizes. The Pacific Domes sales and support teams are there to assist you each step of the way. Be sure to check out Pacific Domes website and greenhouse pricing brochure.