---
Promoting Nature-smart cultural Eco-tourism ― Pacific Domes Inc.
During these unprecedented times of change, one thing is a certainty, people are re-assessing what's important in their lives and exploring alternative e-commerce opportunities. Giving rise to one such e-commerce opportunity is Eco-adventure glamping (glamourous camping).
Eco-adventure glamping is one of the largest and fastest-growing global tourism markets. Adventure glamping is connecting smaller innovative industries and empowering them via the Internet.
For the first time in hundreds of years, the power to affect positive social and economic change is in the hands of the people. You are an important cog in the wheel of the e-commerce and e-democracy grassroots movement, drawing more people outdoors to immerse in the wonders of nature.
Across the US, land-owners, like yourself, are facilitating access to nature smart eco-tourism by sharing their private land with responsible campers. With a nominal investment, geodesic-engineered domes by Pacific Domes offer small-business eco-adventure glamping opportunities to create viable income for land-owners and local economies.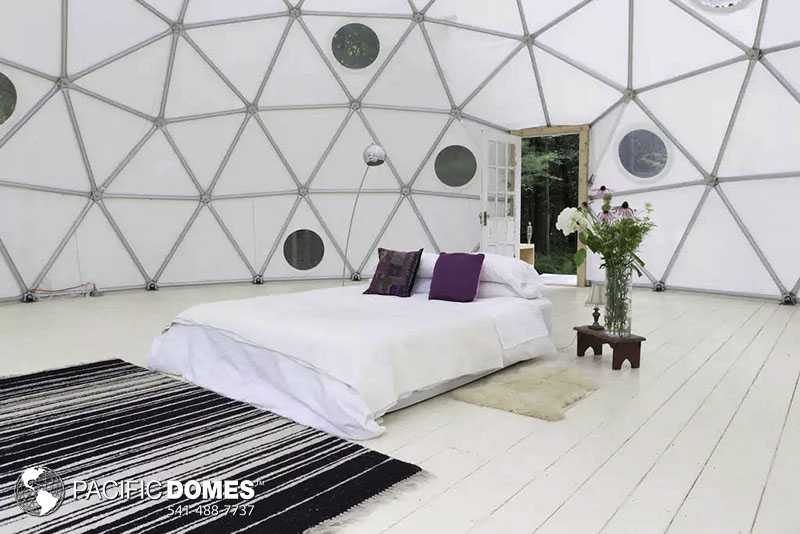 Getting Started with Building Your Eco-Adventure Glamping Business… "Even if you've never built anything before!"
Whether you're looking for a temporary shelter or a more permanent eco-building solution, you'll want to get started on your journey by exploring some innovative 'How to' ideas.
Ecoliving domes combine the geometry of design genius, R. Buckminster Fuller, with the geodesic-engineering strength of steel frames and tensile strength UV covers to handle extreme winds and snow loads. Ensuring a light eco-footprint, domes have been built all around the world in a variety of climates and extreme conditions.
The trend towards prefab eco-building, offers an affordable solution to skyrocketing building costs and house payments. Saving on materials and cost, eco-building dome kits utilize Bucky Fuller's 'doing more with less' principle; in that, they enclose the largest volume of interior space with the least amount of surface area.  When a dome's diameter is doubled, it quadruples its square footage, producing eight times its volume.
Ecoliving domes are naturally more energy efficient when compared to standard housing, due to unobstructed interior and exterior air flow. Designed for optimal ventilation, domes make best use of the sun to keep your shelter warm in the winter and cool in the summer by maximizing prevailing breezes.
Travel Just About Anywhere on the Planet…
Portable dome homes can be found at many remote locations because they are suited to all types of terrains, are fully deployable and can be erected in hours with a few hand ratcheting tools.
Mimicking nature's varied geometrical patterns and frequencies, ecoliving dome shelters are the strongest architectural structures known to man and are ideally suited to extreme environments, such as, heavy snow loads, hurricane winds and earthquakes.
Dome shelters can be can be easily transported to your location and set up on site. Multiple domes may be connected or aesthetically clustered to create an entire dome complex… an eco-adventure village!
Because they are considered temporary shelters, meaning that domes can be easily taken down when no longer needed, this may simplify or bypass many building codes, altogether.
Ecoliving dome shelters offer are an ideal escape from typical box-house construction, while affording the functionality and freedom of stepping outside your front door to enjoy nature's awesome beauty.
"Spending time outdoors has proven health benefits" ― Hipcamp
Pacific Domes supports Hipcamp's mission and vision to promote nature-based camping on private lands throughout America. Hipcamp's overall mission is to get more people outdoors to deepen their appreciation of nature; and, to inspire the next generation of people who are passionate about exploring and protecting natural resources on our lands.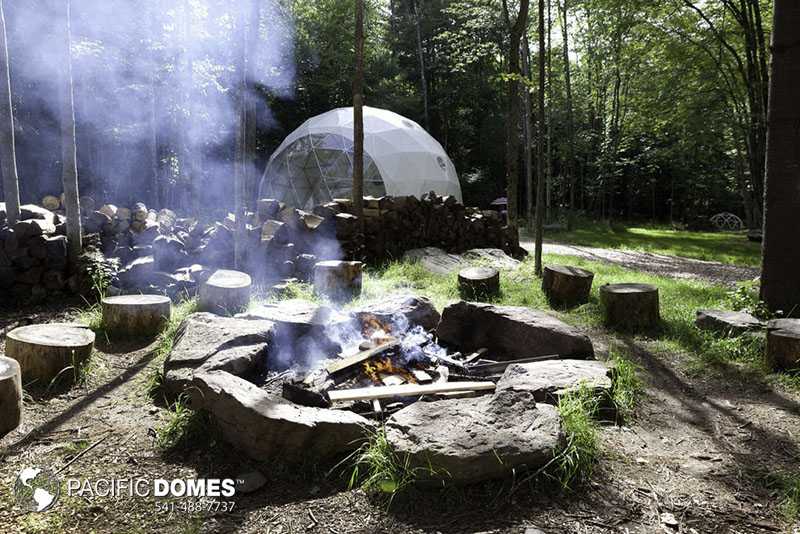 Eco-adventure glamping is transforming the global tourism landscape with low-impact portable prefab domes by Pacific Domes. You can support the cultural eco-tourism industry by making otherwise inaccessible camping areas available to people, thereby promoting local employment and small business development in rural areas. 
Pacific Domes Inc. USA is a Leading Global Builder of Portable Geodesic Domes serving the Eco-Hospitality Industry. Adventure glamping with ecoliving geodesic-engineered domes supports the cultural eco-tourism industry by making remote camping areas accessible to people. Visit us today to learn more about building your glamping business.