Nestled in a woodland clearing adjacent to a naturally occurring alkaline mineral hot spring, lies a healing place of natural beauty. Situated on 30+ acres in Ashland, Oregon, half way between Portland and San Francisco, Jackson WellSprings eco-resort offers a healing environment to relax, enjoy and gather.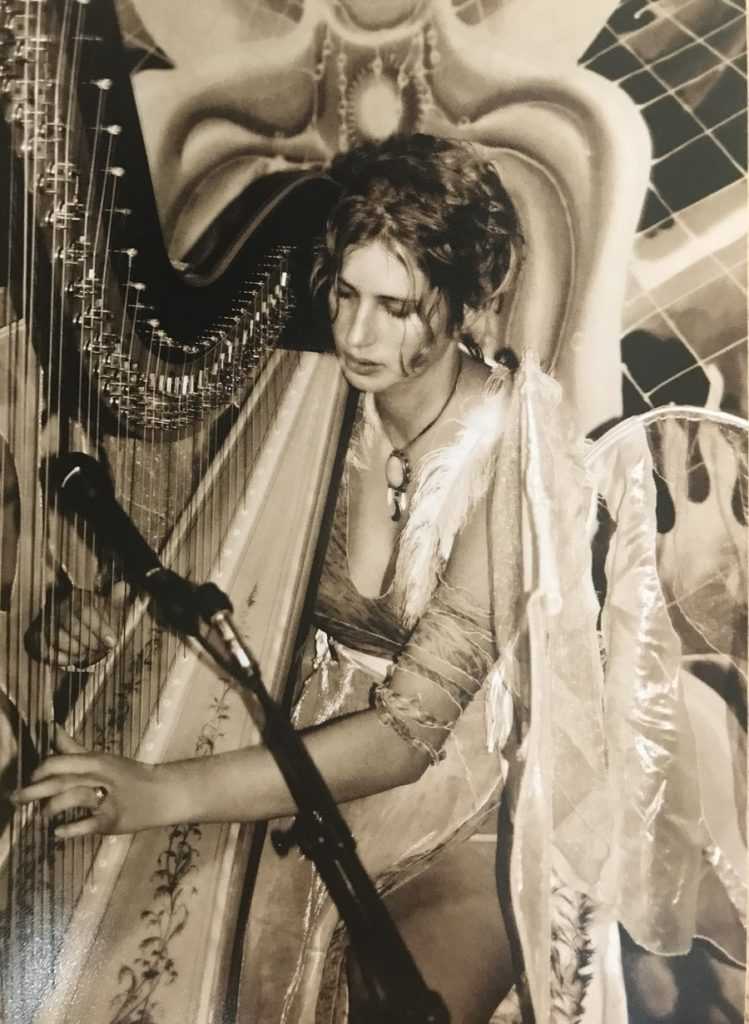 Summer Harp Concert – Jackson WellSprings, Ashland, Oregon
WellSprings is dedicated to promoting optimal human and environmental health – and, is home to the Health Research Institute, a non-profit sponsoring educational, botanical and environmental restoration projects.
This summer harp concert took place in the Electronica Temple Dome. Jackson WellSprings offers event spaces for hosting a variety of community venues.
---
"Domes play an important role in what we're doing here," says Jerry Leherberger, owner of Jackson WellSprings. "It's our goal to provide Earth-friendly shelters and ceremonial spaces for our eco-conscious community. The energetic qualities of domes are key to creating a unique, artistic and aesthetic environment that opens the heart and strengthens the connection with the Earth."
Every geodesic dome designed and manufactured by Pacific Domes takes on a life of its own, earning over time its own story and mythos. The Ashland Goddess Temple, a transformational wellness destination, is no exception.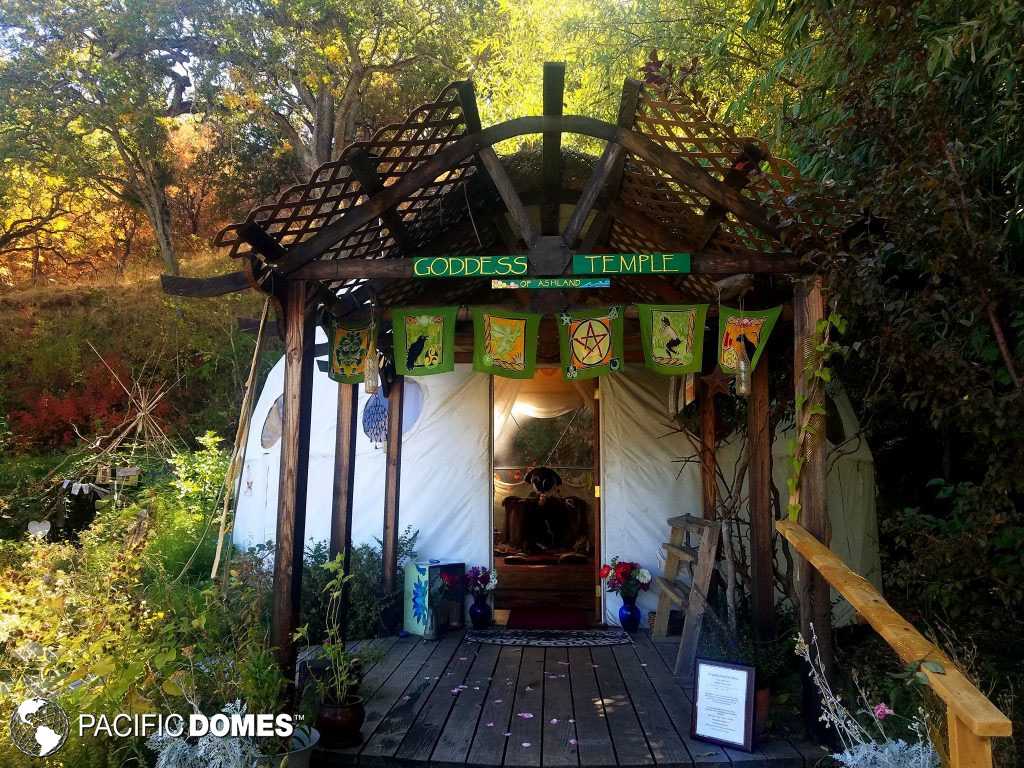 About the Ashland Goddess Temple
It is this reverence for the Earth that drew High Priestess Graell Corsini to the WellSprings land to establish the Ashland Goddess Temple. When she presented Jerry Leherberger with her vision, he said, "We've been praying for the Goddess. Where do you want your temple?"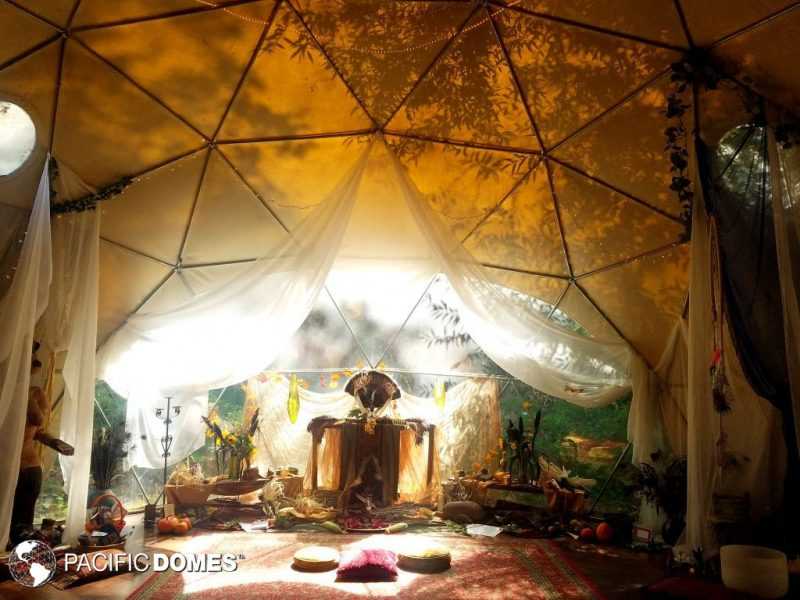 Corsini and Leherberger walked the property and immediately focused their attention on a geodesic dome located at the tree line. The dome had been built by Pacific Domes to provide a studio space for Asha Deliverance – Pacific Domes owner to teach a series of workshops on the use of sacred geometry in harmonic architecture. It was agreed by all parties to refurbish the dome as the 'Ashland Goddess Temple'.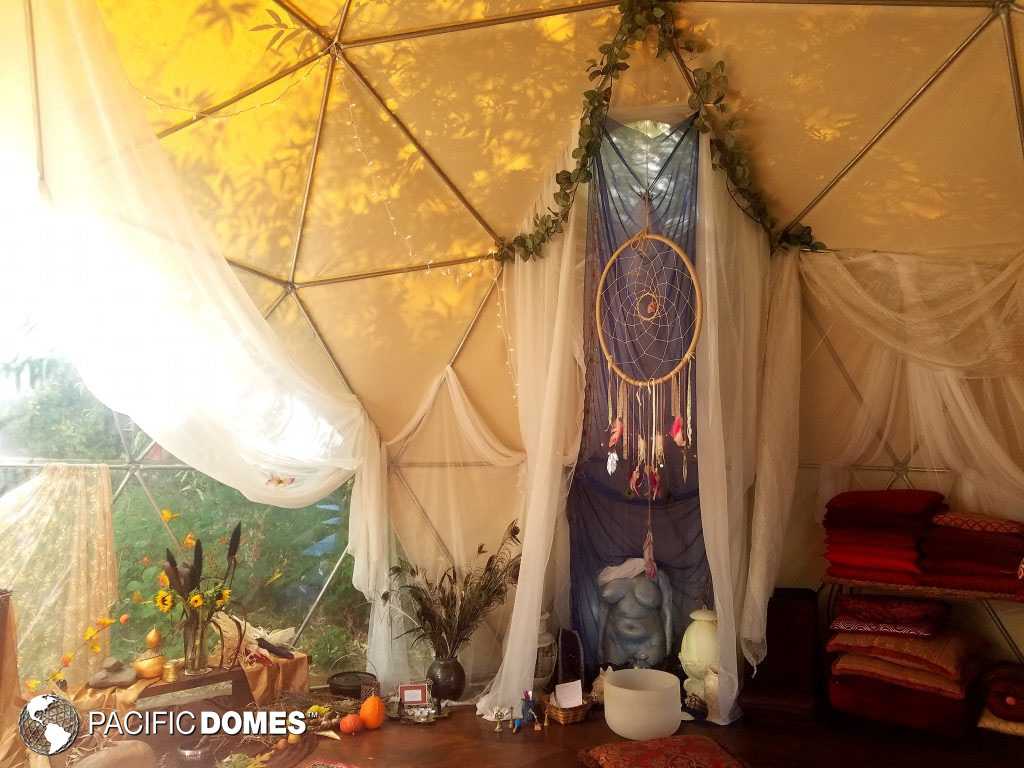 Before entering the dome, Corsini leads a tour of the WellSprings' grounds. The site for the Avalon garden sanctuary is Apple Island, complete with a moat and a majestic apple tree. Ribbons can be seen hanging from the tree, and Corsini explains that in times past, fabric was torn from women's skirts and tied to tree boughs as a symbol of prayers becoming manifest. Following in that tradition, the ribbons on the apple tree represent the prayers of each woman who sat at the tree and prayed.
We then make our way to the red tent. "This is for our teaching of midwifery, divine union, death and rebirth," says Corsini. "The major thresholds of modern life." We arrive at the Temple and remove our shoes before stepping inside. Corsini explains, "We are very open and inclusive. We want people to know we don't worship anything specific. Our altars are always based on the seasons."
The Temple interior appears as a nurturing womb draped in delicate tapestries, warmed by a wood burning stove. Efficient thermal dynamics of the geodesic dome help keep the Temple warm in the winter and cool in the summer. A new cover was made to reorient the light entering the space, which is also rotated and re-positioned to take advantage of the seasonal change of the sun's path. The Temple glows with natural light, and provides a perfect view of sunrise and sunset every day of the year.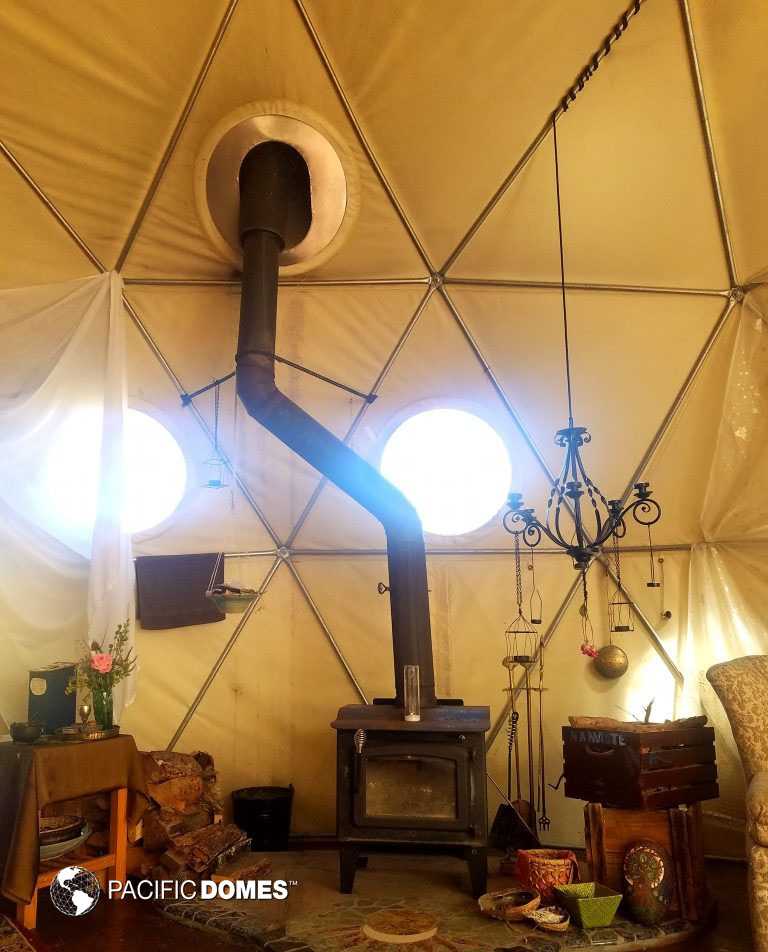 Eco-camp entrepreneurs can take inspiration from a place that connects conscious living and spirituality with a healing place of natural beauty. If you're passing through Ashland, take the opportunity to visit the Goddess Temple and take a dip in the healing Jackson WellSprings waters. 
---