---
Start a Glamping Business ‒ 'no prior business experience needed.'
"Turn your passion for the outdoors into a thriving Glamping Biz." — Pacific Domes
---
This year, people are ready for all types of unique outdoor travel destinations that stretch the boundaries of what's possible – from Airbnb weekend getaways to off-grid nature travel experiences and, everything in between. If you're excited about investment opportunities in this rapidly expanding travel niche, you'll find that "5 Steps to Starting a Glamping Business in 2023 " will provide you with that big picture view towards getting started on this rewarding journey.
Predictions from some of the latest industry statistics (includes Covid-impact data) forecast that this trend isn't likely to go away anytime soon. Creating an income-stream in the outdoor glamping niche has never been easier. If you find this news exciting, there's never been a better time to get started with exploring the glamping business model!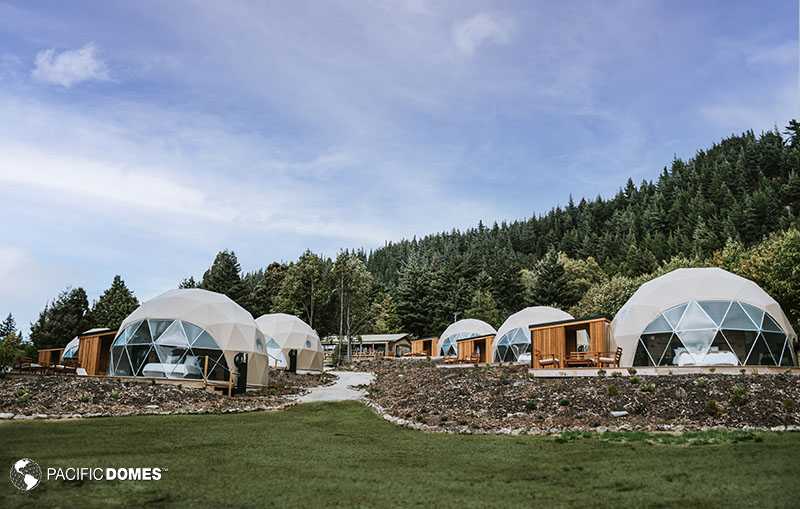 ---
Start your dream today ‒ Scale tomorrow ‒ It doesn't require a major investment.
Steps to Starting a Glamping Business
Step 1 ‒ Overview of the Glamping Business Model
The glamping niche attracts travelers who love unique outdoor experiences, yet, aren't great fans of camping! Glamping smooths out those rough-edges in camping by including creature comforts and amenities.
Beyond that, the glamping concept offers outdoor travel to interesting and oftentimes remote locations. The Glamping business model often includes distinctive one-of-a-kind experiences.
Synchronistically and in sync with the growth of booking platforms, such as, Airbnb glamping, this niche has taken travel lodging needs to an exciting new level. There aren't many businesses where you can get-up-n-running with such a low capital investment.
Step 2 ‒ Key Considerations
To begin, let's explore some questions that you may want to consider along your journey.
For example:
Do you think you have what it takes to run a glamping biz? As glamorous as it sounds, a glamping business involves a good roadmap and rolling up your sleeves to handle the necessary day-to-day activities. Every successful enterprise is built on a dream followed by action. Be kind, yet, honest with yourself. Take note that, if you have the willingness to learn, you can develop many needed skills along the way ‒ and, hire or sub-out those tasks or skills that you feel less comfortable with.
Do have an entrepreneurial mindset? Do you possess the personality to host a glampsite with genuine hospitality? Do you possess the temperament to handle situations as they may surface?
What is the ultimate location for your glamping site? Will this be a seasonal or year-round accommodation? Do you intend to establish a permanent location? Or, do you want to offer mobile glamping options with the portability and ease of relocating to your next adventure spot. Temporary basecamps might require training a crew to handle set-up and take-down.
Who is your ideal glamping guest? Do you want to offer individual, family or group guest lodging? How about pets?
What kind of experience or activities do you want to offer your guests? The right setting can create magic ‒ Sky's the Limit!
Step 3 ‒ Create a Roadmap & Design Your Glamping Infrastructure
Keep in mind, that glamping offers many types of great outdoor adventure experiences. This is where you can create your niche based on your passion. And, this is where the boundaries between the indoors and outdoors can bring people together in an amazing way that transforms their experience into a lasting memory. When it comes to planning your glamping roadmap and infrastructure, you may find the How to Start a Glamping Business Guide a helpful resource.
Step 4 ‒ Choosing the right shelter option
Historically, glamping took the world by storm by offering travelers spectacular off-the-beaten-path destinations with chicly furnished canvas-covered tents, such as freestanding prefab domes. Blowing the door wide-open to ecotourism travel opportunities, portable glamping domes could be easily and safely assembled off-grid ‒ while exerting a light eco-footprint on the environment.
Today, the market has expanded to include many varied types of shelters, anything goes, as long as it's unique ‒ even outhouses and caves! That said, there's a few sound reasons why you would want to consider ecoliving domes as shelters. Domes have the geodesic-engineered strength to withstand high winds and inclement weather. Touted as the strongest structure known to man, domes, not only look awesome, they are an insurance policy against any natural or man-made disaster.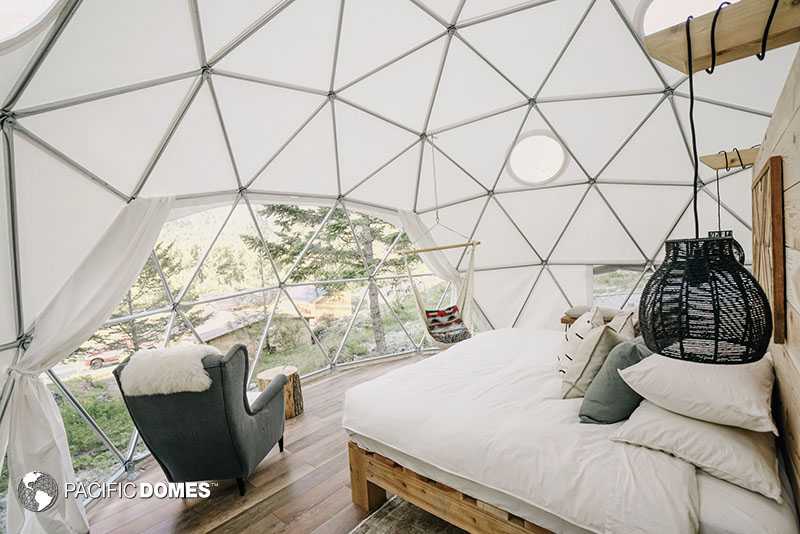 In addition to their many uses, features and benefits, prefab domes come in several customizable sizes to choose from ‒ you'll be amazed at how much room you have to play with your interior design.
Step 5 ‒ Crystalizing your dream
If you've made it this far, then you've already conquered one of the major roadblocks, overcoming self-doubt. Although, it's important to acknowledge your strengths and weaknesses, you don't want self-doubt to shatter your dreams.
Of course, there's a lot more to starting a glamping business than can be addressed in this short blog. Knowledge is your biggest ally ‒ so, for a more in-depth look at the exciting world of glamping domes, we invite you to visit Pacific Domes Knowledge Base and explore our How to Guides. While you're at it, check out our 5-part series, "How to Build a Dome".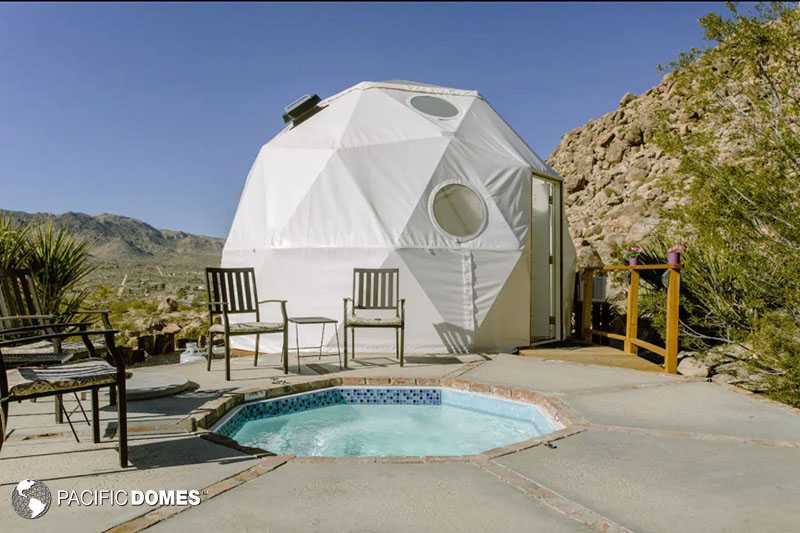 ---
We're here to help!
Pacific Domes loves solving your problems! We strive to keep your needs at the forefront of every interaction!
Our Customer Support representatives excel in providing personalized service from beginning to completion. Spanning decades of combined product knowledge, our team handles all phases of geodesic dome manufacture, construction and installation, so don't hesitate to reach out for solutions to your shelter needs.