As far as geologists can discern, there have been 5 previous mass extinctions on planet Earth. Scientists warn that the 6th mass extinction is happening now. The Holocene Extinction, otherwise referred to as the Sixth Mass Extinction (Anthropocene Extinction), is the ongoing extinction event of species, mainly as a result of human activity.
Prelude to Global Extinction
"Humanity needs to address anthropogenic population extirpation and decimation immediately. The population extinction pulse we describe here shows, from a quantitative viewpoint, that Earth's sixth mass extinction is more severe than perceived when looking exclusively at species extinctions." ― Gerardo Ceballos, Stanford Research (7-10-17)
See Stanford Woods Institute for the Environment video here (1:37 min)
Why Terraforma? 
We don't need scientists to tell us what's causing this current mass extinction. From pollution to plastic waste, we have made choices with adverse consequences that are rapidly approaching catastrophic proportions. We should be proud of our earth stewardship over the last 3,000 plus years, right?
As we are forced to face facts and reinvent our approaches to everything, from food production to technology, our responsibility to the stewardship of this luscious garden planet begs the question, "What are we going to do about it"?
"The definition of insanity is doing the same thing over and over, expecting different results." ― Albert Einstein
As we prepare to venture forth to explore other habitable planets, some of us are looking around at Spaceship Earth and wondering whether we will do wreak the same devastation on other planets?
Terraforma – Solutions to Global Extinction
Thanks to a mass awakening in global consciousness, Earth's children are coming together, heeding the call to heal the planet and return our home to the garden paradise it once was. The 'How to Manual' −  How to Terraform (Earth-shape) Planet Earth with Sustainable & Regenerative Solutions − is being written as we speak.
Terraforma – Earth Festival
Terraforma is an Annual Experimental & Sustainable Music Festival at the Villa Arconati in Milan, Italy. This year it takes place 6-29-18 thru 7-01-18
Terraforma – Education
Biosphere II  ― An illustration of this would be University of Arizona's Biosphere 2, a complex of interconnected domes and glass pyramids nestled in the Arizona desert.
Eden Project ― The Eden Project is another educational non-profit platform that connects us with the natural world and each other by exploring how we can work together towards a better future. Here, nestled in a huge crater, stand massive monolithic Biomes, housing the largest rainforest in captivity, stunning plants, exhibitions and stories, which serve as a backdrop to striking contemporary gardens, summer concerts and exciting year-round family events.
Terra-Forma ― Terra-Forma is an Environmental Education School in Spokane, WA that offers Nature Education & Summer Camps
Terraforma – The Urban BioDome Farm
"Building Sustainable Communities Through Spontaneous Cooperation" — Pacific Domes, Inc.
Traditional Farming is Broken  –  Educated consumers, alarmed by environmental factors that are placing a tremendous strain on our food supplies, have enlisted the support of a growing number of forward-thinking entrepreneurs and officials in positions of authority.  Giving credence to the demographic dangers that are unique to our technology-based culture, we can individually and collectively take positive, empowered steps towards reversing fluctuating food prices and shortages.
Urban BioDome Farm supporters around the world have taken note of the swift decline in valuable natural resources and arable farms. In addition to this, the increasing cost of water, energy and fuel, and the over-spraying of toxic chemicals onto nutrient exhausted soils that have been continuously farmed without replacing vital macro and micro-nutrients, calls for out-of-the-box ecological solutions.
What are Urban BioDome Farms?
An Urban BioDome Farm is best described as a scientific approach to growing in an enclosed, controlled and self-sufficient greenhouse eco-system. The spacious spherical, geodesic design interior closely replicates outdoor environments by providing natural filtered sunlight and optimal air flow, thus yielding innovative opportunities for organic growing methods, such as vertical tower farming, aeroponics, aquaculture and hydroponics with balanced organic liquid formulas.
Urban BioDome Greenhouses are steering the future of how we deliver fresh, nutritious and pesticide-free produce to consumers. BioDome Greenhouses offer the perfect sustainable solution to our mounting food production and transportation costs.
5 Ecological Benefits of BioDome Farms
Strength: Arguably the most obvious benefit is the superior geodesic-engineered strength of prefab BioDome (closed-loop) greenhouses, making them the strongest greenhouse structure known to man. Due to their inherent ability to withstand the forces of nature – such as extreme temperatures, winds and earthquakes – geodesic dome structures have been erected worldwide.
Sustainability: The second important benefit aptly defines today's buzzwords of building sustainably by weaving and leaving a light eco-footprint. Portable prefab BioDome greenhouses come in many sizes and are suited to sensitive Ecocentric (nature-centered) environments. And they can be assembled quickly with basic hand-held tools.
Spaciousness: Buckminster Fuller discovered the doing more with less principle, in that the dome encloses the largest volume of interior space with the least amount of surface area, thus saving on materials and cost. "Bucky" Fuller reintroduced the idea that when a sphere's diameter is doubled, it will quadruple its square footage, producing eight times its volume.
Synergistic: A benefit derived from extensive research into bio-geometrical shapes further fuels scientific conclusions that the inherent frequency of geodesic architecture produces the highest vibrational environment beneficial to both humans and healthy plants.
Efficient: According to the Buckminster Fuller Institute, a geodesic dome's concave interior "creates a natural airflow that allows the hot or cool air to flow evenly throughout the dome with help from return air ducts. Extreme wind turbulence is lessened because winds that contribute to heat loss flow smoothly around the dome. Additionally, the spherical dome shape acts like a type of giant downward reflector, concentrating interior heat and preventing radiant heat loss."
Terraforma – Sustainable & Regenerative Solutions for Environmental Pollution (1:01 min)
Large cities are solving environmental pollution challenges in many congested metropolitan areas. In Nanjing, China for example, where poor air quality has reached staggeringly unhealthy proportions, a pollution-fighting vertical "agritecture" building produces approximately 130 pounds of clean oxygen per day. Liuzhou Forest City leads the world in the development of sustainable green cities.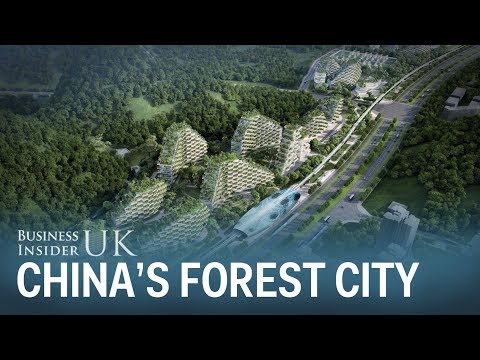 Expanding on the synergetic principles originated by R. Buckminster Fuller, Pacific Domes has been perfecting the function and beauty of their portable geodesic domes for more than 35 years. Based in Ashland, Oregon, Pacific Domes collaborates on global biosphere dome projects, and has pioneered sustainable living, personal and cultural transformation, and peaceful social evolution since 1980. We are proud to call ourselves environmentally aware and sustainable.
Pacific Domes builds geodesic-engineered prefab Greenhouses and Grow Dome Kits that are energy efficient and ideal for vertical towers, aeroponics, aquaponics and hydroponics. Browsing the Pacific Domes gallery of geodesic-engineered greenhouse building systems is your first step towards exploring the benefits and versatility of geodesic domes as the strongest portable structure known to man.